In our ongoing experiment of how Twitter users are reacting to every episode of this season's Game of Thrones, we have changed our methodology this time. Instead of analyzing just the main hashtags related to the episode, we analyzed how people are reacting to all the characters that appeared in the episode.
This has given us a more comprehensive review of how the Twitterverse is reacting to this episode. There were eight storylines covered in Oathbreaker spread across an equal number of locations. The stacked bar charts given below are an aggregation of how Twitter users reacted to the characters that appeared at each location, indicating the viewers' emotional states.

Insights
Sentiment analysis of Twitter users – 11 Do's and Don'ts
Sentiment analysis is the analysis of emotions, attitudes and opinions that are useful for making better business decisions.
1. In the Narrow Sea
Samwell Tarly and Gilly's scene on the ship did not seem to elicit a lot of reactions from Twitter users and both the characters' hashtags had very few tweets because of which no meaningful sentiment analysis could be carried out for them.
2. Beyond the Wall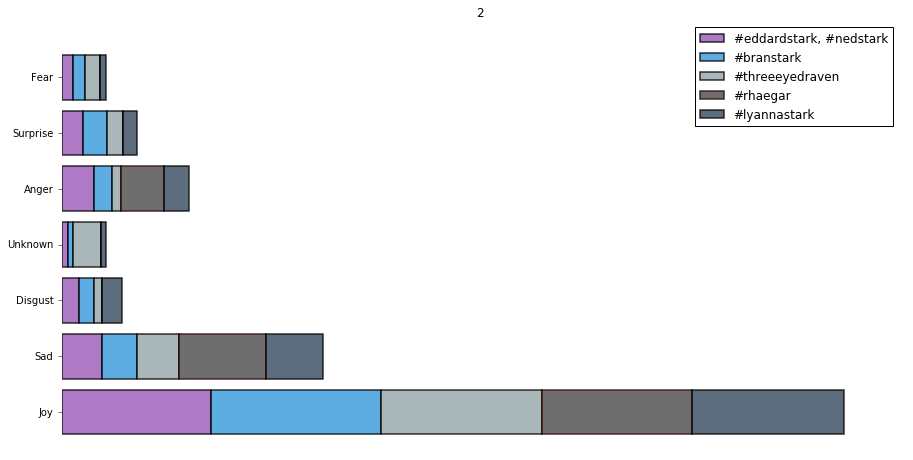 Bran's visions of the past, with the help of the three-eyed raven in this episode, showed us a hint of what really happened to Lyanna Stark. Most fans seem happy with this turn in the story and even a character that has appeared just once (Lyanna) and another who has not even been shown yet (Rhaegar) seem to be trending on the joy side.
User: 'Benny B.'
Text: 'So much prophesy revealed here. #Bran can speak across the ages. #HowlandReed #nedstark #TowerOfJoy #GameofThrones https://t.co/hu36YCgv1j'
Category: Joy
3.In Vaes Dothrak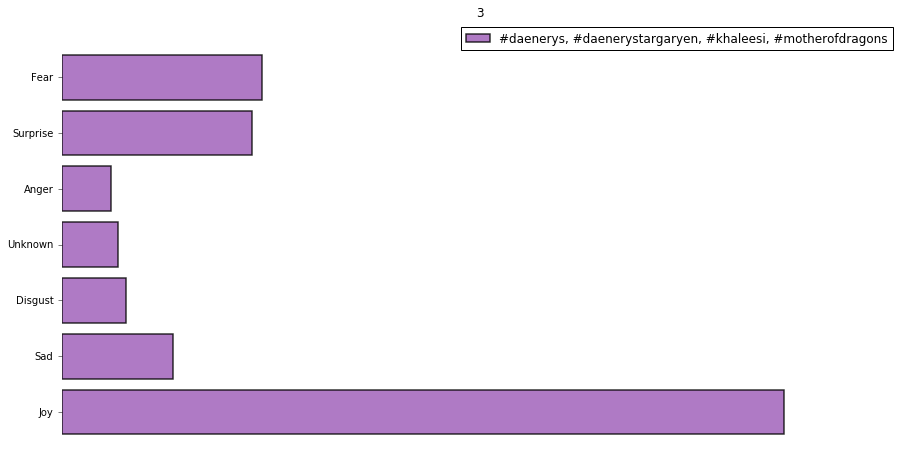 Daenerys is in a bit of a tight spot in this episode, but still most viewers are expressing joy while the second largest category is fear. At first glance this might seem contrary to what we know about sentiment analysis, but looking at the tweets being made and liked, it is obvious why the joy category far outweighs all others.
User: 'Dwaraka Tupurani'
Text: "I wuld rescue & marry #sansastark ! We'll chill with the #Khaleesi .Let the #dragons burn our enemies! #GameofThrones #VoxOfThrones @voxpop"
Category: Joy
User: 'Valar Morghulis'
Text: 'I hate it when #Khaleesi starts her long list of showing off.. Mother of Dragons, Khaleesi, Storm Born. It can take up the whole episode'
Category: Anger
4. In Meereen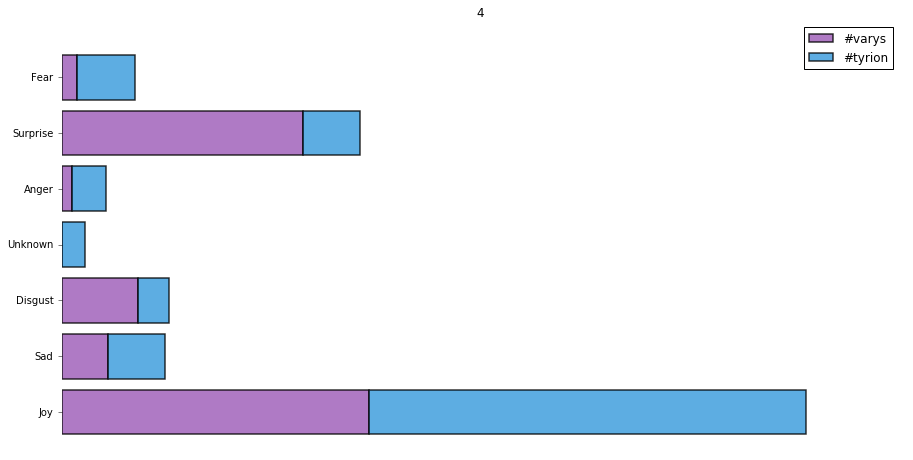 Varys and Tyrion spend their time in this episode doing what they always do, which is outwitting their enemies and drinking wine respectively. Although they were not integral to the episode this time, being fan favorites meant that they end up in the joy category no matter what they do. But the surprise category being the second largest one was a surprise for our team as well.
User: 'Fullmetal Humanist \u269c'
Text: '"Children are blameless. I have never hurt them." — What about your little birds, #Varys? #GameofThrones'
Category: Surprise
User: 'Chloe Duval'
Text: "He's such a bad ass though. He definitely is one of the masters of this game #Varys #GameofThrones"
Category: Joy
5. In King's Landing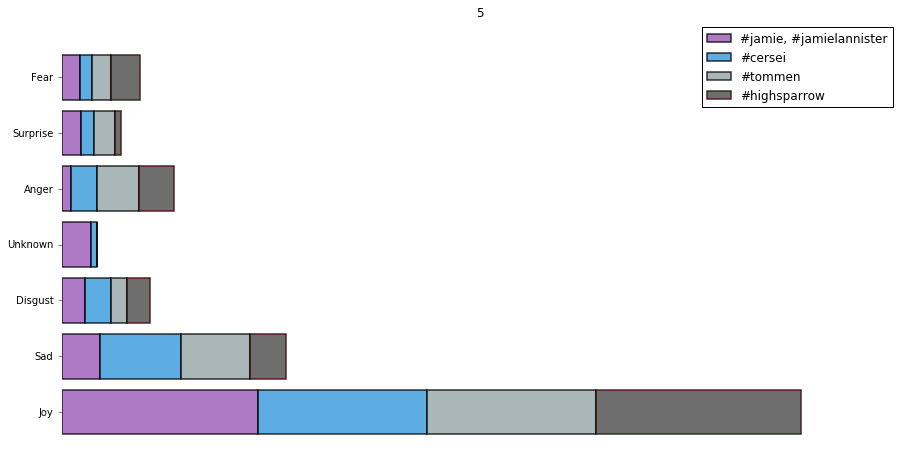 There were plenty of characters shown in King's Landing this episode but the characters that got the most number of tweets were the Lannisters and their new arch-enemy, the High Sparrow.
User: 'Shalin Choksi'
Text: 'So good to see #OlennaTyrell sass #Cersei and #Jamie ! Good to see her back. #GameofThrones'
Category: Joy
User: 'Angeline Quick'
Text: 'The #HighSparrow is actually making me miss #Joffrey. #GoT'
Category: Sad
6. In Braavos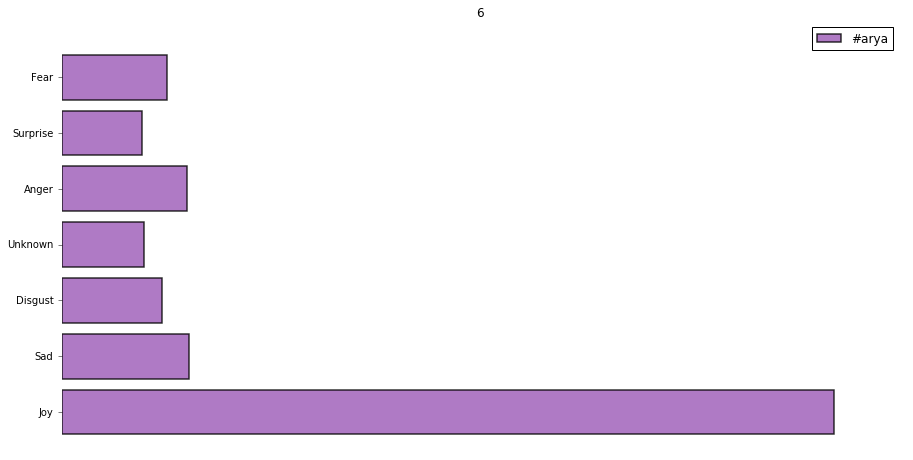 Arya finally gets her sight back and is back in the good books of Jaqen H'ghar. For a girl-who-has-no-name, she was certainly being mentioned a lot on Twitter when it came to discussions about the show.
User: 'Ingrid Hojem'
Text: "Oh,thank goodness,#Arya's got her eyes back! Now I can stop scratching my own #GoT #contacts #agirlhasnoname #ValarMorghulis"
Category: Joy
User: 'E~villainy'
Text: 'My question is when can a girl issue this fade to this hateful chick. #Arya #demthrones'
Category: Anger
7. At Winterfell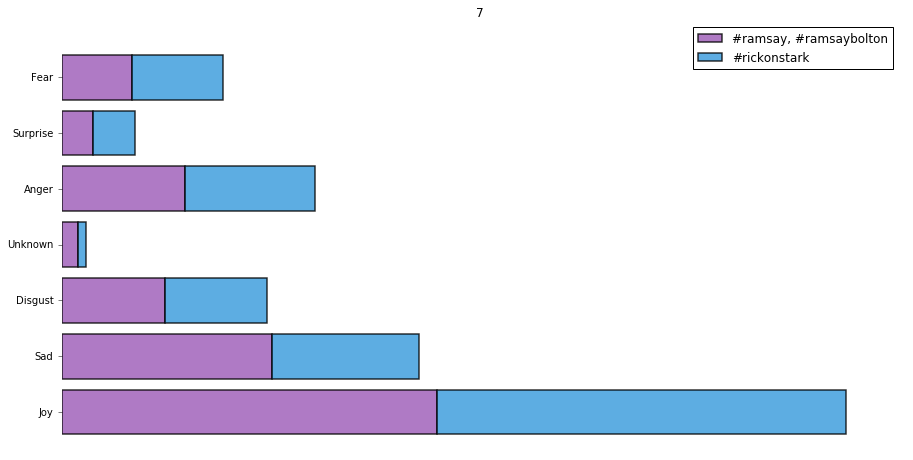 Ramsay Bolton is the one character in the show that viewers love to hate and the one who brings out the strongest reactions in them. As can be seen in the chart given above, he is the only character, who, when shown on the screen, results in the tweets being in the sad, anger, disgust and fear categories in such large numbers.
User: 'Daniela Naomi'
Text: "RT @anne3477: I'm not a violent person but pretty sure I could kill #Ramsay with a plastic spoon at this point #GameofThrones https://t.co/\u2026"
Category: Anger
User: 'Lizzie Nienna'
Text: '@iwanrheon I really hate what #Ramsay did but I laughed so hard \U0001f648\U0001f602 @GameOfThrones https://t.co/SJxwSiagtD'
Category: Joy
8. At the Wall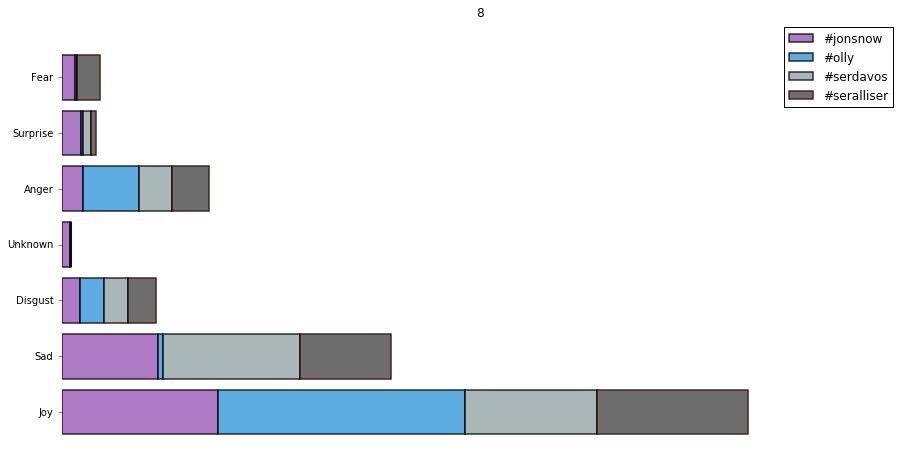 Jon Snow is back and is up and about in this episode. After some words of encouragement from Ser Davos, he swings into action and promptly executes his plotters. Fan favorite, Olly, who stole our hearts when he killed Ygritte (with many memes being generated of that scene) also elicited equally strong reactions when he was hanged in this episode. The reason – the fan favorite had now become more hated than Joffrey and was rivalling Ramsay when it came to fan hate. Few people were sad to see him go. Just look at some of the tweets about him.
User: 'Chapo_Martin N'
Text: 'find it disturbing that I enjoyed the latest hanging scene in #GameofThrones #OLLY is dead & I liked it never leave enemies behind #advice'
Category: Joy
User: 'Lizzie PixieDust'
Text: 'I fought against white walkers, I came back from the dead, I hanged my murderers aaand then I quit. #JonSnow #GameofThrones'
Category: Sad
How we do it
In the last two sentiment analysis experiments, we had used an R script and analyzed the most important character hashtags for those two episodes. This time we have used a Python script which is the better choice when it comes to text analysis due to its built-in natural language processing models.
Come back next week to find out how Twitter users are reacting to the fourth episode.
Check out our sentiment analysis of Twitter users for the
first
and
second
episodes here.
Image source: HBO.com