Tim Cook's keynote at Apple's annual Worldwide Developers Conference (WWDC) unexpectedly failed to bring any of the hardware but it packed the event with a wealth of major software announcements including OS X Yosemite and iOS 8.
At its WWDC, Apple announced with a pride eagerly awaited revolutionary operating system, i.e., iOS 8 which is set to be released to the public in the fall. Apple fanboys would have definitely not restricted themselves by downloading Apple's beta operating system to see in action. Apple iOS 8 SDK is available to download that allows developers to further customize the user experience with major extensibility features like Notification Center widgets and third-party keyboards; and offers powerful frameworks such as HomeKit and HealthKit.
If you own any of these devices as well as a developer account, you can download the iOS 8 beta from the link below.
iOS Dev Center
It's undeniably the biggest change to-date of iOS and anybody would not like to miss out to take a look at iOS features.
What's Coming
As opposed to iOS 7, Apple's new iOS 8 brings few visual changes. It does, on the other hand, introduce several impressive features and a focus on "Continuity," which allows iOS 8 to better integrate with the world's most advanced desktop operating system, i.e., OS X. It also includes a new "Health" app, as does QuickType, support for third-party keyboards. What's more, it offers advancement to some existing functions like the Messages, Notification Center, and more.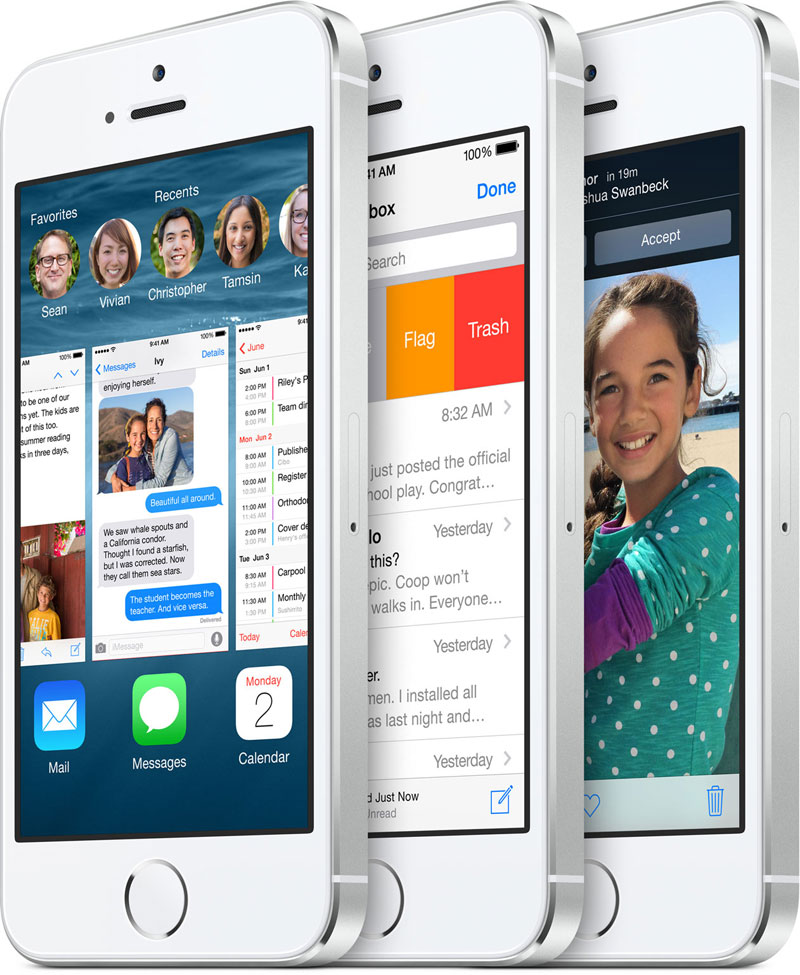 Interactive Notifications
Notifications Center with iOS 8 is quite a bit different. In other words, it is now more interactive, allowing users to reply to emails, texts, reminders, calendar invitations, and even messages from apps like Facebook right within the notification banner, without having to leave an app that is in use.
QuickType – The smartest keyboard ever
Predictive Text has been the ultimate assistance for those who texts a lot, but Apple is giving it a go with QuickType. Apple's revamped iOS keyboard with contextual 'QuickType' predictive texting allows you to type more quickly by predicting what you're writing before you finish your message. It adapts based on what's been said and who you're texting. It is way smarter than you think.
For example, if your friend asks whether you'd like to go for a movie or have dinner, the first three suggestions are "not sure," "a movie" and "dinner." Isn't it cool?
Continuity
This time Apple's developers have put their efforts into increasing the integration between the two operating systems, i.e. OS X Yosemite and iOS 8. Your iPhone, iPad and desktop will be aware about each other, and while you're in the middle of a task, you can shift from one device to another. The most interesting part is that you can answer your phone calls right from your Mac, without having to touch your phone. And, you can also place calls from the Mac. Effortlessness at its best!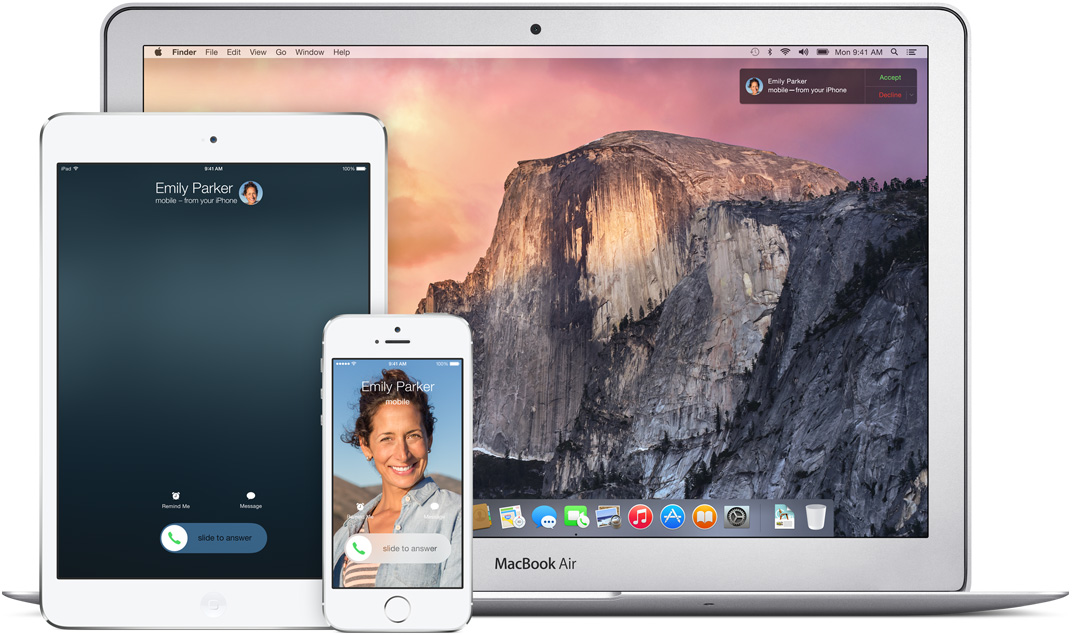 iMessage
Apple has spent some time working on iMessage enhancement and finally we are going to have a much-desired feature that allows us to leave group conversations. "Do Not Disturb" is another simple little feature that allows you to mute group conversations anytime.
Additionally, Apple has now added voice recordings functionality, so that you can send audio messages via a swipe. Similarly, you can send video messages and watch directly within the iMessage.
Health
It was highly expected that Apple would work and bring something that is related to health, but we didn't expect that "Health" would be the actual name of the app. Health app works as a single hub where you'll find all your health data collected from various third-party health and fitness apps. Besides, Apple has also introduced HealthKit for developers, which allow different health and fitness apps to work together. Hands down, this is a big step in a health revolution.
[slider id='11860′ name='Health' size="medium"]

Spotlight – More powerful than ever
Apple has completely revamped Spotlight search feature on both OS X Yosemite and iOS 8 that brilliantly brings more extensive results. Not only from the device, but also users can now search anything from various sources like Wikipedia, News, App Store, iBooks, iTunes, locations nearby, and more.
Family Sharing
With a new feature called "Family Sharing", families (up to six members) can now share their iTunes purchase across different devices, meaning you and your son do not need to pay double for the same application as the purchase is made with the same credit card. Now, when a kid tries to purchase something from App Store or iTunes, a parental device will get a notification asking for permission.
This new feature also keeps the family connected allowing every member to share pictures, video, calendar, reminders and more. Parents can keep their eyes on kids with automatic location sharing between family members and can find lost devices too.
iCloud Photo Library
Apple's Photo Stream had limit up to 1,000 photos to be stored at a time, requiring that within 30 days you back everything up to your desktop. The iCloud Photo Library allows you to store all your precious memories on the iCloud. It's easier than ever to find great ones you forgot about as iCloud Photo Library allows you to access your complete photo library from any device, anytime you want. You can have them all at your fingertips! Besides, iOS 8 offers the most sophisticated photo editing tools including smart adjustments, smart composition tools, photo filters, and much more.
Siri – Smarter than ever
Just say hotword "Hey Siri" and Siri will be activated. A few more improvements include streaming voice recognition, Shazam integration, the ability to purchase content from iTunes, and 22 new dictation languages.
iCloud Drive
iCloud Drive is a cross-device file sharing service that allows you to safely store various kinds of files such as spreadsheets, presentations, PDFs, images within iCloud. You can access your important documents and files from any Mac or iOS device, no matter where you are.
Developers have got many reasons to smile
This year, apple brings a lot within reach of the developers. Highly anticipated TouchID is being opened up to third-party developers. Apple also allows developers to create Extensions that can hook into other apps.
The App Store is going to have improved search functionality and it will feature support for discounted app bundles and new TestFlight beta testing support this fall.
iOS 8 supports system wide third-party keyboards, meaning keyboard builders can submit to the App Store. It's apparent that it won't take long to have third-party keywords like SwiftKey, Fleksy and Swype on your iDevices. Developers will now have more manual controls to third-party app as Apple is providing APIs for Cameras.
One of the most exciting SDKs is HomeKit. HomeKit allows developers to integrate various home automation apps under a single security protocol. It is fascinating to know that you will be able to turn off the lights or turn down the temperature effortlessly with the help of Siri. Apple has also introduced three major gaming technologies, i.e., SpriteKit, SceneKit, and Metal, to provide world-class gaming experience.
In its keynotes, Apple also announced a new programming language called Swift. With all updates, we just have to wait until we see what developers can do next with iOS 8.
Something for Enterprise, too!
Enterprise has been a center point for Apple and that's the reason why iPad and iPhone have become the devices of choice at work. Also, let's not miss to notice that Apple's Senior Vice President of Software Engineering Craig Federighi called iOS 8 "a huge hit in the Enterprise" during his keynote in WWDC.
With the announcement of iOS 8, Apple has beefed up enterprise support providing next level of security, productivity, and device management features.
New iOS 8 brings a lot for enterprises including:
The enterprise-grade security
New productivity & time-saving features
Better data and device management tools
Learn more about what iOS 8 brings for enterprises.