Digital technologies have transformed many industries and are continuing to do the same. The pharmaceutical industry is not an exception to this anymore. Digital offerings have started revolutionizing all the facets of this industry now. Where the pharma industry focuses on identifying, evolving and marketing medicines, it faces tough challenges in managing everything from drug development, clinical trial, pricing, product quality assessment to pharma supply chains. The latest advancements in technology like the Internet of Things, mobile communications, the cloud, augmented and virtual realities, advanced analytics, digital marketing, virtual assistants, etc. are now completely revolutionizing the pharma industry.
When pharmaceutical companies will make use of digitization, it will help them to create counterfeit-proof medications. This would ensure that the medicine is genuine. Digitization also helps pharmaceutical companies to meet an upsurge in requirements from markets. Pharmaceutical companies can meet regulations and use cloud-based information sharing to connect with suppliers and wholesalers.
Furthermore, pharmaceutical companies can use automation, smart sensors to measure drug compliance and forecast demand through regions to withstand real-time manufacturing.
Digital transformation in the pharmaceutical industry is helping organizations to have greater transparency, better patient interaction and care, improved drug development, matchless cost-effectiveness, rebuild its business model, enhance production processes, etc.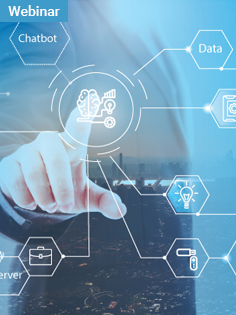 Digital transformation is all about delivering better CX and increased ROI
Webinar agenda
Overview of digital transformation
Adopting the digital edge in redefining CX
Major challenges on the road to digital transformations
Developing digital transformation strategies
Let's discover some ways in which digital technologies are helping the industry to enhance its growth and development:
1) AI-powered assistants
Chatbots are now a part of the digitalization in the pharma industry trends that are benefitting the industry at large. With the continuous developments in technology, artificial intelligence-based chatbots are becoming human-like and more effective every day.
The incorporation of a chatbot helps pharmaceutical companies to assist users 24*7. Users can get instant information about their inquiries on certain health conditions or directions on using some medical devices, etc. They can also get information about treatment, side-effects, disorders, etc.
Numerous businesses all over the world are using messaging apps to engage with site visitors and establish useful communications. The incorporation of AI-powered assistants will help the pharma industry to bring about personalized conversations with clients, patients, or associates. This will also enable the pharma companies to improve organizational productivity, address customer queries and perform crucial tasks. The pharma companies can use chatbots to connect directly with customers, doctors, or marketing professionals and to market their products.
2) Augmented & virtual reality
AR and VR technologies have become an important part of every industry now, and pharmaceutical companies can use these entrancing technologies to bridge the gap between its business and consumers. AR and VR implementation has just begun and certain companies have already started using apps built on these technologies. With the help of AR and VR, the pharma companies can perform interactive drug research, easily impart experiential information and demonstrate a complete product catalog. These technologies can help patients to participate actively in their healthcare courses. They don't have to be just passive recipients anymore.
3) Mobility solution
Digital has blessed the pharma industry by bestowing it with a better hold and purpose to their online presence. Now people from all over the world can access various insights on the pharma industry with the help of online forums, mobile apps and ample content available on websites. Hence, the creation of targeted and value-added content helps you to grow your audience and business. All you need to make sure is that your content must give relevant information to your visitors.
The pharmaceutical companies improve process automation, enhance the operational agility, curtail the process cycle when mobility comes into the IT strategy. For example, when companies build a mobility solution upon ERP, it minimizes the time gap in the decision-making process in operations.
Pharmaceutical companies are realizing that mobility adoption can facilitate better customer engagement. It can also deliver useful insights into customer choices and help in delivering better products in lesser time. Mobility adoption can drive sales easily, enhance customer experience and increase productivity which would eventually lead to a greater return on investment.
The global augmented reality & virtual reality in healthcare market is expected to reach USD 5.1 billion by 2025 according to a new report by Grand View Research, Inc.
4) The blockchain
The blockchain helps pharmaceutical companies to streamline manufacturing supply chain by providing real-time access to data throughout the whole pharmaceutical procurement process. It can also help them to minimize the cost of research that they conduct through third-party companies on the movement of their products.
Inventory management is another side of the pharmaceutical industry that the blockchain can simplify. A system based on blockchain would enable manufacturers to get proper perceptibility into the supply chain and manage inventory levels efficiently to prepare for an upsurge in demand.
This will also help manufacturers to maintain a steady flow of products and manage their inventory levels for any short-term hold period.
As discussed above, pharmaceutical companies need to perform a clinical trial to manufacture better products. When it comes to clinical trial management, again the blockchain proves beneficial.
For example, in the supply chain of large molecules. Many biotech companies are developing large molecule medicines and they require digital ledger to keep records of various points about these molecules. The blockchain helps them to identify and validate the various points as they finalize a product to hit the market.
Blockchain helps to:
Store and secure clinical trial data
Validate drugs to prevent the sale of counterfeit drugs
Dependability of data for scientific experiments
5) Data-driven decision-making
Big data can help the pharmaceutical industry in numerous ways like predictive modeling, clinical trials, industry collaboration, etc. A pharmaceutical company can make use of predictive modeling to test a drug for a patient as per patient's genetics, disease, etc. Big Data analytics can also be used for drug discoveries using algorithms to analyze data in the cloud.
Companies can also use big data and analytics to conduct clinical trials. They can choose patients who meet the prerequisites like genetic information, personality traits and disease status through their patient records and database. Pharmaceutical firms can collaborate with other healthcare institutions to broaden their database for forthcoming clinical trials and predictive modeling.
Digital technologies have helped the pharma companies to launch more targeted products & services with the help of useful insights fetched by gathering data and its analysis. This data helps them to understand what upcoming health challenges people may have to deal with, like the current pandemic situation that we are facing everywhere. The pharma companies can understand the impact of their new drugs and multiple other factors that affect their research and development, production, sales and marketing.
There are numerous data sources like physician records, hospital data histories, clinical trial systems, social media, sales and marketing folders, research data, claims data, etc that give you profitable decision-making abilities by integrating these data and analytics.
Leveraging AI and advanced analytics, companies can drive insightful decisions for various business aspects ranging from product planning, designing, manufacturing to clinical trials in order to improve collaboration, information sharing, productivity, cost optimization and more.
This helps in majorly following two ways:
Preventative treatment
The pharma companies can easily keep up with the latest trends and consequently generate predictive models of biological procedures.
Generating revenue
Big data strategies can help with innovation and the right decision-making to drive value and give a significant increase in annual revenue. Companies will also be able to reduce the cost of clinical trials with the help of data modeling. They will save time and cost by conducting only the trials with a greater possibility of success.
Final thoughts
The above mentioned are a few of those digital strategies for the pharma industry that will help you achieve success and make your company a sustainable establishment in the industry. The incorporation of these methods will improve patient experience throughout your entire process. This will also allow you to provide better care for the patients, resulting in building their trust in your brand. To know more about digital services for the pharmaceutical industry and how you can take advantage of these offerings, get in touch with our experts.