In a constantly changing world where virtual and physical environments are converging, ever-evolving digital technologies continue to disrupt the medical device industry. Besides, an uncertain environment, resulting from the ongoing COVID-19 outbreak has forced healthcare device manufacturers to adopt advanced technologies and tap into enormously growing medical device markets.  
 
At the same time, the increased connectivity between medical devices, physicians and consumers is necessitating OEMs to design and develop technologically advanced medical solutions. The digitization of manufacturing is, thus considered to be one of the core adjustments for healthcare manufacturers and OEMs to provide better patient care and remain competitive in the medical device markets.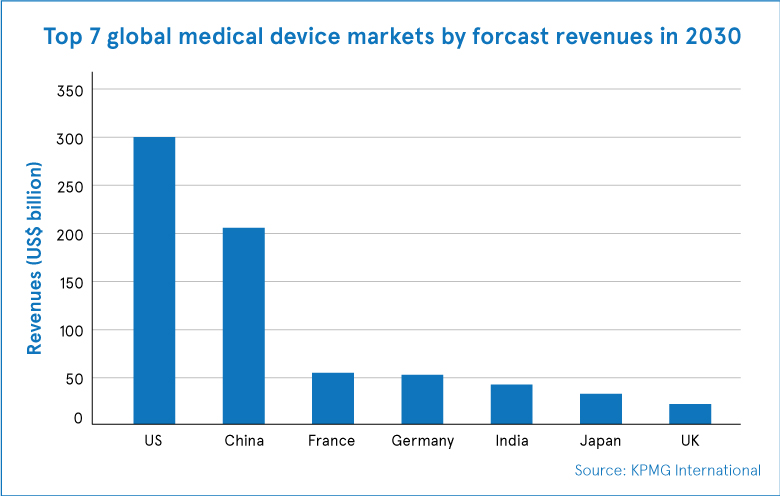 Advanced technologies like IoT, AI/ML, cloud, RPA, augmented and virtual reality hold a great potential to revolutionize the medical device manufacturing processes. So, medical device manufacturers and OEMs are embarking on a digital transformation journey to reinvent their manufacturing operations and product development models.  
 
In this blog, we have highlighted the top seven digital technologies that can revolutionize the healthcare ecosystem and help medical device manufacturers to develop consumer-centric, advanced medical products and solutions, in line with the market needs. 
Advanced digital technologies reshaping the medical device industry 
In the new normal, healthcare device manufacturing companies will need to step out of their conventional manufacturing role and call for new product designing-development approaches. But the question is, how? The answer is: By embracing next-generation digital technologies.  
"Medtronic, one of the market leaders in medical technology, has been able to reduce its development times by 8 to 12% through extensive digitization and close integration of product development processes."
So let us look at the 'must-have' digital technologies that medical device manufacturers and OEMs should embrace at earliest to transform the way they design, develop and manage their healthcare products and solutions. 
1. Adopting AR, VR and MR for digital engineering  
As healthcare devices continue to miniaturize in both size and weight; AR, VR and MR technologies have risen to move the needle for medical devices. AR/VR and MR headsets like the newly upgraded Google Glass, Oculus and Microsoft HoloLens empower medical device developers to navigate product designs and features in an immersive augmented or virtual environment. This is where users can interact with computer-generated 3D models to develop better healthcare products.
Some of MedTech uses cases of these technologies include: 
Refining product designs and improving manufacturability
Performing real-time analysis on multi-CAD assemblies
Detecting potential issues during early production stages
Creating high-level digital prototypes 
Conducting ergonomic and virtual mock-up studies
Handling remote maintenance and support 
2. Leveraging RPA to drive greater efficiencies 
Modern medical device manufacturers are facing greater financial pressures along with various product development and commercialization challenges. To overcome such challenges, digital technologies like Robotic Process Automation (RPA) and Cognitive Automation (CA) come to the rescue of MedTech companies. These technologies not only help them to identify better ways to develop and launch innovative healthcare products, but also enables them to mitigate the cost associated with it.
The potential benefits of robotics-based automation systems include: 
Improved product quality 
Reduced processing time 
Enhanced worker safety 
Data consistency and accuracy  
Reduced manufacturing costs   
3. Embracing mobility solutions for remote monitoring  
In a bid to remain competitive in the medical device market and monitor production processes remotely, healthcare device developers are turning towards the adoption of mobility solutions. However, the proliferation of mobile devices and platforms have already enabled the medical device industry to create new avenues for managing different product manufacturing operations from anywhere, at any time.
Mobility solutions bring innovation to the healthcare device manufacturing industry. The key advantages of these solutions are:
Real-time manufacturing process monitoring
Ease of managing regulatory compliance
Increase in sales opportunities and ROI
Efficient work order management
Facilitate remote collaboration
Enhance field service operations
4. Enforcing IoMT to gain actionable insights 
Internet of Medical Things (IoMT) is a connected infrastructure of healthcare devices, health services and software systems. Advances in portability, connectivity and miniaturization have driven the growth of IoMT and connected medical devices – that enables users to produce, gather, analyze and transmit data using the Internet. IoMT enables medical device manufacturing companies to get powerful data insights and develop value-based, digitally-enabled medical devices.
The technology offers endless opportunities to a medical device manufacturer/OEM, such as:
Navigating regulatory change successfully 
Developing an in-depth understanding of end-users 
Comprehending interoperability requirements 
Introducing new business decisions powered by IoT 
Gaining deeper insights into the product's operating environment 
5. Head to the cloud and drive medical device innovation 
Today's healthcare system developers can keep pace with the technological disruptions and regulatory changes, all thanks to cloud connectivity! The computational capabilities of the cloud enable medical device developers to manage their manufacturing operations from enterprise resource planning (ERP) to financial management to data analytics.
Cloud technology has a lot to offer to medical device manufacturers or OEMs, such as:
Remote collaboration across disparate product development networks 
Business-wide collation and analysis of data in real-time 
Reduced costs across procurement and manufacturing operations 
Secure data storage and make manufacturing IT systems more secure  
6. Implementing AI for generative designs 
With the advent of Artificial Intelligence (AI) and machine learning (ML) technologies, endless possibilities emerge for healthcare device developers to reform their device development processes. The possibilities become even more obvious with deep learning, graphical modeling and 3D printers, that help them to prototype and scale up the ergonomics, endurance and effectiveness of medical device designs seamlessly. AI/ML not only empowers OEMs to analyze data, but also predict and make automated decisions.
The widespread applications of AI in manufacturing include:
Production quality control 
Yield optimization 
Predictive maintenance 
Shop floor mass customization 
7. Employing chatbots for efficient device maintenance  
Maintaining environmental conditions is one of the significant factors for medical device manufacturers as any changes in it may affect the efficiency and productivity of the product. Chatbots can enable operational teams to keep a tab on the environmental conditions by simply asking questions like "What is the ambient pressure reading for the Floor number 5?" via their mobile app.
Apart from efficient maintenance, there are plausible scenarios in which chatbots can be applied in the manufacturing industry, such as:
To collaborate and engage with vendors 
To provide prompt information on order details
To keep a tab on manufacturing metrics 
To track the productivity and efficiency 
Digitalize medical device manufacturing  
The next-generation digital technologies are bringing innovation to the medical device market and the entire healthcare ecosystem. These technologies present new opportunities to medical device manufacturers in the way they design, manufacture and service medical devices. If you are a medical device manufacturer or OEM and want to tap into the MedTech market with the aid of intelligent technologies, then get in touch with our team of digital technology experts.