Decision-makers across industries are using data analytics to drive better business insights. But it's time to move beyond just using data for informed decision-making. The next step for business leaders is to refine, analyze and combine data to create new revenue streams. This process of converting data into money is called data monetization.
Though the primary objective of data analysis for any organization is ultimately to drive profit, the potential opportunities may seem to be too conceptual. These techniques are generally focused towards indirectly contributing to the financial growth of the company, whereas data monetization targets harvesting the direct financial results and increasing the revenue margins.
Data is the new currency
Traditionally, the only way businesses used to make money out of their data was by selling it to a third party. But data scandals like Facebook–Cambridge Analytica revealed how sharing consumer data with a third party can go completely wrong. With data privacy becoming a major issue and laws like General Data Protection Regulation coming into existence, it's time to move beyond directly selling your data. The target now is to make more money while ensuring the data doesn't leave your organization.
Still, in its nascent stages of growth, this kind of data monetization is being used by companies to disrupt the established industries and create a competitive advantage. They are utilizing data directly to create new product/services and business models. According to a report published by McKinsey, some of the high-performance companies say their monetization efforts contribute more than 20% to company revenues.
The data monetization market is projected to grow at a CAGR of 17.1% – PR Newswire
Making your organization ready for data monetization
Before you start exploring different ways to monetize your data, it is important to make your business ready for it. A strong foundation in terms of your business models, resources, and infrastructure is needed to build an effective data monetization strategy. Several companies around the globe have transformed themselves to make dollars through data, and your organization can do it too.
Data-driven leadership
It requires leaders, CEOs and senior management in the organization to treat and value data as an important evolving asset which can be monetized rather than a static asset. These people are the ones who can create a data-driven culture in the company, which is the prerequisite to develop any data monetization strategy. They must be responsive to make the desired changes in the processes, infrastructure, company's environment, and core business operations for deriving monetary value out of the data.
Growing the right talent
One of the major roadblocks to the route of data monetization is the shortage of the right talent. Businesses find it hard to get people who have the right balance of both technical and domain expertise. To overcome this challenge and to grow the analytical capability of the organization, few go for upskilling and hiring while other choose to connect with third party data experts.
Business model analysis
For a winning data monetization strategy, organizations must evaluate their current business model to know how it can be successfully transformed to seize the opportunities of data monetization. This includes assessing the company's data governance structure, day-to-day activities, cost structure, and revenue streams. You can also analyze the business strategies of your industry peers who are already riding high on the success of data monetization.
McKinsey suggests that "the global revenue pool from car data monetization could be as high as $750 billion by 2030."
Winning data monetization strategy
Once your organization has developed the capability for data monetization, it's time to get started. Here we discuss the two major strategies to monetize your data i.e. reducing cost and increasing revenue.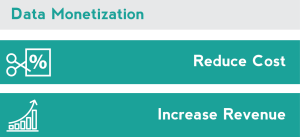 Reduce cost
Improving internal processes
Using data to improve the existing internal processes of an organization is a great way to reduce operational costs and improve ROI (return on investment). With data-based insights, Genpact was able to reduce their operating expense by 40% while Microsoft salespeople were able to save 10 to 15 minutes per sales opportunity.
Minimizing churn
It costs five times as much to attract a new customer than to keep an existing one. Customer churn is a major issue in most of the organizations which result in increased sales and marketing expenditure. By using data to build churn prediction models, businesses can now easily identify which customers are likely to churn, what the reasons are and how the company can retain dissatisfied customers.
Detecting fraud and piracy
A typical organization loses 5% of its revenues to fraud each year -Association of Certified Fraud Examiners
Data can assist businesses in detecting fraud and fight them. Companies can analyze their historical data and develop powerful fraud detection and prevention systems to save themselves from loss of revenue. eCommerce giants across the globe are harnessing data to fight frauds like selling of counterfeit items, returning/exchanging counterfeit items, payment through stolen cards, denial of delivery, extreme price discrepancies, and identity theft.
Increase revenue
Exploring new revenue models
Using data led insights; businesses are not just improving their existing processes but taking a leap forward as well. Decision makers across industries are trying to explore new economic models that create a new revenue stream for their businesses. Booz Allen Hamilton is a management and IT consulting firm that collects a large amount of data, but instead of selling it to a third party, they decided to create a new revenue model. The company solves its customers' problems using data, and gets paid for answering their queries, thereby creating a new source of income.
Creating new products or services
If you're planning to launch some new products or want to provide new services to existing offerings, data can be of great help. Organizations are analyzing the latest data trends and customer demands to come up with an informed product and service development. This helps to ensure that the products they create or the services they plan to offer will excite customers, thereby increasing the chances of making money out of it.
Improving marketing ROI
Marketers are now focusing on data-driven marketing to get more profit against their money spent. They get a deeper understanding of customer needs, effective marketing methods, and purchasing behavior by analyzing metrics related to browsing behavior, social media engagement, location, response to coupons, and competitor site visits. This data can be used to make the right marketing decisions which ensure maximum marketing return on investment (MROI).
Maximizing customer satisfaction
Satisfied customers open a door of opportunities for cross-selling and up-selling along with the word-of-mouth marketing which is so incredibly important to any business. Data helps organizations to measure the level of customer satisfaction. This process includes collecting data from a variety of sources which includes social media, online surveys, customer feedback, purchasing history and more. The next step is to start optimizing your customer satisfaction and earn loyal customers for your brand.
Conclusion
Today, organizations are creating more data than ever and if this data can be put to the right use, it can help to increase revenue margins. An efficient data monetization strategy takes the guesswork out of the process and provides a logical way to make money out of data. If you're planning to extract value out of your company data and need consultation, our data experts can provide you with the right assistance.