Every enterprise is concerned about employee productivity because lower productivity cannot be the fault of employees entirely. With the changing business market, organizations must deploy cutting-edge technologies in their workplace in order to improve the productivity of their workforce. One such next-gen technology that a lot of modern businesses have already adopted is a chatbot a.k.a conversational UX.
AI-powered chatbot for conversational engagement and rich interactions
Nowadays, chatbots are developed by integrating artificial intelligence, machine learning, and natural language processing, which facilitate employees with many different day-to-day tasks such as answering customer queries, booking travel tickets, scheduling meetings, boosting employees' motivation, providing product information, and processing purchases. This means using a chatbot can help employees to be more productive in core areas of the business.
Also, organizations can incorporate chatbots to conduct training programs for their new employees where bots can educate trainees about company hierarchy, new products and policies, and campus infrastructure to ease their transition in a new environment. Apart from those, a few more benefits that a chatbot for HR and workplace productivity offers are:
Makes the recruiting process seamless
Enable smooth internal communication and processes
Make the onboarding process more functional and engaging
Ease support teams from repetitive questions
Leave no question unanswered by working 24/7
Gather customizable analytics for better decision making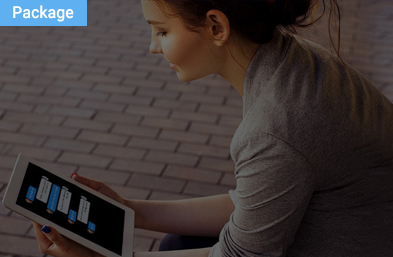 HR CHATBOT DEVELOPMENT PACKAGE
Softweb Solutions provides an automated and AI powered conversational bot solution which makes HR management more engaging and impactful.
6 key characteristics an HR and workplace productivity chatbot must have
Easy customization
The conversational flow of the chatbot should be simple enough to modify based on the requirement, which means, you should be able to change the question and the sequence of the flow as and when needed, without having to depend on a technical expert.
AI and ML capabilities
A chatbot without artificial intelligence and machine learning is like a body without a brain. Organizations should consider developing a data-driven AI chatbot that learns from the frequent questions employees ask and identifies patterns, performs complex reasoning and delivers monthly reporting as well.
Conversational maturity
A chatbot can be made conversationally intelligent to understand the context of a conversation by integrating natural language processing (NLP) and machine learning (ML) technologies. Such chatbots can also identify the intent of the employees' queries to provide the right first response and provide options to clarify or confirm the intent.
Cognitive APIs integration
The chatbot should be injected with cognitive intelligence to understand the employee personality traits, tone, and sentiment while interacting. This will help the chatbot to deliver a personalized experience and know when to escalate the matter to an HR executive.
Multi-language support
Chatbots built for multi-languages can address and resolve a lot of employee queries/requests round the clock. So, by integrating a language detection tool in a chatbot, the employees coming from different regions and working in the organization can have a rich employee experience.
Omni-capable
The chatbot should be able to seamlessly converse across diverse channels and enterprise systems, and from the gathered data, the bot should be able to understand the context and offer a better employee experience.
The final say
These are just a few features that every organization must consider while developing chatbots for HR and workplace efficiency. Moreover, with artificial intelligence and its subsets, chatbot can empower HR and digitized workplace to simplify its processes without much effort. So, if you are looking to develop HR chatbots to improve the employee experience and cater to the different needs of both the employees and the employers, talk to our experts.