We all are witnessing the evolution of text messaging as the mainstream form of communication. Now many businesses are also focusing on the implementation of chatbots in their operations to get better results. Companies are referring chatbots as the next big thing for information management and customer service.
We all are aware of the buzz that is created by this technology. A chatbot is a computer program that can simulate a real conversation initiated via chat interface. Moreover, the chatbot has a wide range of applications for any type of business.
Chatbots equipped with artificial intelligence, machine learning and NLP have the ability to understand human language, which makes it easy for them to solve customers' queries. You may have confronted a chatbot while booking a ticket, but you may have not realized it.
It might not be wrong to incorporate a chatbot in a business process to get the desired results. However, how this technology would help you in expanding your business is an important thing to know.
So, here are the points that prove the strength of chatbots in a business:
Immediate customer support
Being put on hold while you are in the middle of a conversation with a customer service representative is one of the most irritating things that you might have to face. It is then followed by ear bleeding hold music– a total nightmare! Luckily, having a chatbots for customer service can mitigate this horror by helping customers with a series of questions that often appear in the FAQ section. A trained chatbot can answer queries like "when will my item be delivered?" This allows service agents to focus on even more critical issues. The complete process in turns builds a positive impression on the customers.
More personal service and increased sales
Having a chatbot in your business process can provide a sense of personal service to the customer which can result in increased sales. Actions like assistance in making complex purchasing decisions, making personalized recommendations and search a product catalog can give an extra edge to your business resulting in making a better profit. Somehow, if a customer exits without making any purchase and the next time he visits, the chatbot will remember the previous conversation and make recommendations accordingly.
Access to a large audience
Chatbots can be built on any widely used messaging platform such as Facebook Messenger, Slack, WeChat, Kik, Skype and many more. This flexibility allows businesses to access a wide range of audience. People using any of the above mentioned messengers can easily become your customer. Let's look in like this: there are more than 1 billion active users who are using Facebook messenger. This implies that with just a single click, you can approach to more than a billion of users. This explains how quickly a business can reach to a huge pool of customers.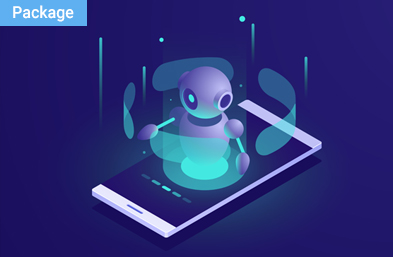 AI-BASED CHATBOT IMPLEMENTATION STRATEGY
Softweb's AI-based bot implementation strategy is specifically designed to help companies understand how to build and deploy intelligent chatbots.
Round the clock availability
The beauty of having a chatbot is that it would be available at any point of time to the customers. This allows a customer to initiate a conversation anytime and anywhere, as long as they are using the messenger application on which the chatbot is implemented. This might prove quite beneficial for the business as a chatbot can potentially solve any basic issue raised by a customer during non-business hours. Available to every user without getting chocked up from incoming requests turns out to be a cherry on the cake for businesses.
Chatbots can predict
Chatbots can remember previous conversations with a particular customer which allows the business to predict the targeted customer base and prepare the strategy accordingly. The more you know your customer, the better you can perform to generate more profit. Having a chatbot for the business makes it possible for you to have a better understanding of customer requirements. Chatbots can derive this information by initiating a series of questions. This also allows a business to know the preferences, likes and dislikes, etc. Based on this information, an organization can plan the sales pitch and approach to the targeted audience.
Softweb Solutions understands the importance of the latest standard of automation in cyberspace. With an extensive experience in developing chatbots for businesses, we offer a plethora of bot development and implementation services. We help our clients to develop business strategies to increase customer and employee engagement to make your business available 24*7*365 for your customers.