Extended reality (XR) is an umbrella term for technologies like virtual reality (VR), augmented reality (AR) and mixed reality (MR). At present, XR covers the entire range of real and virtual environments and soon it will include more such emerging reality technologies.
XR is transforming operational practices for several industries. And it is imperative to initiate its implementation with tactful thinking and strong follow-through for a successful enterprise extended reality (XR) project. A combination of XR with AI and IoT will help to enhance productivity and experience.
The engagement of C-suite and end-users are equally important for initial acceptance and continuous usage of an XR initiative. The successful incorporation of extended reality applications will give your organization a tool that will enhance productivity, drive efficiency and gain acceptance from everyone involved.
Some practices that can ensure long-lasting success of your XR initiative are:
Initial approach
Begin with a focused technology approach that includes your IT and business teams. In the absence of a clear plan, your teams will experiment on the XR initiative, but may not be able to achieve fruitful results. Hence, plan strategically to attain productive outcomes and avoid failures.
Attempt with proper preparations
Start with a list of XR use cases and hypothesis based on enterprise settings. It would be beneficial to interview some stakeholders from IT field having an experience in the implementation of similar technologies. This may help you to understand pain points and prepare yourself for any upcoming challenges beforehand.
Arrange a list of existing use cases in which enterprises are already gaining efficiency and productivity, again in a similar industry. Organize use cases to reflect value versus ease of implementation. Make sure you focus on the use cases that reflect easy implementation and give high-value. Test the use cases to check if they are verified or not. Document and analyze results before you decide to pilot them.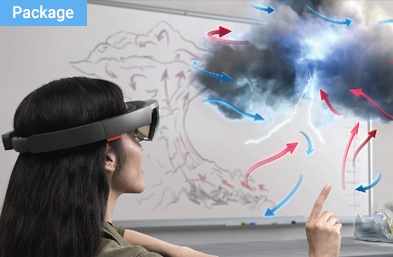 HoloLens Pilot Project
Our aim is to give enterprises clarity in terms of the deliverables and expectations when it comes to building a full-scale HoloLens specific application along with a precise estimate of the time required.
Data accumulation
Discover and establish methods to accumulate data and measure key performance indicators (KPIs) before testing. You can collect data either by an employee satisfaction survey or using an XR analytics tool.
Some standard things that you should measure are:
Time it takes to do a task
First-time quality (FTQ)
Error rates
End-user comfort
Time on tools
Improvements in safety
Establish standards if not already established and then measure them. For initial projects, you should focus on use cases that can be easily measured and give instant value.
Forecasts indicate that by the year 2022 XR is expected to reach a market size of more than $209 billion as represented below: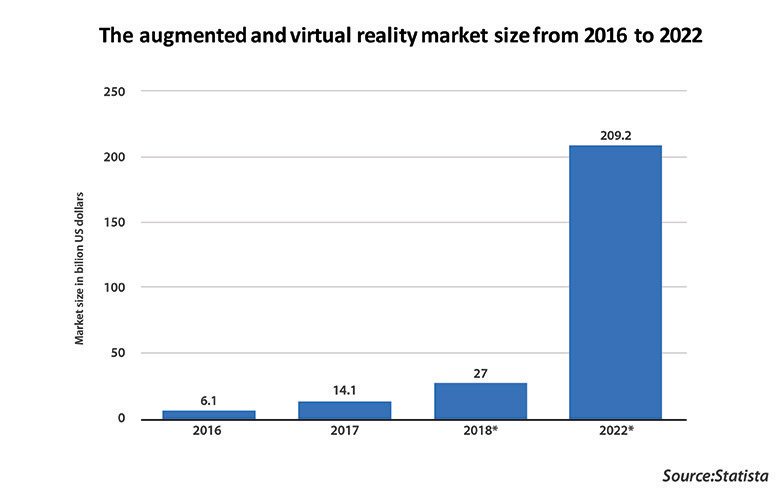 Source: https://www.sam-solutions.com
Technical strategy
There is no shortcut to success and it is always wiser to take the long road to avoid failures. Hence, take the long-term approach while pursuing an XR platform over a point solution. This will offer cross-functional features such as establishing proper security, users and roles, and master data management. The platform must scale with the expansion of your business with the use of open development standards that will allow you to add new teams and incorporate new systems easily.
Platforms are compatible with new hardware as they are mostly compatible with the device. This supports the system to adjust to the ongoing advancements in technology.
Change management
It is important for your employees to understand the new XR technology and know how to use it in everyday tasks. Provide proper training and guide them on how the tool would make their job safer and more competent.
Other changes at the policy level:
Set up a privacy policy
Establish data usage standards for XR applications. Make it available for all users so that they understand the purpose of personal data collection and its importance in making their job better.
Extend the mobility policy
Modify your organization's standing mobility policies and include XR hardware in it.
Operational analyses
Analyze the procedure and contemplate it considering its usage by your employees before you roll out the XR application. Also, observe it for minute details that might have been missed during design and development, like:
Adoption of check out/check-in system on the device
Observe battery life
Use pre-charged exchangeable batteries
Arrangement of back-up devices
Conclusion
Extended reality can help businesses identify new revenue streams, including building new business models as well as through increased customer satisfaction and retention. By choosing extended reality, you will attain valuable advantages for your business. Though XR implementation is a bit complicated, with the help of an experienced extended reality company as a service provider, you can minimize risks and avoid mistakes and hurdles in its implementation. To know more about XR implementation, talk to our experts.