Thanks to three industrial revolutions and the ongoing fourth one, the manufacturing industry has always witnessed a transformation of some kind or the other. With automation, smart sensors, IoT devices, and augmented reality, technology is advancing at a rapid pace and disrupting the old-age norms in the manufacturing sector. As leaders, CEOs and top-level executives prepare their organizations for these massive transformational changes, they continuously struggle with hurdles of all sorts.
Increasing productivity, generating more revenue, improving workflow, retaining knowledge, developing better business models, remaining competitive in the business, reducing environmental impact, and combating safety issues are some of the problems faced by the leadership in the manufacturing sector.
Outlined below are some of the top challenges faced by business executives and how AI powered manufacturing helps to tackle these challenges: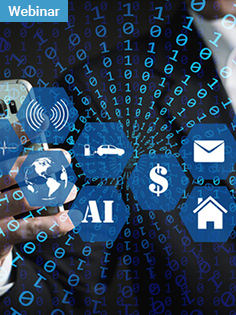 Discover what, why and how of Vision AI at the Edge
Webinar agenda
What is Vision AI at the Edge
Why vision AI at the edge is a game-changer
Applications of Vision AI at the Edge
Industrial use cases for accelerating AI at the Edge
Q & A
Reducing information overload
Senior leadership is often bombarded with enormous data coming from departments like production, logistics, inventory, and, sales along with endless emails, texts and, calls from employees, partners and vendors. This deluge of information reduces the creativity and productivity of C-suite leaders. AI can help leaders address this issue by extracting the most valuable information from the larger data sets. This enables leaders to prioritize their tasks and focus on what is important. IBM Verse, Salesforce IQ, and Gluru are some of the best examples of how AI applications can help to solve the information overload issue.
Better decision making
Like any other industry, the top-level management in manufacturing also needs to make crucial decisions for their company. The pressure that comes along with these kinds of high-impact decisions depletes the mental energy. This often leads to decision fatigue that increases the likelihood of making drastically poor decisions. The good news is that AI can help leaders make faster and more accurate decisions. AI applications, when fed with an adequate amount of data, can provide C-suite in the company with models for better decision-making.
Boosting revenue without increasing investment
One of the major areas to focus for any C-suite in the company is to improve profit margins, boost revenue and get the best return on their current investments without any extra expenditure. Integrating data collected from connected devices to AI helps manufacturers in delivering significant cost savings. The technology assists senior management to make informed decisions at each stage in like which raw material supplier and freight carrier to choose, go for a demand-driven or capacity utilization approach, how to reduce energy consumption and much more. Making correct decisions potentially saves a lot of money, thereby improving profit margins.
Ninety percent of C-level executives reported measurable benefits from deploying AI technologies within their organization – Infosys
Reducing inflexibility
The consumer demands are changing and now they look for personalized products rather than standardized ones. No top-level executives want their company to lose customers because of lack of flexibility. However, the traditional practices used in the manufacturing industry make it difficult to cater to the custom requirements of the buyers. In order to get flexible automation, AI-powered industrial robots can be used across the production floor. These robots can be trained to work on a multitude of tasks and can easily adapt to the ever-changing consumer demands.
Retaining knowledge
According to the AARP, 10,000 baby boomers are turning 65 every single day, and this is expected to continue into the 2030s. When these experienced employees leave, they take knowledge along with them as well. This knowledge drain is a huge concern for senior level management, as a large chunk of the organization's budget goes into training and up-skilling employees. AI technology can prove quite useful to retain this knowledge. Before leaving, experienced personnel can transfer their knowledge by training AI models. This would help in creating a centralized and permanent knowledge center that can be accessed by any employee in order to improve their skill and perform better.

Insights
How to overcome the challenges of Industry 4.0 using AI
Industry 4.0 represents the latest revolution in the manufacturing industry. It has the potential to transform production, design, supply chain, logistics and several other processes of manufacturing.
Attracting younger talent
The manufacturing industry is facing a serious labor shortage issue as baby boomers are retiring and the younger generation does not seem much interested to pursue a career in manufacturing. According to a survey conducted by NAM, 18-24 years olds ranked manufacturing 5 out of 7 as their career preference. Leaders and HR heads supporting the manufacturing organizations are under increased pressure to attract young talent and save the company from this serious issue. Using AI in manufacturing operations will create more tech-related jobs that will eventually draw the interest of the younger tech-savvy generation.
Reducing manufacturing waste
As a part of the corporate social responsibility, CEOs in the manufacturing sector are always concerned about reducing environmental pollution and manufacturing waste. Some of the major reasons behind this excessive waste in manufacturing plants are overproduction, poor inventory management, defects in production, mishandling, excess motion and more. AI can help to streamline these processes with better forecasting, improved quality control, and increased automation thereby offsetting a considerable amount of waste.
Creating a safer production environment
Safety in manufacturing is an important part, as it not only avoids accidents, illnesses or death but also helps to reduce cost and improve the bottom line of the business. Leaders in this industry continuously struggle to promote and maintain a safe environment for workers. Artificial intelligence is allowing companies to integrate predictive maintenance and other wide range of safety solutions. This technology helps to monitor the performance of machines across the production floor and identify anomalies in order to safeguard workers against any hazard. Moreover, AI-powered fatigue monitoring systems can be used that tracks the signs of worker fatigue and alert the supervisor to avoid any mishap.
Combating cybersecurity
Technology is not only improving efficiency in the manufacturing sector, but it is also creating cybersecurity related issues that CEOs and top-level management must address. Attackers are now more interested in stealing Intellectual property (IP) and trade secrets over user information and credit card details. Competitors and new entrants in the industry use this stolen information to save their R&D expenditure, thereby making manufacturing companies more susceptible to cyber threats. AI helps to develop smarter and automated security systems for the manufacturing industry that use both supervised and unsupervised learning for detecting attacks.
Key takeaway for leaders in the manufacturing industry:
AI helps senior leadership to deal with complex issues related to their manufacturing units. It lends a helping hand, thereby enabling the top-level management to take the right call at the right time. The ways in which AI can support business leaders in this industry is much more than what is stated here. Get in touch with our AI-experts to understand in detail how AI can actually make a difference for leadership in manufacturing.