Wednesday, 22nd February, 2017 – The Ahmedabad division of 94.3 MY FM, the highly popular radio station present in 26 cities across India, presented Softweb Solutions with an award for "Excellence in Emerging Technologies and Advance Analytics".
The radio station hosted an awards function on February 18 for the established businesses of Ahmedabad to honor their contributions in their respective fields.
The panel of chief guests included well-known personalities of Ahmedabad. The event also included performances from renowned artists with folk music, an illusion show and Tanoura dance form.
The company's development center is located in Ahmedabad, one of the emerging IT centers of India.
"We are bringing our extensive experience of over a decade from USA to Gujarat, and are extremely grateful to 94.3 MY FM for recognizing our efforts as an industry leader in the advanced field of analytics in Ahmedabad, and rewarding us with this esteemed award." says Ripal Vyas, Founder and President, Softweb Solutions.
"The award is a testament to the dedication of our team and puts us in a position to transform businesses in the vibrant state of Gujarat," says Hari Om Raval, Managing Director, Softweb Solutions.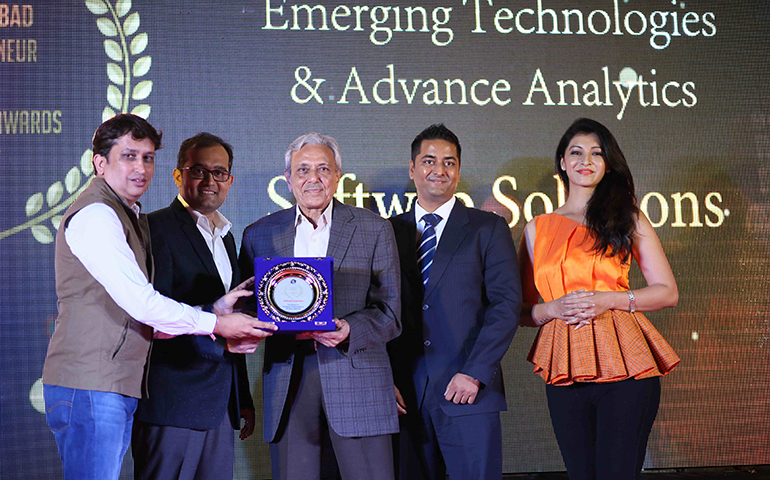 About Softweb Solutions
Softweb Solutions Inc. is an Avnet company with offices in Chicago, Dallas and Ahmedabad. We deliver best-of-breed AI software for IoT applications, along with providing data services and digital transformation to enterprises. Over a decade of experience with startups to Fortune 100 companies has given us the proficiency to offer strategy, design, engineering solutions, and R&D services.
For more information, please visit us at:
https://www.softwebsolutions.com/about-softweb-solutions.html
https://www.softwebiot.com/
https://www.softwebmobility.com/
About 94.3 MY FM
94.3 MY FM is the largest radio station network of the growing India (17 tier-2 & tier-3 cities). The station commands leadership position in terms of both listenership and retail advertising market share on account of its deep local understanding offering unmatched coverage in India's heartland. 94.3 MY FM also emerges as No.1 amongst affluent class in car radio listenership, Decision Makers & Youth.
Subscribe to latest updates by Email
Receive occasional updates on our evolving perspectives on digital strategy, brand, marketing, and user experience: