The Internet of Things is simply an ecosystem of various objects that are connected through the Internet. These objects that range from cell phones and wearables to machines and valves generate a constant and a vast amount of data every day. The role of artificial intelligence in the current IoT scenario is to use this humungous data to extract meaningful insights and help IoT enabled setups to derive greater value.
The leading vendors of IoT platforms like Microsoft, Amazon, Oracle, IBM, and Salesforce have started integrating AI capabilities such as machine learning into their IoT applications. From large organizations to start-ups, companies across industries are opting for AI focused IoT solutions. These companies consider that AI is reinventing IoT and will help to unleash its true potential.
"Gartner predicts that by 2022, more than 80% of enterprise IoT projects will include an AI component, up from only 10% today."
How is pairing IoT with AI technology helping organizations?
The fusion of AI and IoT turns out to be the key to success for companies in various sectors. Machine learning, an essential component of AI makes the data collected using IoT more actionable. It helps to:
Detect anomalies,
Generate predictions,
Improve operational efficiency,
Reduce downtime, and
Enhance risk management.
Cognitive services in artificial intelligence like natural language processing, face detection, and character recognition help to extract insights and make accurate predictions without the need for much human intervention.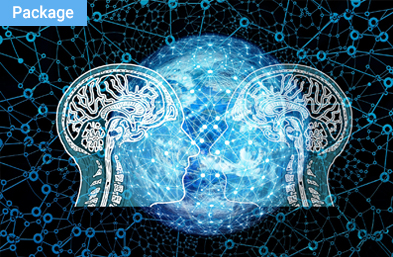 AI strategy and planning workshop
Artificial intelligence is transformational, and adopting this technology will enable companies to reshape their strategic vision so that they no longer rely on what they think is true, rather, leverage factual-based decision-making capabilities.
Interesting use cases of AI-powered IoT
1. Walmart uses facial recognition technology and IoT tags to improve retail
The retail giant, Walmart, uses a face recognition technology in its stores to improve the shopping experience. The images of customers received from the cameras installed in the stores are fed to this AI. Based on the data, it analyzes the facial expressions of customers and identifies whether they are satisfied or frustrated with the services offered. This helps the staff to deal with the customers in the right way.
Moreover, AI can match the faces of the people entering the store with a database of suspected shoplifters and other criminals. If the match is found, a notification is sent to the security desk immediately. This has helped to significantly reduce the theft from Walmart stores.
The company has also built IoT tags for products which help in stock management, better shelf placement, and even to check for expiry dates.
The company has also developed IoT tags to make performance improvement across retail and warehouse. IoT enabled objects to connect to the Internet, and in this case, an AI to automate commonplace practices. These tags can help employees know when to restock items, monitor trends in popularity, and even check for expiration dates.

2. Icon to use Intel's AI-driven technology for remote patient monitoring
Icon, a clinical research organization for drug development has collaborated with Intel to extend its remote monitoring capabilities. Icon will be using Intel's Pharma Analytics Platform to get better insights regarding drug development and its effect on patients. This cloud artificial intelligence platform captures real-time clinical data provided by sensors and other wearable devices. It also uses a smartphone app to gather patient information.
The data gathered by this platform is then stored in the cloud and analyzed using artificial intelligence and machine learning. The wearable technology when coupled with AI, allows Icon to measure the effect of their therapies thereby making drug development easy and simple. Intel Pharma Analytics Platform turns out to be a big game changer in the field of remote monitoring by providing the collection of data in real-time, eliminating the need to visit clinics and improving the patient experience.
3. Better transit monitoring with AI-powered IoT
In logistics management, transit monitoring is one of the most crucial as well as the essential parts. A number of technologies such as cloud-based GPS, GPRS, RFID tags, and GIS help to carry out real-time tracking of vehicles to detect maintenance issues and delays with the truck. This data can be used to carry out predictive maintenance and avoid costly repairs. Apart from this, video surveillance technology based on deep learning models provide information about the traffic and congestion, which can be used to analyze traffic patterns and plan routes smartly thereby saving time and fuel.
Using AI, logistics companies are carrying out condition monitoring for trucks which require monitoring of parameters like temperature, fuel level and others. The data received from temperature and humidity sensors installed in the vehicle is fed to the AI model which can detect anomalies and provide real-time alerts to avoid any disaster.
With the help of smart sensors, large amounts of driver-specific data like average speed, breaking, over speeding, seatbelt usage, and reckless turns are collected on a daily basis. Using machine learning, this data can be used to analyze the driving patterns of individuals, provide proper coaching and reduce accidents. Even insurance companies are creating custom insurance plans based on driver patterns with safe drivers paying less premium compared to reckless drivers.
4. CarForce take advantage of industrial AI software for better predictive maintenance
CarForce makes use of the massive amount of data collected by cars' computers which otherwise just get discarded. The mission of the company is to analyze this untapped data and develop better predictive maintenance models. This connected car company provides a small dongle-like device which can be installed in the car to capture data generated by sensors. The data from every car is then stored in the central repository and used for analytics.
"If you look at the big data/AI path, step one is just seeing the data," – Jessika Lora, the founder of CarForce
The real-time data collected can be used by car maintenance providers to predict the failure in advance and carry out maintenance on time. Apart from this, the data analysis is also beneficial for car manufacturers to identify manufacturing defects and rectify them.
5. Shell saves millions of dollars by tapping the power of IoT and Artificial Intelligence
Shell is a leader in the oil and gas industry that puts emphasis on using the Internet of Things and AI to make intelligent business decisions. They use the digital oilfield solution which enables to set up IoT quickly in their plants and carry out data analytics. The company has reportedly saved over a million dollars by applying AI to the data collected through IoT sensors and monitoring pipelines in their Nigerian oil fields.
The IoT sensors capture critical real-time information about various parameters such as oil flow, pressure, and temperature. The information collected is fed into a smart manufacturing system which analyzes these parameters and recommends the best temperature and pressure to enhance the overall process and derive greater profitability.
"It's really about IoT plus data, and bringing it to machine learning, to get information and come to decisions." – Johan Krebbers, IT chief technology officer at Shell
AI is the future of IoT
The huge amount of data collected by the Internet of Things becomes meaningful when it is analyzed to unlock insights. AI-powered IoT is slowly becoming the de facto in this competitive age. In the coming years, it would be extremely difficult to find an IoT solution which does not make use of the artificial intelligence in some or the other way.