Every process has a workflow behind it. Legacy organizations have laid their foundation with business processes built around repetitive, manual and paper-based workflows. But today, agility, flexibility and precise execution through workflows make the difference between success and failure for every enterprise.
Tableau's workflow automation makes enterprise-level processes swift, accurate and inexpensive by removing all the manual steps and design processes in an orchestrated pattern. This blog post aims to provide a clear understanding and benefits of leveraging Tableau Prep workflow automation to reduce complex chaos from your business processes.
What is Tableau Prep workflow automation?
Businesses anticipate workflow automation especially in three areas: managing cost-efficiency, improving time-to-market and optimizing customer self-service. Tableau encourages businesses to operationalize processes with flow automation to address these efficiencies. Tableau Prep workflow automation uses rule-based logic to automate manual tasks. From design, execution and automation, workflows work with predefined business rules based on tasks, data, or files routed among employees or systems.
The Tableau workflow automation is an analytical tool that enables businesses to generate actionable insights from data and share them with other teams. This tool meets the requirements of all stakeholders and provides a seamless way to evaluate and share the findings. Tableau Workflow includes five key actions that combine to support your entire data management system:
Access and view
Analyze
Discover
Share and govern
Some core benefits of workflow automation:
Minimizes errors
Streamlines communications
Reduces approval cycle
Improves visibility
Enhances workload management
Continuous process management
Increases employee satisfaction
Adheres to compliance
How to leverage Tableau workflow automation?
Build conditional reports
An agile business responds rapidly to change, but how would you know when it is time for you to act? Stay updated about business trends by integrating Tableau with other business software. You can generate automated reports whenever anything critical changes in another application.
Automate critical insights
Trigger customer reports
Quality customers
Share insights easily
Analytics help businesses make good decisions – but how can you gain insights in front of all the stakeholders? Using Tableau workflow automation, deliver valuable insights faster with other communication platforms such as chat and email.
Send insights via chat
Act right away
See insights in your CRM
Put trends in visualization
Feed existing data sets from other applications into Tableau – such integrations are built into the platform. For complex trends over time, you can bring together diverse data sets for a consolidated view of your business.
Combine data sets
Get a unified view
Provide instant service
Take control of data governance in Tableau to comply with your business's security protocols and industry standards. With workflow automation, you can control and limit access to Tableau dashboards and reports based on custom permissions and authorizations.
Store data secure, but share insights
What is the role of Tableau Prep workflow automation across industries?
You can automate the operational workflows, whether it is simple or complex. Let us look at some use cases on how workflows can streamline your departmental processes.
Human resources
The human resource department can drastically reduce paperwork with automated workflow. Human resources will be able to gather, verify and recruit candidates through automation. Further, they can swiftly deliver employee onboarding and off-boarding experience. Moreover, they can also improve workflow visibility and ensure compliance with all processes.
Marketing
The marketing teams of any organization struggles with repetitive and menial tasks such as sending emails and updating social media. With automated workflow, manage such tasks easily. You can efficiently tackle collaboration with teammates at various locations, content approvals and follow-up of qualifying lead seamlessly. Interestingly, the marketing team can autopilot multiple campaigns and monitor them from a unified Tableau dashboard.
Sales
Once you have the marketing team up and running with effective workflows, it leads sales teams to build a standardized process. Using workflow automation ensures sales representatives deliver priority tasks and never let a lead slip through due to an error. Apart from this, they can get insightful reports and analyses of the ongoing processes with prospects and clients.
Finance
Workflows designed with Tableau are a great helping hand to the finance department. It helps finance teams manage documents efficiently, save time on approval processing, schedule auto-payments and create an advanced payroll management system. Besides, they can opt to integrate data with other accounting software to boost productivity.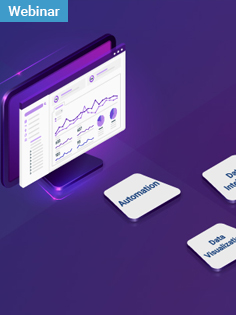 Let your data tell your business story with Tableau
Webinar agenda
Overview of Tableau and integrations
Various data visualization trends
Must have data analytics trends in 2021
Use cases and live demo
Present day examples/ case scenarios
Q & A
Few considerations to make for workflow automation
Instead of finding small tasks for automation, redefine your business processes and automate with a digital vision.
Take time to analyze your customers' and employees' pain points. Also, prioritize your automation areas based on the identified values for ease of implementation.
Practice a clean-sheet approach to areas that need transformations rather than focusing on what to eliminate.
Involve your business stakeholders and IT team before you jump-start with change management.
Redefine the prime changes you need in service delivery and align them with your talent management to deliver excellent customer service.
Assess your workflows based on the pain points you want to resolve and create organizational value.
Simplify your processes, data and systems and make the most of workflow automation for your organization.
Make someone in charge of the end-to-end process and involve stakeholders for transparency.
Tableau – The right fit
By utilizing Tableau's workflow automation, you will reduce the risks of errors, boost employee morale and increase the overall productivity of your organization. Also, you might need a Tableau expert to help you develop and roll out automated workflows based on your organization's processes. If you wish to discuss how you can start automating your organizational workflows, contact our Tableau consultants.