We all know the big news of Salesforce, being a market-leading CRM platform acquired Tableau – a data visualization platform. Many organizations were taken by surprise through this merger nevertheless leading them wondering with few questions such as:
Whether or not Tableau will remain the same?
Will the Tableau users be force-fitted into some cloud models?
How will Tableau's innovation pace be affected?

 
And, it's obvious to think in the same lines. Still, the reality lies in both the tools being heavily used by many organizations to enhance their day-to-day activities. Through this blog post, we bring you the nitty-gritty of Tableau's integration with Salesforce.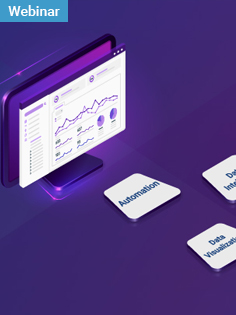 Let your data tell your business story with Tableau
Webinar agenda
Overview of Tableau and integrations
Various data visualization trends
Must have data analytics trends in 2021
Use cases and live demo
Present day examples/ case scenarios
Q & A
Salesforce and Tableau: Two powerful tools walk hand in hand.
An open mind – is all it takes to look at the bright-side of this acquisition. As we already know, Salesforce has revolutionized customer relationship management with its innovative accomplishments in the cloud. Furthermore, it is believed to add a charm to Tableau with its simple to configure features and easy to implement functionalities. Such advancements enable enterprises to flexibly manage customers, monitor marketing and sales leads as well as establish improved collaboration between internal departments.
Let's acknowledge that Salesforce seamlessly integrates with Tableau and simplifies the ability to use Tableau's analytical power to obtain a deeper understanding of data, which is the core-interest for many businesses. 
Advantages behind embedding Tableau in Salesforce
1. Experiencing the power of Einstein Analytics
Not just smart analytics, but its Einstein Analytics we are talking about. Einstein Analytics lets you leverage the fully native analytics for your workflows. The reason, you can expect to work efficiently, stay relevant to marketing trends, predict sales outcomes and also prepare for the next course of an action plan in advance. Moreover, you also gain access to AI-models that are easy to set up, requiring absolutely no coding skills. You can plan one step ahead and start to leverage Einstein Analytics for day-to-day business operations.
 2. Visualizing and exploring Salesforce data in Tableau
When you integrate Tableau with Salesforce data, you get to access your Salesforce data with visualization through Tableau, ensuring accurate data in a readable format that matters the most to your organization. Besides, interactive visual analysis enables you to make decisions based on the data collected within your organization such as prospecting, lead management, process coverage, account management and many more. 
And that's not all, you also have Tableau's dashboards designed to help you get the ball rolling with actionable data analytics. Basically, it offers you the ability to instantly customize and create stunning data-rich visualizations for specific purposes including account tracking, quarterly performance reports, top accounts and more in just a few clicks. 
Case Study
Interactive reports in Tableau for a major food manufacturer
Employees of a national food manufacturing company faced issues while making daily reports. They ended up wasting a lot of time in making those reports using conventional tools
3. Faster decision-making for the entire organization
Many organizations are aware that their business generates incredibly valuable data through its business operations which are often locked up in silos. But when you integrate Tableau with Salesforce, you are unlocking the data that has been building up in the pipeline and break-free those barriers in minutes. 
The good news is – there's no longer a need to spend time extracting data from the Salesforce platform and separately share it to Tableau manually. The integration of both tools will do that automatically for you and provide you with deep insights from every department of your organization, empowering you to make faster and smarter decisions for your business growth.
4. Increased Tableau innovation
Be rest assured with Tableau's innovation aspects, as it is in good hands of Salesforce. Tableau now has direct access to more resources and a large customer base of Salesforce. Meaning, you can expect a feature rollout.
Additionally, Tableau dashboards into the Salesforce platform are likely to become a norm for Salesforce customers, therefore, Salesforce will now have a bigger audience using Tableau applications. Also, embedding Tableau dashboards in the Salesforce platform would increase demand for Tableau consulting, training and development work.
Achieving the best of both worlds
The combining power of Tableau and Salesforce is expected to play a greater role in driving digital transformation and empowering global businesses to tap into data to get deeper insights for making smarter decisions. Here are a few approaches for your IT team to consider and achieve the best of both worlds:
Utilize Salesforce Einstein Analytics to know which prospects to target, which territories to align, which cross-selling opportunities to pursue and which ones to prioritize. 
One of the best ways to ensure your employees have the data to make the best decisions is to put analytics right into the systems they use every day. Therefore, share Tableau data and analytics content with the rest of your teams to foster a data-driven culture.
Provide your finance, operations, channel teams and sales executives with secure, up-to-date, customized views of your data.
Align departmental reporting on the same page, saving time and making a better analysis of the data.
Use Tableau to blend Salesforce data across the customer 360 platform with your other business data to gain increased visibility and a deeper understanding of your customers.
The bottom line
Salesforce integration with Tableau is proving to be a powerful combination. Organizations can look forward to a promised strength of analytics functionality and ease of use that has the ability to benefit from rich customer data. Get in touch with our Tableau developers to discuss how you can leverage Salesforce integration with Tableau to thrive your business.