Smart analytics today has become the next big thing for organizations to reach out to their customers. Tableau, being one of the most popular data visualization tool, features analytical richness through its smart analytics capabilities. It aims to fill up the gaps in delivering greater customer satisfaction with sophisticated analysis.
You would agree that it's easier to get your hands on data, but challenging to utilize the data to optimize business performance. Therefore, through this blog post, we aim to help you understand how to get the most out of your data with smart analytics in Tableau.
An overview of smart analytics
Smart analytics is the key to unlocking the power of big data. It's a process of collecting and analyzing data to help you make informed decisions with business intelligence. Smart analytics offers the ability to compare data over time and analyze trends in no time. It helps to instantly extract insights, enable ad-hoc analysis and gain a single intelligent view. Check out our previous blog on smart analytics that provides a clear understanding of how analytics drive several industries.
Some Tableau's smart analytics competencies
Tableau has introduced smart capabilities in the areas of automated data discovery, natural language, data prep and predictive analytics. These capabilities take analytics to the next level and help you with insights that are accessible by all decision-makers. Let's explore these smart analytics capabilities and identify the areas where you might need a Tableau expert's help.
1. Automated data discovery
You no longer need to burden yourself with analyzing complex data sets because Tableau predictive analytics provides powerful algorithms and statistical models for improved data analysis. However, you might need an expert's help to combine, shape and clean your datasets so that you can access reliable data and process it at once to get the answers you need quickly. Here's why you need expert help to automate your data discovery journey:
Explain data – Although Explain Data helps to accelerate your analytics with the power of AI, experts can help you explain the specific points. A Tableau expert can get you going with a custom set of explanations so that you can find the answers instantly without spending time searching for specific issues.
Clustering – What was once done with a complex statistical tool, can now be done with a drag and drop interface. Clustering provides a quick demonstration and explains how it can be compared to a regular grouping feature. For a non-technical person, it may be challenging to understand correlations, trend lines and regressions. Therefore, it's necessary to set up a few statistical models that would define customer groupings for you. This will also help you to conclude from the groups you define in your clustering model. It is best to involve an expert and leverage multiple variables to get trained on creating several groupings. For instance, instead of randomly or manually dragging some factors, it's better to utilize a clustering model and get precise grouping results.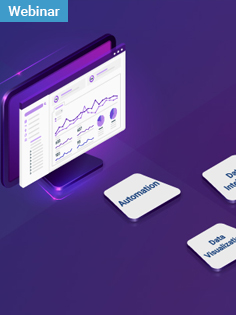 Let your data tell your business story with Tableau
Webinar agenda
Overview of Tableau and integrations
Various data visualization trends
Must have data analytics trends in 2021
Use cases and live demo
Present day examples/ case scenarios
Q & A
2. Natural language
When used with correct understanding, natural language genuinely compliments data. Not only does it help to reduce barriers to find insights, but it also enables users to respond quickly to their questions based on facts and figures.
Natural language processing – Tableau's Ask Data uses natural language processing to help you with instant response in the form of rich data visualization that is easier to understand. But before you start using this feature, it's crucial to get the help of experts and integrate as many data sources as possible based on your organization's requirement. Doing so will enable you to experience this feature without any additional configuration.
Natural language generation – Tableau brings you the power of narrative science and automated insights through natural language generation capabilities into your dashboards. It's best to use this feature to extract more meaning from your data. Hence, let an expert guide you on choosing and integrating several of Tableau's APIs so that you can generate text-based descriptions of visualizations to share with your teams, stakeholders and customers.
3. Smart Data Prep
By utilizing the powerful machine learning capabilities, Tableau has made self-service data prep more automatic. It results in reducing the amount of manual work that is often required to get clean data. Here's a summary of features worth understanding:
Data interpreter – Detects sub-tables, removes unique formats and allows to easily split data from spreadsheets, PDFs and more
Fuzzy matching – Indexes and groups related words that resemble pronunciation or characters in just one-click
Smart recommendation – Recommends database tables and joins based on your organization's data source usage metrics
Although powerful algorithms work behind the scenes to help you prep data faster and minimize manual cleanup, it's necessary to make sure you always have clean data ready to be processed. When you start preparing your data, you may find it daunting to determine how the final data set should look. You may also need to combine multiple data sources to extract data from columns to rows so that Tableau can evaluate it properly.
To overcome such challenges, it is recommended to partner with a Tableau service provider. Professional help will allow you to envision what the data pane in Tableau Desktop should look like. From staying organized throughout your preparation process to following a set of instructions to keep your data clean, Tableau experts can make your data prep process a lot easier.
4. Predictive analytics
Today's modern organization needs a platform they can depend on, while business users need tools to simplify their workflows which makes smart analytics a critical component of business intelligence. Predictive analytics in Tableau is designed with powerful predictive models to help organizations like you to anticipate changes in the business. Let's take a closer look:
Forecasting – Automatically selects a suitable forecasting model based on data and accounts for seasonality with exponential smoothing.
Statistical model integration – From MATLAB, R, SAS and SPSS, Tableau connects to various data sources. It also integrates with R and Python, making it easier for modern enterprises to leverage models built by your data team.
Dealing and combining high-level language can be challenging, especially for non-technical business users. Therefore, get a helping hand from a Tableau service provider and make your statistical models more accessible. Look for experienced Tableau experts like us to help you with the following data science integration:
R integration – Import R packages, libraries, or other saved data models into Tableau
Python integration – TabPy framework to remotely execute Python code
MATLAB integration – Deploy MATLAB models in Tableau for predictive insights
Analytic extensions API – Extend Tableau calculations to dynamically include common programming languages, tools and frameworks to build integrations
Set your feet on Tableau's advanced analytics 
Data is only as effective as the accessibility, visualization, modeling, and management behind it. You should harness the power of smart analytics to accelerate faster decision-making and uncover anticipated insights, regardless of your business sector or executive level. If you are interested in leveraging predictive analytics in Tableau, count on us for full-stack capabilities with several technology integrations. Get in touch with our Tableau experts and discuss your requirements for smart analytics.