Goal: TQCSEFK
Any manufacturer tries to achieve TQCSEFK (fastest Time-to-market, highest Quality, lowest Cost, best Service, cleanest Environment, greatest Flexibility and high Knowledge). Several advanced manufacturing models have been introduced to achieve this goal. With the emergence of cyber-physical systems in 2006, the integration of computation and physical processes took place. That revolutionized the manufacturing industry. Agile manufacturing, networked, virtual, lean, digital and smart manufacturing followed further developments in advanced manufacturing technologies.
Despite such advanced manufacturing technologies' foundation, issues like maximizing resource utilization, optimizing inventory, production scheduling, smooth transitioning to service-oriented manufacturing from production-oriented manufacturing, precise supply chain plans and personalized buying experiences are still not addressed effectively. Cloud manufacturing, aka manufacturing cloud solution, exactly solves these problems.
Salesforce Manufacturing Cloud bridges the gap between B2B marketplace and B2C mindset. It brings a 360° view of every customer to sales and operations teams; so, together, they can create accurate business predictions. Such manufacturing cloud account-based forecasting allows manufacturers to plot precise supply chain plans, production scheduling, resource utilization and service-oriented manufacturing. It also empowers personalized experiences. You can leverage the power of cloud and experience scalability for your business with our Salesforce Sales Cloud consulting services.
The following table explains how through a magnifying glass of the Salesforce ecosystem, mainly via Salesforce Manufacturing Cloud, any manufacture achieves TQCSEFKF and not just TQCSEFK.
| | | | | | |
| --- | --- | --- | --- | --- | --- |
| | T | | fastest Time-to-market | | With 3,000+ apps, 300+ components and 4M+ installs, Salesforce AppExchange is a proven ecosystem to accelerate time-to-market. |
| | Q | | highest Quality | | Quality ≠ always product quality. Quality can be = identifying quality leads. Using Salesforce lead management, you can identify and nurture quality leads. |
| | C | | lowest Cost | | Data analysis and data mining are trending money eaters. Salesforce Einstein analytics does the same job in less time and cost. |
| | S | | best Service | | Salesforce Case Management helps you to offer the best and uninterrupted service. |
| | E | | cleanest Environment | | Operations visibility gives detailed insights into customer demand and backward-looking planning, empowering sustainable manufacturing. |
| | F | | greatest Flexibility | | With real-time updates in manufacturing cloud sales agreements, you can track the KPIs within your sales agreements and stay flexible to meet the forecasted orders. |
| | K | | high Knowledge | | Community Cloud is a great way to share information and collaborate with customers, distributors and channel partners. Thus, you can stay up-to-date with the latest developments. |
| | F | | accurate Forecasting | | Manufacturing cloud account-based forecasting involves pipelines (opportunities), metrics (sales agreements) and other inputs that reflect your business to make accurate forecasts. |
Let's have a detailed view of how Salesforce Manufacturing Cloud can help you as a manufacturer. To understand that better, let's look at what your current operations could look like without manufacturing cloud.
Manufacturing operations without manufacturing cloud
The operations director gathers data from sales reps to plan the upcoming manufacturing operations. Manufacturing processes include backorders, forecasted orders, work on production pipeline, resource allocation, storage and distribution of materials to use, order packing and shipping from inventory. Sales reps maintain their sales agreements in separate spreadsheets. Hence, neither sales reps nor operations director can compare actual and forecasted orders. The operations director may ask sales reps to combine those spreadsheets where outdated data can also be there. That results in inefficient planning of manufacturing operations, affecting a range of processes mentioned above.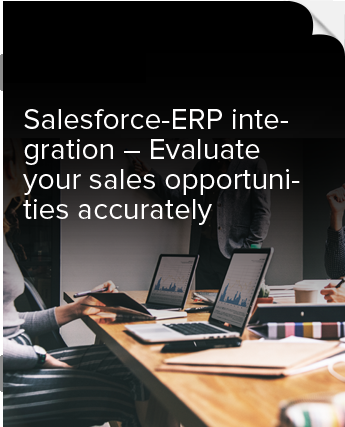 Insights
Salesforce-ERP integration - Evaluate your sales opportunities accurately
Vendors that respond faster gain more business opportunities. This is why companies must empower their sales reps with instant customer and prospect information access by integrating their ERP system with the Salesforce platform.
How Salesforce manufacturing cloud can change that scenario
As we saw, sales agreements in different spreadsheets are the biggest headache. Manufacturing cloud sales agreements can solve that problem.
Manufacturing cloud sales agreements
Sales reps can get rid of spreadsheets and outdated data with real-time updates in Sales Agreements. As a manufacturer, the complete visibility on all terms negotiated with each customer can help you in many ways. From start and end dates, frequency, planned sales, actual sales, status, discounts to quantities – track all the aspects of agreement terms on a single screen. This enables you to understand and track your business growth. Analyze customer behavior, whether underperforming or overperforming against the agreement, by tracking KPIs within sales agreements. A single source of truth for operations director with dynamic changes in agreements. That way, it also builds trust and consistency in sales and operations teams.
Manufacturing cloud account-based forecasting
The days of emailing forecast spreadsheets between sales, finance and operations teams are gone. That saves significant time for the operations director. Account-based forecasting provides a clear view of your current business with future opportunities. Add forecast updates that reflect customers' changing needs or market demands so that the operations director can get a comprehensive view and plan. By collaborating and adjusting forecasts in real-time, you can make business transactions, profits and revenue margins more predictable. The most exciting aspect of manufacturing cloud's forecasting feature is the ability to create a tailor-made formula that presents your company's unique sales cycles.
Salesforce Einstein Analytics
Salesforce manufacturing cloud includes an embedded analytics studio, Einstein Analytics, that houses detailed information about your manufacturing operations. Einstein analytics analyzes data on compliance, account trustworthiness, product performance and more. Salesforce has done impressive work in analytics with features like Einstein Discovery that enables users to spot relevant patterns from the data automatically. Einstein Prediction Builder and Einstein Next Best Action give the right recommendations to the right people at the right time. Einstein Language and Einstein Vision provide sentiment analysis based on what people communicate about your company or products on social media. Overall, with Salesforce's AI features, you can anticipate problems before they arise, identify potential opportunities, offer personalized customer service and recognize high-growth segments. To know more about Einstein analytics, this blog is worth reading.
Apart from this, Salesforce manufacturing cloud offers features like lead management, operations visibility, case/issue management, dynamic dashboards, chatter, workflow automation, AppExchange and community cloud.
Are you ready?
The race is on. Every second, idea, decision counts. Have you evaluated every option for achieving TQCSEFKF, reviewed every stage of your manufacturing operation and done everything possible to keep up and get ahead?
None of this diminishes the importance of your manufacturing facility's product quality, service, and support. Instead, these concerns are moot if your company isn't competitive. Recognizing and utilizing the benefits of the Salesforce manufacturing cloud improves manufacturing operations' efficiency and makes your business opportunistic too. Recognizing and responding to the intense competition in this environment is both wise and essential. Indeed, the Salesforce manufacturing cloud is a boon to manufacturers.