Being one of the most popularly used customer relationship management (CRM) software in the market, Salesforce offers multitudes of functionalities towards managing critical business processes for many organizations. Similarly, SAP being a successful enterprise resource planning (ERP) platform, plays a key role in managing resources and cash flow. And, with Salesforce SAP integration, organizations can leverage the best of both worlds to fully automate and optimize their business processes.
Although, achieving custom integration between the Salesforce platform and SAP is relatively challenging for many businesses today due to a lack of technical approach. In this blog post, we will address the integration challenges and the benefits of integrating SAP with Salesforce.
Tackling the integration challenges
If your business is having trouble performing at the top condition or you are finding it difficult to conveniently manage your daily business sales and customer data. Then, these signs may mean that your organization needs to go for Salesforce integration with SAP.
Salesforce CRM is a widely used platform, and the integration with SAP means bringing together two or more on-premises applications. However, you require a new approach to account for the technological differences between SAP's on-premises solution and Salesforce's cloud-based delivery model.
Traditional approaches to achieve this integration is proving to be complex and expensive to many organizations. Moreover, direct and point-to-point integration is also considered as an ad hoc solution to SAP and Salesforce integration challenges in several cases.
Benefits of integrating Salesforce with SAP
Businesses employing both the Salesforce CRM to track front-end customer details and the backend SAP (ERP) have a significant advantage in monitoring and maintaining customer relationships. However, companies that combine the two have an additional market benefit through improved efficiency and insights that generate new value. Here are some of the awesome benefits of the Salesforce integration services with SAP –
1. Better manage your data
Entering a new customer's information in Salesforce would mean similar data being automatically utilized for financial services, performance management, and various business functions.
2. Experience real-time and reduced error
By integrating SAP with Salesforce, you are eliminating the need for dual data entry, thus saving your time and effort for acute cost and invoice generation for your customers. Moreover, this integration also result in lesser data redundancies and errors that are common in manual data entry.
3. Process orders in real-time
When a new opportunity closes in Salesforce CRM, the corresponding order details are automatically placed within the ERP system. This is achieved instantly and also helps you to estimate any related cost. Therefore, this makes the entire opportunity-to-order process optimized and simplified.
4. Accelerate cash flow
Salesforce's integration with SAP has proved to easily identify as well as send alerts when overdue accounts are recognized to help businesses optimize the cash flow system. Also, your financial managers can gain insights on recognizing revenues before time and result in meeting the monthly financial goals at a better speed.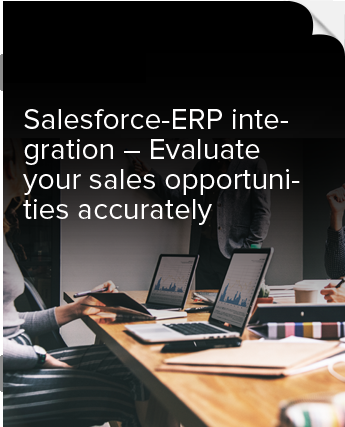 Insights
Salesforce-ERP integration - Evaluate your sales opportunities accurately
Vendors that respond faster gain more business opportunities. This is why companies must empower their sales reps with instant customer and prospect information access by integrating their ERP system with the Salesforce platform.
5. Boost ROI
As you begin to leverage the number of functionalities by integrating the Salesforce platform with SAP, it is proven to make your business process effective by providing cloud-based agility around your entire business system environment.
6. Enable your sales agents to quote precisely
When you choose to combine the power of your Salesforce CRM with an SAP enterprise resource planning system, it aligns the sales and resource management processes. Here's a use case for better understanding –
Every time your product lists are revised or updated in SAP, the changes are automatically reflected in Salesforce Price Books and other synced applications enabling your frontline sales agents to quote correctly without any manual errors. Importantly, they will be aware of product-related updates including prices and descriptions. Isn't that interesting? This is how the integration empowers your sales team to get a holistic view of the streamlined order-to-cash process. Your financial managers can also gain the ability to conveniently plan procurement and manufacturing with updated sales information.
Take away
We just discussed the core benefits of integrating Salesforce with your SAP to organizations as it brings all the vital data that decision-makers need in one place. Both platforms offer great functionalities that streamline the entire business processes. If you are looking forward to an integration of SAP with your Salesforce CRM then choose to opt for our Salesforce integration services. Contact our skilled experts now.