Healthcare is one of the largest sectors in terms of service, product delivery, revenue generation and employment. It often comprises of multiple departments providing manifold services. And considering the nature of these services, it becomes mandatory to keep the operations efficient and streamlined.
With several departments in a hospital and multiple tasks in each of those departments, healthcare providers need to perform numerous procedures like billing and claims management, appointment scheduling, patient admission, assigning medical professionals, collecting patient reports and data, and prescribing medicines. These tasks are either managed manually or using ready-made software. But sometimes, these ready-made software systems don't serve the purpose because they make the task tedious and time-consuming. And tracking these procedures along with other core manual tasks also becomes difficult.
Robotic process automation (RPA) solutions for the healthcare industry can handle repetitive tasks, manual workloads through software robots and help medical facilities to streamline processes, save labor costs, gain better efficiency, accuracy and security, and enhance the quality of patient care. RPA can easily automate tedious tasks and enable healthcare providers to devote more time in serving patients.
Some reasons why healthcare needs RPA software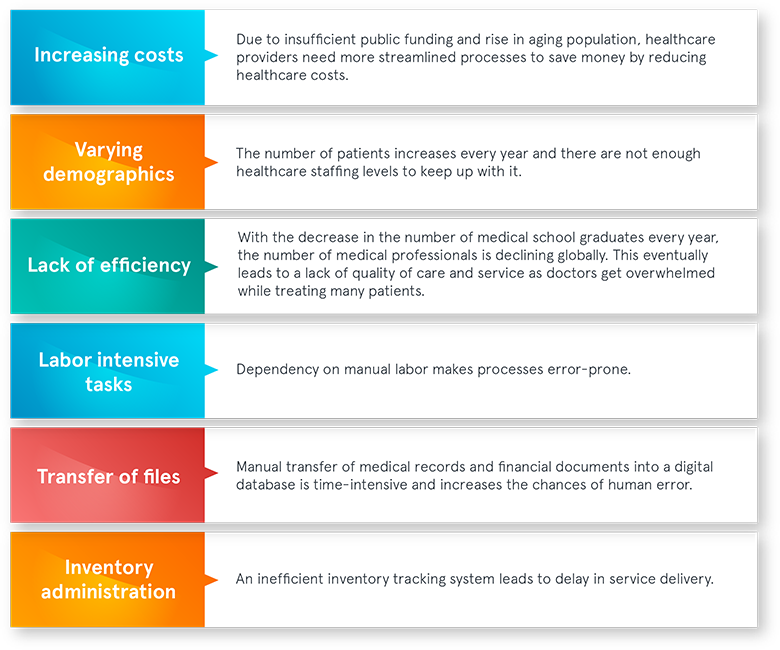 Four ways RPA can streamline critical processes in healthcare
1. Management of electronic medical records (EMR) with RPA
EMR needs to be accessible by multiple departments, facilities and partners, hence it is imperative to keep it updated. RPA can easily keep medical records updated and synced for more accuracy amid providers, labs, pharmacies, etc.
RPA helps you to interact with different systems and manage high-volume processes without burdening your workforce. You can integrate different applications with a health information system and abolish the need for manual input of information.
2. Maintain HIPAA-compliance with automation
Healthcare organizations must ensure the security of electronic medical records and keep up with HIPAA compliance. This may appear difficult to achieve when you use multiple applications in your daily processes. But with RPA, you can protect the privacy of patient data and maintain the HIPAA compliance and other regulations competently.
With role-based access, RPA ensures that private information is accessed by the right people. It helps you to grant restricted access to people as per their role in the organization.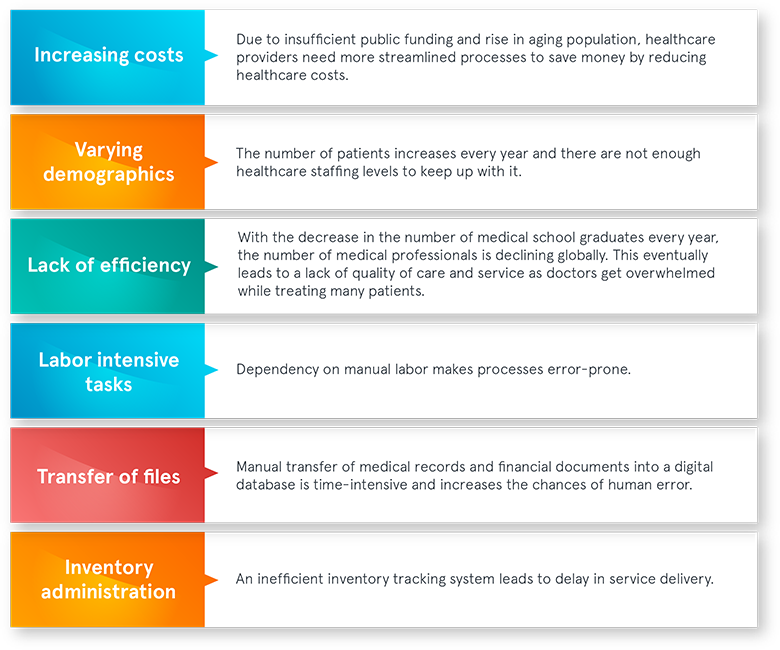 Robotic Process Automation Consultation
Robotic Process Automation (RPA) is the solution as it can be undoubtedly applied across multiple sectors to automate various processes and save tremendous time and efforts.
3. Organize claims processing
Finance and administration departments of hospitals face huge challenges in processing and managing insurance claims. Moreover, the financial stability of the hospital depends upon efficient claim processing. Medical facilities use multiple business processes to manage this process as they usually receive a large volume of claims.
RPA can organize the burdensome process of manual claims processing. It automates the daily transfer of individual claims to a file transfer protocol (FTP) server. As soon as the files are detected on the FTP server, an RPA task gets initiated that sorts and groups all the inpatient and outpatient files separately and transfers them to the claims management system from the health information system.
4. Automation for managing staffing levels
Caregivers are the main support for the entire system in a hospital and their services may be required anytime around the clock. Hence it becomes important to manage their staffing levels carefully. It is a challenging task to ensure that enough staff is present in each shift and their schedule is balanced in a way that they don't get overburdened. To accomplish this task, one has to go through multiple applications, which is tedious and error-prone. RPA can efficiently automate thousands of unstructured data, transfer it amid applications and organize the schedule efficiently.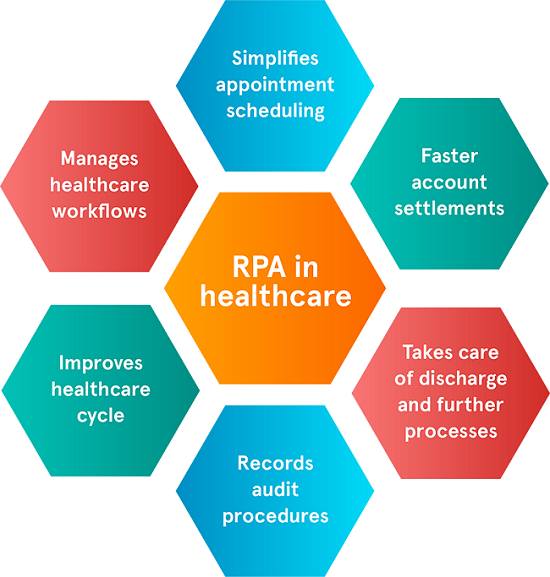 Conclusion
RPA automates processes and provides you with data that you can easily use to optimize and improve process performance. Implementing RPA in the healthcare industry is transforming the sector and taking it to a new, improved and organized level. Deploying RPA provides an appropriate solution for several tasks important for the healthcare industry. RPA bots automate rule-based jobs to handle huge volumes of data. RPA stores and handles data, processes transactions, transmits information with other digital systems and responds quickly. It helps companies to generate accurate results, minimize errors and improve patient experience. To know more about how RPA can help you streamline operations of your medical facility, talk to our experts.