When we talk about legacy systems, the first thing that comes to our mind is an outdated technology. Although outdated systems are slow to evolve and time-consuming, they are imperative for day-to-day business activities. However, in today's digitally transformed era, legacy systems cannot stand strong as new technologies take over the world.
Today, modern businesses are migrating their legacy apps and systems to new, digital platforms. But, legacy app migration is not a simple task. It stipulates several challenges. So, it is difficult for enterprises to figure out how to do migration from legacy to modern platform. Nevertheless, a low-code platform is an ideal solution for an app migration.
A low-code legacy application modernization strategies offer a modern, flexible and brilliant options to modernize legacy applications. Every organization has lately turned towards the low-code data migration solution for legacy migration. But before knowing why and how to do migration of legacy systems to low-code, let us look at the common legacy system migration challenges.
Legacy app modernization challenges
High cost associated with legacy app migration
Absence of proper documentation
Governing budgetary constraints
Migration of data into new systems
Finding the right legacy app migration service provider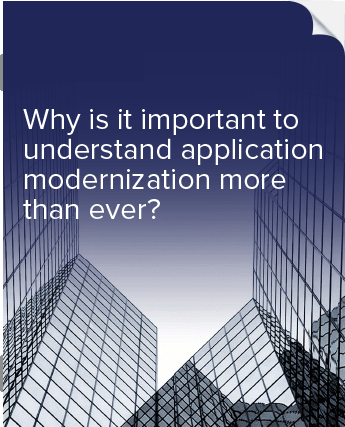 Insights
Why is it important to understand application modernization more than ever?
In this digital age, organizations need to be competitive more than ever to ensure business growth. Addressing performance issues of business apps should be the topmost priority of any small or big company. Business app users look for new features, resolutions for their concerns and updates that will help them with their tasks.
How low-code platforms help in legacy application migration
Low-code development is an ideal solution to overcome the challenges of legacy app migration. It plays a significant role in legacy app migration. With low-code platforms, it becomes easier to bridge the gap between legacy and modernized apps.
Low-code solutions can help you to enhance your app performance and drive innovation. However, there are several reasons why you should migrate your legacy system to low-code.
Reusable data models and components
Low-code platforms can help you to reuse the pre-built data models to migrate your legacy apps. With low-code platforms, you will not have to write lengthy codes. You can reuse the existing business logic in the database code. As a result, you can port the data that you do not want to discard. It will simplify your software landscape, and you can build an agile low-code app.
Extremely time-efficient
All that really matters to modern enterprises is saving time. In today's competitive environment, every organization concerns about the promptness to deliver their products and services to consumers. Low-code is an excessively time-saving app development platform. It will help you to quickly transform your legacy apps to modern enterprise apps. So, this will eventually help you achieve a faster time to market.
Conserves the functionality of legacy apps
While legacy app migration projects mean adding new functionalities, there are certain functionalities that you may need to preserve. With the help of low-code platforms, you can conserve all the functionalities of your legacy apps. You can even add reusable functional components rather than writing individual lines of code. Moreover, low code will also make it easier for you to experiment with new functions or features.
Intuitive app development
Low-code platforms offer a visual development environment that will let you view your applications while developing them. By leveraging low-code platforms, you can build intuitive apps. This is possible using tools like drag and drop widgets, pre-built connectors, smart services, etc. So, with low-code platforms you can build software apps with the 'what you see is what you get' ability.
Easy adaption of niche projects
With the help of a low-code platform, you can accommodate small user bases in the most efficient ways. It can quickly adapt to narrow applications. Also, low-code is the best choice to create apps for desktop, web, and mobile. Using low-code platforms, you can seamlessly migrate your legacy applications to the cloud. Hence, low-code is all about gain instead of pain.
Workflow automation
Several low-code development platforms have an option for full-scale automation that lets you automate your workflows and certain tasks. But, it is only possible with the Artificial Intelligence (AI) feature. Low-code includes the AI functionality to code some parts of the app with the automation sequence. You can make the app building process up to 78% faster using low-code automation.
Conclusion
Migration from legacy systems to modern platforms can be a hassle. But low-code platforms make it easier to unite the power of legacy applications with advanced technologies. If you are facing issues with coding associated with legacy app migration, then get in touch with our experienced consultants. They will help you to ensure your app migration project becomes successful. Know the reasons behind migrating monolithic systems to microservices.