In the year 1995, IBM took over Lotus Software for $3.5 billion, which was revered for its spreadsheet software called Lotus Notes. It had become a standard software for large scale enterprises in those days. The IBM Lotus desktop application has sustained for more than 20 years, but the situation is very different now with the advent of big leaders such as Microsoft's SharePoint, which has already taken over the market by offering a mobile first strategy, hybrid structure on cloud or on-premises solutions across a wide range of business requirements.
Of course, IBM is also coming with incremental upgrades to Notes, although they have not been that responsive in terms of innovation and user experience. Moreover, their upgrades aren't that utility-focussed to become a differentiating commodity in the market. The last announcement made by IBM of casting off the brand "Lotus" and calling it "IBM Notes" has only increased the anxiety of the already existing customers' that they will be left with a white elephant. Whereas, Microsoft are leveraging the collective power of Social + Mobile + Web and organizations are saving money with MS enterprise license while getting a complete suite of quality solutions with a great user experience (UX) and single touch point for support.
SharePoint 2019 Pre-Migration Check
There are several reasons why you should migrate to SharePoint 2019. It has hybrid cloud search, all the sites are in one place, it allows rapid site development, there are many PowerShell scripts and so on.
Why you should migrate from Lotus Notes to SharePoint
The majority of organizations are choosing to migrate from Lotus Notes and Domino, and shift to a more powerful as well as flexible platform. This is because Microsoft SharePoint's approach is up to the mark in offering a unified approach to enterprises compared to IBM.
Let's go through these major reasons to migrate from Lotus Notes/Domino and optimize your business applications:
Innovation: As a market leader in enterprise software, Microsoft continues to evolve and upgrade the functionality of its products such as Office 365, SharePoint, and Dynamics. We have seen SharePoint hugely developing in significant ways with every release, which is making it a more upgraded tool for global businesses.
Other than that, Notes search was innovative when it was introduced, but in the past ten years, no modifications have been carried out, whereas, SharePoint offers a more intuitive and smart search option.
Even compared to other application SharePoint is far superior to IBM Lotus as it offers a plethora of features such as multiple view option, co-authoring, quick access and migration of data between Excel, SharePoint, and Access.
In IBM Lotus you will not find any facility of a workflow engine for supporting activities like task assignment, reviews, and approvals. And Sharepoint has an inbuilt workflow engine for faster and inexpensive operation. It does this by eliminating the need for custom built workflows.
Agility and flexibility: Creating an extensive app that takes a number of years to assemble and months to adapt can no longer sustain in an operating mode. Today's applications must support businesses in rapidly adapting to markets and customers, and take advantage of all the benefits of rapid transformations.
Efficiently build and revamp your applications: The development cycle in IBM Notes is extremely long and inundated with hard to find resources. Hence, migrating to a no-code application platform such as Microsoft SharePoint can improve time-related problems, and put power in the hands of non-developers.
Leverage existing investments: Breaking the silos in IT infrastructure is a necessity for an efficient business process to leverage the infrastructure of different business apps. Thus, access to Microsoft systems, as well as Salesforce, SAP and other systems of record is mandatory.
Manage applications from beginning to end: The ability to provide insights into applications and processes has become a criterion for efficiency and maximum productivity. Reports and data need to be easily accessible and readily shared.
Lotus IBM to Microsoft SharePoint migration approach
There are 3 types of migrations – Directory integration, Domino mail server migration, Lotus Notes application migration and coexistence. Since the IBM Lotus Notes to SharePoint migration is not an easy process, we have to follow the defined process to achieve the objective of migrating applications from the source to the destination environment. If you face obstacles in any phase during Lotus to SharePoint Migration Services, Microsoft's technical and quality advisors would always be at your disposal.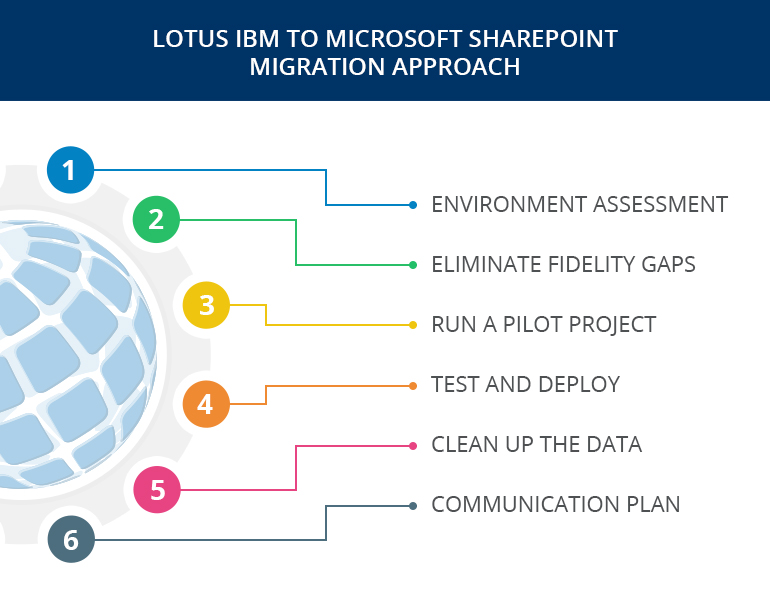 Conclusion
The migration of IBM Lotus Notes to Microsoft SharePoint is more than just transitioning content and applications to a new and dynamic platform. It's an opportunity to transform an organization into a more productive, agile, and cost-effective, as well as more capable of attracting and retaining the best talent. If you are an IBM Lotus user, consult with our experts to know why and how migration to Microsoft SharePoint can be beneficial to you.