In today's fast-paced business landscape, organizations are constantly seeking ways to optimize productivity, enhance collaboration and streamline their workflows. Microsoft 365 has emerged as a comprehensive suite of apps and services that empowers enterprises to achieve these goals and more. From SharePoint and OneDrive to Teams and beyond, Microsoft 365 offers a wealth of tools designed to revolutionize the way we work. However, are you truly harnessing the full potential of Microsoft 365?
In this blog, we will explore the various components of Microsoft 365 and delve into the key features and capabilities that can transform the way you and your teams operate. Whether you are already using Microsoft 365 or considering its implementation, understanding its full potential is crucial to maximizing your productivity and efficiency.
We will uncover the hidden gems within Microsoft 365 and provide insights, tips, and best practices. This will help you unleash the true power of these applications. From optimizing collaboration with SharePoint to leveraging the cloud storage capabilities of OneDrive and fostering seamless communication through Teams, we will guide you through the vast array of possibilities that Microsoft 365 offers.
Utilize Microsoft 365 to the its full potential
Microsoft 365 is an online productivity platform that offers different apps and services under one umbrella. As the world turns towards remote working, millions of users worldwide are currently using this productivity suite to create, connect and collaborate visually in real-time. However, it is not just about embracing Microsoft 365 but also about using all its applications and tools to the fullest.
Microsoft 365 = Enterprise mobility + Productivity + Security
As the enterprise workforce becomes more mobile, it is time for you to shift to a more modern workplace. So, to get the most out of the cloud by reaping Microsoft 365's maximum potential, you can:
Improve business efficiency and employee productivity
Create custom line-of-business (LOB) apps on the go
Access data from anywhere, anytime and on any device
Collaborate and communicate remotely in real-time
Transform data into rich insights, visuals and graphs
Microsoft 365 apps and services
Making a move to the powerful Microsoft collaboration tool isn't enough until you unlock the full potential of all its apps and tools. Apart from widely used Microsoft tools like Word, Excel and PowerPoint, it is vital for you to use other apps contained in Microsoft 365.
Microsoft 365 comes with mobile-friendly, flexible and collaborative features to enhance agility and productivity. For instance, Microsoft 365 offers tools like Viva Engage (previously known as Yammer), Microsoft Teams, Microsoft SharePoint, etc. for social networking. Similarly, it provides tools like Power Automate to enable you to automate workflows, MyAnalytics for workspace intelligence, Power BI to improve productivity, etc. Microsoft launched new feature updates for digital workspaces in April 2020 to help companies during the pandemic.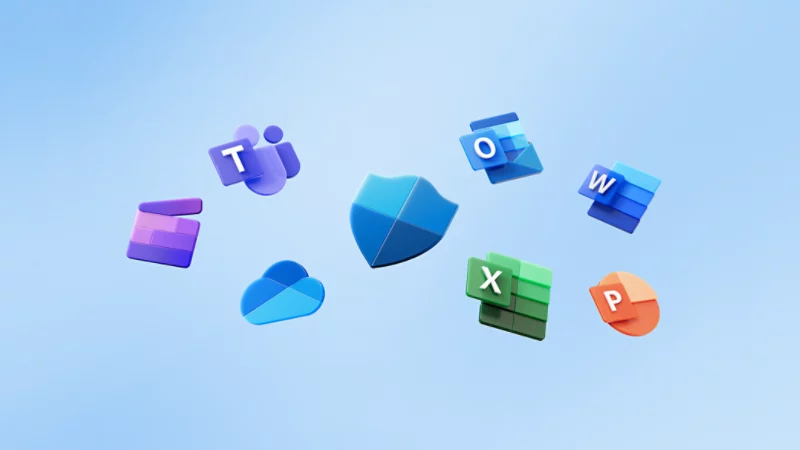 At that time, almost every organization turned towards the adoption of the chat-based collaboration tool, Microsoft Teams. It enabled users to communicate internally with other employees and externally with clients.
The cloud platform also offers useful smartphone applications like Office Remote and Office Lens to help you work from anywhere in the world. These Office apps will act as your go-to apps for getting your work done on a mobile device. Microsoft 365 apps for enterprise offers you a simple yet powerful Office experience on the go.
Microsoft 365 integration with existing systems
Microsoft 365 allows you to seamlessly combine all its apps with your on-premises environment. It also enables you to get all the required apps on a single platform. With Microsoft 365, you can integrate your business apps more efficiently and effectively. For instance, having Publisher, PowerPoint, Excel, Outlook and Word, all integrated in one place gives a business everything it needs to run seamlessly.
When you integrate your on-premises server products and internal systems with Microsoft 365, you create a hybrid environment. Pairing Microsoft 365 apps with other tools provides extended capabilities like file sharing, web-based communications, video conferencing, cloud-based collaboration and more.
Now, let us look at some benefits of integrating existing tools with cloud-connected apps and services.
Zero downtime
Quick provisioning
Automated configuration
Secure access to apps
Unified, seamless interface
Microsoft 365 apps and services for enterprises
Microsoft 365 offers a comprehensive suite of apps and services designed for enterprise use. Among the key components of Microsoft 365 are SharePoint, OneDrive and Teams.
SharePoint
SharePoint is a web-based collaborative platform that allows organizations to create, manage, and share content, documents, and information within their teams and across departments. It provides features such as document libraries, wikis, blogs and workflow capabilities. SharePoint enables teams to collaborate on projects, store files securely, and access information from anywhere using any device with an internet connection.
OneDrive
OneDrive is a cloud storage service provided by Microsoft that allows users to store, sync and share files securely. Each user in an organization gets their own personal OneDrive storage, where they can store their files and access them from any device. OneDrive integrates seamlessly with other Microsoft 365 apps, making it easy to collaborate on files and share them with others.
Teams
Teams is a communication and collaboration platform that brings together chat, video meetings, file storage, and application integration into a single hub for teamwork. It enables users to create teams, channels, and private chats, facilitating real-time communication and collaboration among team members. Teams also integrates with other Microsoft 365 apps, including SharePoint and OneDrive. This allows users to access and share files directly from within the Teams interface.
By leveraging these apps, your workforce can enhance productivity, streamline collaboration and improve communication with other teams. These Microsoft 365 apps and services for businesses provide a powerful and integrated solution for enterprise users, enabling them to work more efficiently and effectively.
Microsoft 365 (M365) integration with your system offers several benefits, including:
Enhanced collaboration: M365 integration enables seamless collaboration among team members by providing access to shared files, real-time co-authoring and collaborative tools such as Microsoft Teams.
Increased productivity: With M365 integration, employees can leverage productivity tools like Microsoft Word, Excel, PowerPoint and Outlook directly within their system. This streamlines workflows and boosts efficiency.
Centralized data management: The integration of M365 allows centralized data storage and management. This ensures data consistency, easy access, and improved security measures through features like Microsoft OneDrive and SharePoint.
Advanced communication: M365 integration enables efficient communication and collaboration through tools like Outlook, Microsoft Teams and Viva Engage. They facilitate instant messaging, video conferences and team discussions.
Seamless mobile access: With M365 integration, employees can access their files, emails, and collaborative tools on the go through mobile apps, ensuring flexibility and productivity regardless of location.
Enhanced security and compliance: Microsoft 365 provides robust security features, including data encryption, multi-factor authentication, and compliance tools, ensuring sensitive information protection and adherence to regulatory requirements.

Realize the full potential of Microsoft 365

Unlocking the full potential of Microsoft 365 can revolutionize your work processes and empower your team. Embrace M365 for its features like robust collaboration, productivity, data management, communication and security. This will help you streamline operations, boost efficiency and foster a culture of innovation.

Many organizations are already using Microsoft tools and Office 365 consulting services effectively. However, only a few have fully realized the benefits of these platforms. By taking the leap and harnessing the complete power of Microsoft 365, your organization can drive success in the digital era.