Gone are the days when AI silently worked in autopilot mode in the background, processing and organizing users' information. For years, AI has been the driving force behind various online experiences, from search engines to social media, quietly working behind the scenes to provide us with personalized recommendations. As we step into the next generation of AI, we transition from autopilot to copilot. Where we actively use AI to execute our everyday tasks to achieve better efficiency.
What is Copilot?
Microsoft 365 Copilot, a comprehensive suite of productivity tools, embraces AI to enhance efficiency, streamline tasks and empower users to achieve more. The powerful Microsoft 365 copilot is designed to remove drudgery from our everyday tasks and jobs. It is not just built by connecting ChatGPT to Microsoft 365 but is powered by "the copilot system". A sophisticated processing and orchestration engine based on three foundational technologies.
Microsoft 365 offers essential applications such as Word, Excel, PowerPoint, Outlook, Teams and more.
The Microsoft Graph combines all your content and context, including emails, files, meetings, chats and calendars, into one unified platform.
A large language model (LLM) serves as a highly creative engine capable of understanding and generating human-readable text, all accessible through natural language.
It's a system that combines the power of LLMs with your data and apps. It starts with a prompt from you in an app and Copilot AI preprocesses the prompt through an approach called grounding.
Copilot combines this user data from the graph with other inputs to improve the prompt. It then sends that modified prompt to the LLM. Copilot post-processes the LLM response. This post-processing includes additional grounding calls to the graph, responsible AI checks, security, compliance and privacy reviews and command generation. Finally, Copilot AI sends a response to the user and commands back to the apps.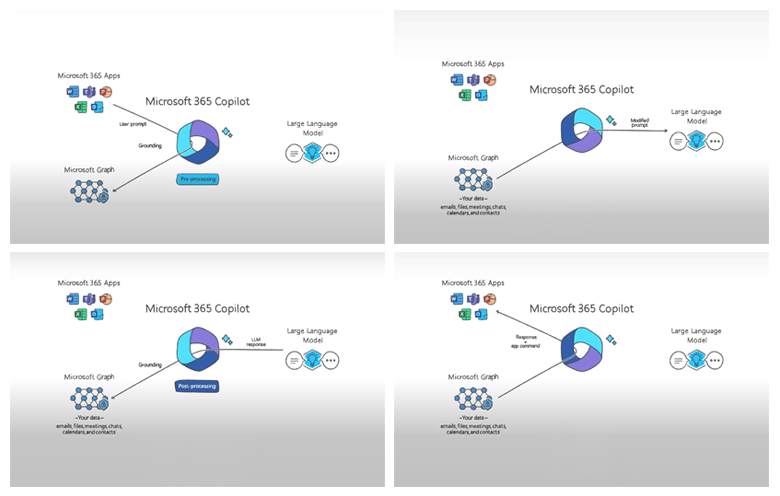 Source: www.youtube.com/watch?v=S7xTBa93TX8&t
Microsoft has integrated Copilot into its entire productivity suite, including Word, Excel, PowerPoint, Outlook, Teams, Viva, Power Platform and more. Moreover, Dynamics 365 now features Copilot as the world's first AI Copilot in both CRM and ERP. This ensures that next-generation AI benefits extend to every line of business.
Microsoft Word
Copilot unlocks the richness of apps through natural language, saving time and unleashing creativity. With Copilot in Word, you can use OneNote and another internal document as instructions and references. Copilot quickly generates an initial draft based on your information. Moreover, it can produce a draft in your preferred format, seamlessly incorporating images and relevant visuals from other files. Additionally, you can include a concise summary at the beginning of the document.
PowerPoint
Copilot in PowerPoint presentations lets you convert a word file into a presentation and vice versa. Within minutes, you have a professional-looking presentation that you can hone and polish. Copilot can even generate speaker notes for important meetings. You can even add last-minute transitions to a presentation by prompting Copilot. The average person uses less than 10% of PowerPoint's Copilot, which unlocks the other 90%.
Microsoft Excel
Copilot in Excel puts all the rich capabilities of Excel at your fingertips.
For example, if you need to analyze a quarter's sales results, you can start by asking Copilot to analyze the data and help you identify three key trends. Within seconds, you've got what you need.
You can ask Copilot a follow-up question about one of the trends. Copilot will create a new sheet, giving you a better understanding of this new trend, without modifying the original sheet data. Copilot turns a sea of data into clear insights and actions, showing you how to break down the problem step by step. Copilot integration makes Excel data analysis quicker.
Microsoft Outlook
Copilot in Outlook separates the signal from the noise, saving you time. Copilot can help you highlight the most important emails. From summarizing long email threads to quickly drafting suggested replies, Copilot in Outlook can help you clear your inbox in minutes. You can draft a concise reply using data from an Excel file and Copilot will generate a reply for you.
Microsoft Teams
With Copilot in Teams, you can follow a meeting and catch up on what you missed, even if you can't attend. Copilot's real magic happens in live meetings, where it can generate transcripts in real time and ask Copilot to explain what has happened so far. It can also summarize key discussion points from the meeting, including who said what and where people agree and disagree. It can also suggest action items along with the content shared during the meeting.
Copilot can help you summarize the team's chat, so you know you have not missed anything.
Microsoft Loop
Now with Copilot for Business, you and your peers can collaborate in the Microsoft Loop workspace. Loop is a multi-player collaboration Canvas with Copilot as an AI peer for your team and everyone else. In some cases, it can be useful if information or action items are available for everyone to track. For example, if a company plans to introduce new pricing and offers, all members can collaborate in a loop to finalize the offers and prices.
According to GitHub data, Copilot aims to boost productivity for all users. Among GitHub Copilot users, 88% report increased productivity, 74% can focus on more fulfilling tasks and 77% find it reduces time spent searching for information or examples.
Copilot empowers you with full control over your work. You can choose what to retain, modify, or discard. Embrace greater creativity in Word, enhanced analytics in Excel, added expression in PowerPoint, increased productivity in Outlook and improved collaboration in Teams with Copilot.
Microsoft 365 Copilot: Transforming work with intelligent AI
At present, Microsoft is conducting Copilot testing with a selected group of customers to gather feedback and enhance their models. This is as they prepare to scale. Microsoft plans to extend testing to a wider audience.
Microsoft 365 Copilot is a groundbreaking AI-powered assistant that could revolutionize productivity applications. With its natural language capabilities and deep understanding of user needs, Copilot AI streamlines tasks, saves time and enhances creativity. This is for users of Word, Excel, PowerPoint, Outlook, Teams and beyond.