According to IBM, 2.5 quintillion bytes of data is incurred every day! However, less than 0.5% of it is ever analyzed and used. This statistic depicts that we are living in a world of ever-increasing forms of data. And the road to potential success is increasingly dependent on effectively collecting, managing and evaluating data to uncover insights to make smarter decisions. To do this, you need to rethink how you handle data, learn from it and understand how data fits in your digital journey.
Tableau is a robust and scalable platform that empowers organizations to make fast and effective decisions. In this blog post, we will learn about how Tableau integration helps to turn your data into actionable insights while discussing the core Tableau products that have the potential to compliment your data journey.
Understanding the data journey: From raw data to actionable insights
Every organization incurs data in a structured and unstructured form that goes through cleansing before segmentation. Followed by extracting, transforming and loading the entire organizational data; meaning preparing data using data pipelines, data integration and data warehouses. Thereafter, your data gets prepared and transformed for aggregation in the staging environment, making it ready for analytics. Then, data modeling comes into the picture where relationships between your data are created by connecting tables. And finally, it's time for data visualization, where you can build dashboards and design widgets with embedded analytics to achieve actionable insights.
In this data journey, Tableau acts as an extraordinary platform to smooth the entire step-by-step data process and provide you with meaningful insights.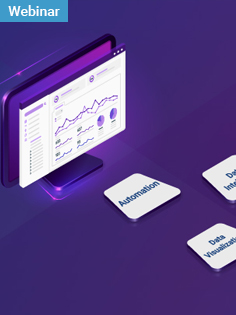 Let your data tell your business story with Tableau
Webinar agenda
Overview of Tableau and integrations
Various data visualization trends
Must have data analytics trends in 2021
Use cases and live demo
Present day examples/ case scenarios
Q & A
Why Tableau environment is better for business intelligence
Tableau offers powerful analytics with an interactive and visual analysis that lets you untangle thorny business questions and quickly deliver more meaningful answers to put your business forward.
Working with Tableau is easy, fun and impactful. Whether you're building workbooks, or dashboards, with Tableau you can experience fast adoption and uphold your data value.
Tableau easily fits your environment. Because the data needs of different organizations are unique, Tableau offers the flexibility to function within the design and architecture of any enterprise. So, you can work your way.
Tableau provides a comprehensive set of built-in features to meet your enterprise needs, from compliance and security to management and monitoring. Your data analytics with Tableau is secure, governed, scalable and reliable.
Let's look at the top Tableau products: Desktop, Prep, Online and Server.
1. Tableau Desktop
You no longer need charts to analyze because Tableau Desktop features live visual analytics with unlimited data exploration. Interactive dashboards help you uncover hidden insights instantly.
Tableau Desktop allows you to connect to data on-premise or in the cloud. Whether its big data, a SQL database, a spreadsheet, or cloud apps like Google Analytics and Salesforce. With Tableau Desktop, you can easily combine and access disparate data without writing code.
To build excellent analytics you need an excellent dashboard. Tableau Desktop offers multiple functionalities so that you can quickly build powerful calculations from existing data and search for forecasts as well as review statistical summaries. That's not all; you can also analyze trends, regressions and correlations to verify statistical understanding.
2. Tableau Prep
Leave behind the traditional data prep because Tableau Prep provides you with a visual and direct way to combine, shape and clean data so that it's easier for you to analyze faster. Tableau Prep is divided into two semi-products – Tableau Prep Builder that builds your data flows and Tableau Prep Conductor that schedules, monitors and manages flows across your organization.
Tableau Prep Builder
Tableau Prep Builder puts together the entire data preparation process so that you can choose which view to interact based on the task at your hand.
You can also edit a value by simply selecting it and view your result right away. Tableau Prep Builder allows you to rearrange your data rows and steps to experiment without consequence.
Tableau Prep Builder works smartly. It employs fuzzy clustering to simplify repetitive tasks like grouping using one click.
It intelligently pushes operations down to the database when possible, so that you can take advantage of the existing database for fast execution.
Tableau Prep Builder aligns with Tableau Desktop for easy sharing to reduce any friction and bridges the gap between data prep and analytics for improved business outcomes.
Tableau Prep Conductor:
Tableau Prep conductor allows you to easily publish and run flows in your server environment, helping you create an environment where your internal teams can work with prepped and up-to-date data.
You can also choose to schedule your data flows to run whenever you want. This way you will automate your data prep processes to make sure fresh data is always available for analysis.
Tableau Prep Conductor offers tools like the status page, admin views and histories to help you monitor your data flows across the server and resolve any issues quickly.
3. Tableau Online
Tableau Online is your analytics platform fully cloud-hosted, allowing you to publish dashboards and share findings with everyone. With Tableau Online, here's what you can expect:
Since Tableau Online is a fully hosted solution, you can add users as you require, without having to worry about server configurations, managing software upgrades or scale hardware capacity.
Empower your internal teams to ask questions from published data sources using natural language using the Ask Data – a powerful algorithm that automatically profiles, indexes and optimizes data sources.
Enable your teams to drill down, highlight, filter and explore data using interactive dashboards from anywhere.
Connect to cloud databases like Amazon Redshift and Google BigQuery or automatically refresh data from web apps like Google Analytics and Salesforce.
Offer easy and safe access to analytics to external teams, partners and clients without requiring any virtual private networks. With only a few taps, embed interactive dashboards on the web or within apps like Salesforce.
Empower your site administrators to easily handle accounts, content, data authentication and permissions. With the Tableau Online's infrastructure, you can meet all specifications with assurance.
4. Tableau Server
Extend the value of your data with Tableau Server throughout your entire enterprise and have the peace of mind that both your data and your analytics are governed, safe and precise. For its ease of deployment, robust integration, scalability and reliability, you will love Tableau.
To access multiple data sources like Cloudera Hadoop, Oracle, AWS Redshift, Data Cubes, Teradata, Microsoft SQL Server and more, use web data connectors and APIs.
Manage your security rules centrally while providing your users with shared and curated data sources and gain insights into its usage to optimize your environment.
With pass-through data connection permissions and row-level filtering, Tableau seamlessly integrates with your existing security protocols and helps preserve your database security.
With the Tableau Server, you have the versatility to integrate with your current data infrastructure. For ultimate control of your firewall, just install Tableau Server on-premises, on either Windows or Linux, or deploy AWS, Azure, or Google Cloud Platform on Public Cloud for enhanced flexibility.
The closing thought
Seeking critical data insights can help businesses gain a competitive edge. Undoubtedly, Tableau is a promising platform that provides dynamic visualizations of complex data. The data journey you start today is going to be worth every bit and will surely add huge business value. If you feel you are ready to build an exceptional data journey, leverage our range of Tableau implementation services.