Microsoft's SharePoint is a robust business platform that offers improved collaboration, content management, search and business intelligence capabilities to organizations all over the world. Some of the leading companies are already leveraging these capabilities of SharePoint to increase their business productivity as well as efficiency.
However, for many users SharePoint is somewhat difficult to navigate. It is tedious to maintain SharePoint sites and time-consuming to monitor the status of their documents. Here is where robotic process automation (RPA) comes into the picture.
RPA is an emerging business process automation technology which has the power to enhance your SharePoint collaboration platform with automation capabilities. In this blog post, we will learn how organizations can benefit from robotic process automation integration with SharePoint.
The power of RPA
Modern organizations are integrating RPA with SharePoint applications to automate their SharePoint processes from a single platform. Also, by implementing RPA with business applications (ERP, CRM, etc.) you can bring your disparate systems and legacy data together. RPA works with both on-premises and cloud solutions, though there will be more restrictions on the cloud.
RPA extends the value of your workflows by automating them within and across the SharePoint platform to maximize their value. Not just that, you can streamline the implementation and administrative tasks of SharePoint platform in your organization using RPA.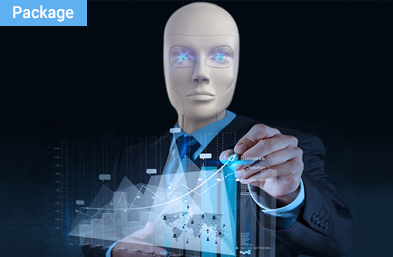 Robotic Process Automation Services
Businesses continuously look forward to improving operational efficiencies, increasing revenue and reducing operating costs.
Moreover, with the help of RPA you can access SharePoint files faster in minutes, instead of hours. In short, RPA can automate multiple manual tasks in your SharePoint platform.
Here are some of the advantages of integrating RPA in SharePoint:
Automate your entire SharePoint platform
Upload and download files to SharePoint in no time
Experience reduced latency, errors, and operational costs
Better manage, rectify and command SharePoint workflows
Organize SharePoint users and groups
Check status of in and out files automatically
Here's how RPA streamlines key SharePoint processes
1. RPA easily navigates SharePoint for its administrators
Navigating SharePoint applications is not user-friendly for administrators. Managing users and working with views is time-consuming and thus, it presents an opportunity for error and latency. This is where you need robotic process automation to help you. RPA integration with SharePoint provides the capability to automate all your SharePoint IT processes on one platform by accessing your SharePoint users, sites, libraries, workflows, and lists. Therefore, your administrators will no longer need to stress out on manual tasks.
2. Easily manage your document approval and payment process
SharePoint is adequately used for the document approval and payment processes. But, it can be a tedious and time-consuming process, especially if the approval gets delayed waiting in a stakeholders' inbox. RPA can automate this action and enable you to control and query your SharePoint workflows.
By integrating RPA in SharePoint, you will gain increased speed, visibility, and coordination of your business processes. For instance, RPA can simplify your multi-level approval process by automating workflows and eliminating any risks associated. Bots can be deployed to prepare the data for repetitive monthly, quarterly and year-end tasks that relate to reporting.
Here's a use case: RPA can schedule a purchase order (PO) to move through the approval process. Each stakeholder would receive a SharePoint task to approve the document so that it can continue moving through the queue in a timely fashion until the workflow ends.

Insights
Understanding the use of RPA in top 5 operational areas of manufacturing
Manufacturing companies still struggle to keep back-office processes fast and simple, mainly due to less skilled labor, repetitive processes, old-fashioned supply chain and inventory systems, and frequently changing regulatory requirements.
3. Deploying automated SharePoint views
SharePoint views allow you to see your files or data in several formats or styles across all your lists and libraries. Administrators are responsible for setting up views, but it isn't an easy task, as they must redefine the same view for each list individually for other lists. RPA can help to address this manual task by applying predefined views to SharePoint lists and libraries automatically. This activity can save your administrators valuable time, which they can spend on managing other projects.
4. Execute backups consistently
SharePoint is most likely to house your valuable documents and thus backing up all the necessary files becomes crucial. RPA can host your SharePoint with an on-premises installation and allows you to backup or restore your SharePoint site. By doing so, you will benefit from an automated backup of your SharePoint files by conducting reliable scheduling at regular intervals for all sites and their content.
Some of the other areas that can also be automated with the help of RPA are listed here:
Absence reporting and vacation scheduling
Expense reimbursement
Policy review and approval
Help desk ticket management
Sales forecasting
Timecard tracking
Interview management and hiring processes
Event log monitoring
GUI automation
Take away
SharePoint automation has turned from a useful asset into a necessity for organizations that want to help their workforce stay efficient and productive. Integrating RPA in your SharePoint platform is one of the best ways. We are confident that enterprises which acquire RPA capabilities will reap amazing automation capabilities. If you wish to know more about how you can integrate RPA with your SharePoint platform, speak to our consultants.