The entire idea of running a business revolves around caring for the customer. And with the right use of modern technologies, it is possible to achieve a higher level of customer care. Robotic process automation (RPA) is one such technology that is improving business processes efficiency and workforce productivity. With RPA applications integration in customer service, enterprises can automate several routine tasks that are time-consuming and labor-intensive. In this blog post, we will see some awesome advantages of utilizing robotic automation in customer service.
"The global robotic process automation (RPA) market size is expected to reach USD 3.97 billion by 2025"
– Grand View Research
Why RPA for customer service
Many leading organizations have already put RPA in practice and it is widely improving the operational efficiency by automating tasks that are highly repetitive, rule-based and use structured data. This approach is intuitive, and it speeds up the data integration process as well as workflows.
Implementing RPA to automate customer services can significantly reduce the time spent on identifying customers and deliver better customer support with a single customer view. As a result, your customer service reps can reach to information faster and eliminate waiting times for your customers.
Here are some of the use cases of RPA in customer service:
RPA can be integrated to equip your chatbot to fulfill customer service requests instantly and become more transactional.
With RPA, you can also allow your chatbot to complete the customer's request immediately rather than passing the interaction to a human agent.
By using the power of robotic process automation, you can provide your customers with self-service option by granting access to a wide range of back-end applications.
Manage your sign-in process by allowing RPA to access encrypted credentials securely.
RPA can handle security in a safer way and help to reduce errors, improve data quality, enforce consistency and compliance.
Finally, with robotic process automation, your enterprise can achieve a process standardization across entire business channels.
Benefits of RPA for customer service
Reduced costs
Achieving a reduced level of cost results in a greater level of efficiency and RPA is one of the best fits for cost savings. When a customer service rep uses a system powered by RPA the average handle time (AHT) with customers is reduced along with the processing costs.
Simplified desktops
Customer service reps often require dealing with numerous applications, switching from one to another, or even copying the same information between several systems. RPA can best assist your agent by preloading the customer context and pull necessary information from various applications as and when required.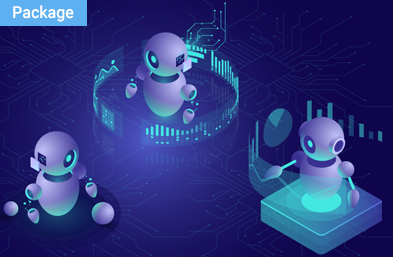 Robotic Process Automation Consultation
Robotic Process Automation (RPA) is the solution as it can be undoubtedly applied across multiple sectors to automate various processes and save tremendous time and efforts.
Improved processes
Using RPA not only reduces errors and creates efficiency but also improves process predictability, enforces compliance and adheres to regulations. Basically, it can ensure a smooth recording of all modifications in your system. Apart from that, process automation robots continuously work to perform checks in the background, and keeps your workflows updated.
Better experiences
Agents, at times, spend a huge amount of time searching and tracking customer information through several systems. RPA can handle this task by quickly looking up the process thereby helping agents in reducing lead times and in offering better support experiences.
Easy deployment
Deploying an RPA solution is like a new layer over your existing infrastructure that will maximize its value. It is quick and easy to implement RPA and enterprises are not required to mobilize resources. Additionally, there's no need to remove or replace the assets already in place.
Take away
RPA is a game-changer for business leaders to overcome the gaps in customer support and service operations. Enterprises that face a high volume of customer-facing tasks must adopt robotic automation technology to speed up systems. There is a huge positive impact of this technology and enterprises can be assured of achieving a good ROI. Bring your RPA related queries to us and our experts will consult with you on how to get started.