React Native is an open-source framework that is compatible with other platforms. React Native has made it easy to write amazing applications. And hence, it is making a significant difference in the world of mobile app development.
Now that smartphones have become an integral part of our lives, it has become imperative for developers to create applications that are compatible with iOS and Android platforms and are user-friendly. Hence, React-based mobile apps have become the talk of the town.
Before the launch of React Native, the developers had to develop different versions of an application for iOS and Android platforms. This practice was time-consuming and incurred additional costs. But React Native came as a savior and enabled developers to use the same codebase to create an application for multiple platforms.
In just a few years of its launch, React Native has emerged as the most feasible framework for the development of mobile applications.
Let's take a look at why choosing React Native is the best option for mobile app development:
1. Faster app development
Building an application using React Native minimizes the time of development significantly. In place of two teams, one for iOS and another for Android, you need only one team to complete your applications from design to development.
2. Easy coding
React Native framework is based on JavaScript, which is one of the most commonly used coding languages. This makes it easy to find a certified React Native app developer.
3. Code Push for updates
Every app requires regular updates to improve performance and fix bugs (if any). React Native uses a feature named Code Push that helps the developers to push out updates with immediate effect. The apps built on React Native do not compel you to update the app. The updates get installed through the cloud and you don't have to launch the app again.
4. External plug-ins library
React Native framework supports third-party plugins. It contains a library that provides various plugins that you can incorporate into your application easily. This saves a lot of time for your developers and simplifies the process of development.
5. Better performance
Previously, developers used to believe that apps work best when they are developed in their native forms. This belief turned out to be a myth as there was no difference found between the UI of both types of apps. But when compared, React Native apps surpassed the performance of native apps. They offered not only better performance, but they also showed more competent usage of memory.
Let's now understand why you should hire React Native developers to build your applications:
Cost-efficiency
Once you decide to build your app with React Native, the next step is to decide how to get it built. It is always advisable to hire a React Native developer. This saves you cost and time. And also saves you from the hassle of building your app separately for iOS and Android platforms.
Expert developers
When you hire a developer to build your app, you have the option to search, find and choose the best developer available for hire. You can easily select one from a pool of skilled developers who have years of experience in developing applications with React Native framework. Moreover, they will build your apps quickly and ensure timely delivery. This shortens the total time required to make it live.
Devoted resources
Hiring React Native developers from dedicated solution providers like Softweb Solutions will help you to get expert Native app development services. Our developers have immense experience in developing mobile applications on React Native framework. We also provide round-the-clock assistance, so in case you face any difficulty; you can always contact us.
Quality assurance
When you hire React Native developers, you get high-grade IT solutions along with flexible web applications with various features.
Easy management
By hiring dedicated developers to build your mobile applications on React Native, it becomes easy for you to manage the entire mobile app development cycle. Moreover, this allows you to spend time taking care of other departments of your organization as well.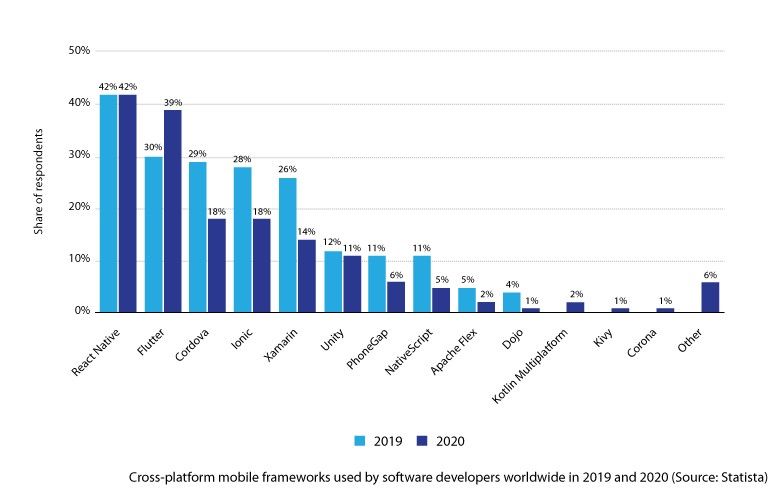 Engagement models
There are several engagement models that you get to choose from when you hire a React Native developer for building your mobile applications:
1. Offshore Support Model
When you choose this model, the developers remotely connect with you to resolve your issues. Software like GoToAssist, LogMeIn, VNC, or TeamViewer are leveraged to enable secure control over the team.
2. On-site Support Model
By choosing this model, you get continuous support from developers when you need:
On-premises technical assistance
To modify any existing system
To migrate from a legacy system
3. Hybrid Model
A hybrid model is ideal for you if you are starting any complex or long-term IT project. React Native developers help you with service delivery amid local systems, centralized shared services and the external outsourcing of service delivery.
4. Support Time & Material (T&M)
This model provides you with the flexibility to work with developers and pay only the actual cost of direct labor. The cost is based on an hourly basis, materials and equipment used. You can expect a quick start, better efficiency, flexibility and control over each development stage.
Widespread adoption of React Native
Ever since Facebook launched React Native framework for mobile app development, several big players like Instagram, Netflix, Airbnb, Tesla, Walmart, Uber Eats, Bloomberg, etc. have adopted it. This signifies that the platform is progressing at a rapid pace. It is best suited for:
Writing applications for iOS, Android and Windows platforms.
Translating all JavaScript code to the native language of the target device.
It uses similar standard UI building blocks as usual iOS and Android apps.
Providing quick and efficient mobility solutions

A glimpse of what you must look for in a developer while hiring one for developing your mobile application:

Strong knowledge of React fundamentals
Strong knowledge of JavaScript and functional programming aspects
A thorough understanding of the full mobile app development lifecycle
Efficient in writing clean, reliable and manageable code
Knowledge of type checking and unit testing
Experience with debugging mobile applications
Ability to understand a large codebase
React Native applications on the go
Being extensively adopted by developers, React Native is trending in the world of mobile app development. It empowers the developers with the ability to build complex and larger applications flawlessly. The aforesaid benefits of React Native prove that it is one of the best options available for organizations to build their mobile applications.
It helps you to stay ahead of other players in the market by minimizing the time and costs of development. Along with this, it also provides your users with a seamless experience on iOS and Android operating systems. To know more about the benefits of building your mobile application on React Native, talk to our experts.