Artificial intelligence (AI) and machine learning (ML) have long been transformative forces in business, revolutionizing operations and decision-making. However, the emergence of generative AI (GAI) marks a new age requirement. Generative AI goes beyond analysis to create new and original content, opening unparalleled opportunities for innovation and creativity.
Generative AI technology has seen remarkable advancements with popular models like GANs, VAEs, autoregressive models, and transformer models. GANs employ competition to create realistic data; VAEs encode and decode for control; autoregressive models generate sequential data; and transformer models capture complex dependencies.
These models drive innovation, pushing the boundaries of what is achievable in business efficiency. By implementing generative AI, your business can generate personalized experiences, fuel the development of intelligent assistants and reshape industries.
According to Gartner, by 2025, 10% of all global data produced will come from generative AI.
This blog delves into the advancements and distinctions of generative AI compared to traditional ML, highlighting the challenges it can proficiently solve. It discusses various components of generative AI, including LLMs, fine-tuning and LLMOps. It also explains how they drive innovation and efficiency. Real-world applications and the benefits of generative AI are explored, along with an adoption plan for successful integration and ethical considerations.
Traditional ML vs. Generative AI: Unveiling the evolution of AI models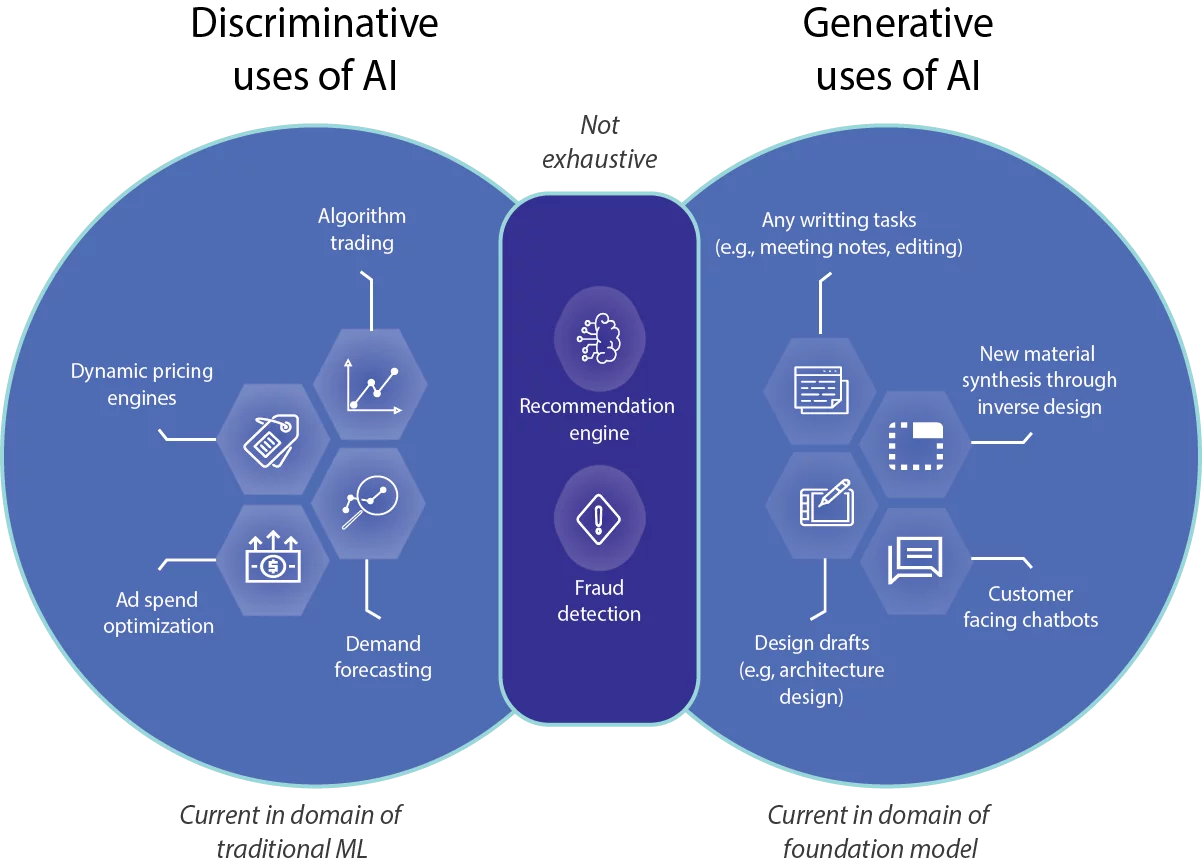 | | | |
| --- | --- | --- |
| | Traditional ML | Generative AI/Foundation Models |
| Approach | Uses supervised or unsupervised learning algorithms to make predictions based on patterns in training data | Generates new data based on patterns learned from training data |
| Purpose | Focuses on solving specific tasks, such as classification or regression | Primarily used for creative tasks, such as text generation, image synthesis, or music composition |
| Data Requirements | Requires labeled training data for supervised learning or unlabeled data for unsupervised learning | Needs a large amount of training data to learn patterns and generate new content |
| Limitations | Relies on explicit rules or predefined features | Capable of learning complex patterns and generating novel content, but may lack interpretability |
| Flexibility | Less flexible in adapting to new data or tasks | More adaptable and can generate diverse outputs based on input variations |
| Training Time | Training time depends on the complexity of the ML model and the amount of data | Training generative AI models can be computationally intensive and time-consuming |
| Output | Produces predictions or insights based on existing data | Generates new and unique content based on learned patterns |
| Use Cases | Applications in areas such as predictive analytics, fraud detection, and recommendation systems | Used in creative fields, language generation, virtual assistants, and content creation |