Beginning from the electronic era to the emerging modern web development today, we are fortunate to witness some peak innovations of our time. There's no doubt that traditional firms today have a better idea of seizing opportunities that technological advancements have facilitated. With the fast-stack nature of web development, more and more businesses are moving digital. It's no longer a term but a real transition to how businesses operate nowadays.
Many organizations are holding a view that tech stacks are all about tactics and it involves strategic decisions to remain competitive. However, it necessarily may not be the case. Instead of building and doubling on the technical aspect, the focus must rely on adapting. To harness the ideal tech stack that complements your infrastructure needs, you will first need assistance in identifying and achieving your digital aim. As new languages and techniques emerge time-to-time it empowers businesses to choose the best tool for a particular task as well as to adapt to the new ones as they mature.
The beauty of the full stack development approach is that you get to pick and choose the tools that would build your stack, that too in a continuously changing environment. This blog points out the rudimentary challenges of today's complex tech infrastructure while discussing the core benefits of choosing full stack development services over other strategies.
Understanding the key infrastructure challenges
For several companies, a technology stack can mean a solution to their technical problem. They keep extending their stack further to derive maximum value or because they value it over other off-the-shelf solutions. At times, some stacks exist to oversee lower levels, or for legacy reasons. For instance, many organizations run their own data centers for a few reasons:
as the investment has been made
or because they have particular requirements such as legal regulations, improved security, or large storage
for others, running that part of the stack offers no value over buying it as a utility
If you resonate with the above challenges, maybe you are not driven on building the right tech stack to meet your business needs. This may sound alarming to you, but believe it or not, many of these problems tend to involve technical disruptions and in long run may affect your time-to-market.
Here's another example for better understanding, an organization facing downtime issues in their tech infrastructure can lead to a huge loss in productivity and may have adverse effect on their revenues. If you're a global company, you end-up mislaying your precious time and resources due to inefficient management. Let's be aware that different areas such as network and security, storage and servers, business applications, operating systems as well as databases add combined value to the broad field of building the right tech stack, which cannot be neglected. Therefore, it requires careful management which is often challenging to organizations. As a result, full stack web development creates responsive systems and bridges the gaps between your business and operations, ensuring that everything runs smoothly.
Benefits of full stack development services for your enterprise
1. Improved team management
It is straightforward to start up since a group of full stack developers form a team to initiate a full stack development strategy. It means, they'll communicate more effectively, be more transparent and listen to one another's views more intently. Managing a full-stack development team is a lot easier than managing a group of individual developers. Furthermore, it improves team dynamics and reduces team burden, making everyone more comfortable in the process.
2. Cost-effective development
Affordability is one of the crucial reasons why enterprises choose to hire a full stack development company. Hiring individual developers or professionals and managing them is a time, money and efforts investment. Full-stack web developers will take control of everything for you. Full stack developers can work on every part of your project if you're producing a minimum viable product (MVP). It will save you a substantial amount of time by eliminating the need to hire independent developers repeatedly.
3. Multiple technology expertise
A significant advantage for your company is to hire a full stack developer with multiple technology expertise. It reduces your organization's dependence on several developers for a single product. Moreover, you can opt for different tools and technologies to build your unique product and choose the one which best fulfills your requirements. Their technological competence gives them an unbeatable ability to make product updates and modifications at a faster rate compared to independent developers. Thus, working with a full stack developer associated with a service provider is an efficient web development move.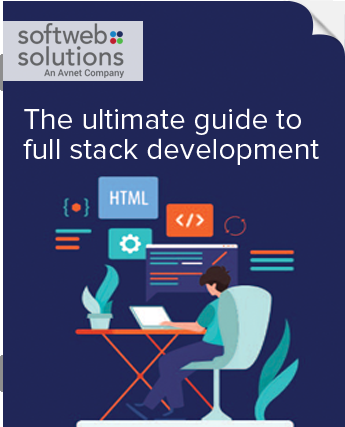 Insights
The Complete guide to Full stack development
Full stack development (FSD) is a term that has been used to describe the practice of developing software applications using multiple programming languages and frameworks. It includes the development of end-to-end processes from scratch, designing user interfaces, creating wireframes, building prototypes, testing them and then deploying the application into production.
4. Rapid advancement
Since full-stack web developers work simultaneously, swift coordination and managing tasks become easier to build applications faster. This enables quick delivery of products and provides you faster time-to-market. Additionally, the developers don't have to wait for any dependencies. For example, the coordination time between a backend developer and a frontend developer to receive a design component can be eliminated.
5. Improved support and maintenance
Full stack developers quickly adapt to the changing environment. Therefore, they can make modifications based on the latest updates and give your product a good boost. For instance, if there is any support activity that demands a developer to check and fix it, any full stack developer from the team can resolve it, eliminating the need to wait for a particular developer. As a single development team has built the application, they know where and what changes to make. A professional full-stack development company provides round-the-clock support because there is a single point of contact to whom you can address all your concerns and get them fixed.
6. Integrated development
The full stack web development approach follows a smoother workflow as developers take tasks one after another to achieve the product development goal in harmony. When the developers are given separate responsibilities respectively, taking accountability is a challenge for everyone. Full stack developers may easily take ownership of the project and be accountable for every step of the development process because they work on all components of it.
Full stack development is the new big thing
Knowing that the full stack development eliminates some major underlying problems with web development such as inefficiency, poor communication, technical issues, delivery backlogs and many more, it is fair to say that a full stack developers are extremely versatile because of their wide range of capabilities to work with various technologies and building the right one. Full stack development is a uniquely poised approach to solve entire problems, not just parts of them while perceiving the big picture. Although the rise of full stack developers didn't happen in a blink of an eye, but they have become the need of an hour to deliver organizations the agility and skillsets.