This is a brutal business world. Nobody is going to sit back here. You cannot rely on somebody else's idea of digital transformation. That's precisely why if your idea of digital transformation is what it was yesterday, you – as a startup – will lose it to the companies who internalize what digital transformation will be tomorrow. Management thinker, Peter Drucker, once said the greatest danger in times of turbulence is not the chaos. It's acting with yesterday's logic. Digital disruption is today's turbulence.
From Industrial Age companies, Wall Street giants to Silicon Valley startups, business people love talking about Fortune 500 companies. They enjoy debating what this annually published list of US companies implies for the overall economy. More than that, they love to conclude them. There are still 52 companies (around 10%) on the magazine's original list from 1955.
According to the 2021 Corporate Longevity Forecast, 50% of the Fortune 500 companies will not be in the 2030 list. A decade ago, the five most valuable firms of the S&P 500 Index were Exxon, GE, Microsoft, Gazprom and Citigroup. In September 2021, the S&P's top five most valuable firms are Apple, Microsoft, Amazon, Meta and Alphabet. Thus, it won't be overwhelming to use the caveat found in mutual funds fine print: "Past performance is no indicator of future returns."
Taking up a digital transformation initiative on your own can be difficult for startups or established companies. There are numerous companies, including us, which offer digital transformation consulting services. We have elucidated the full-fledged picture of digital transformation through three aspects. The first aspect will deepen your understanding of why and how you should identify digital transformation needs. In the second aspect, you will realize three digital transformation stages, which cover digitization, digitalization and digital transformation. The third aspect covers the essentials you should have for transforming your company digitally.
Both blogs communicate the following three aspects:
1. How to identify the need for digital transformation
2. The phases of digital transformation
3. Strategic imperatives of digital transformation
Here's a simple flow diagram of the blog: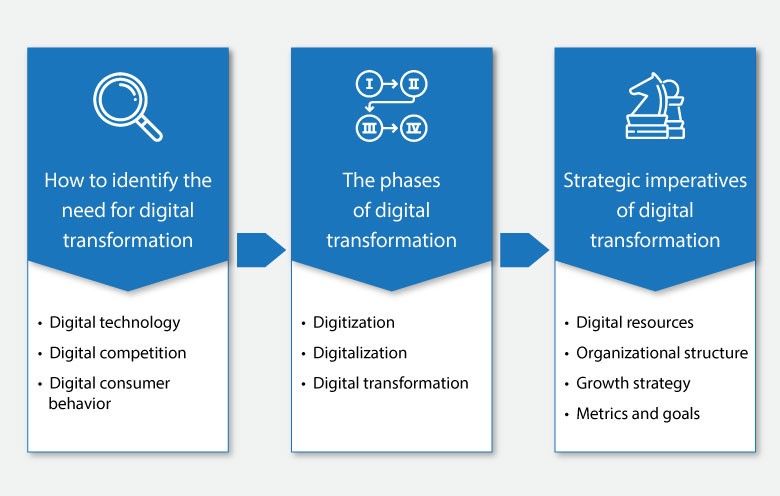 This blog covers the first two aspects.
How to identify the need for digital transformation
Digital technology
After the establishment of the World Wide Web and its widespread adoption, several accompanying technologies (like broadband internet, Web 2.0, smartphones, SEO, cloud computing, online payment systems, speech recognition, etc.) have emerged, bolstering the growth of e-commerce.
Retail e-commerce global sales were $4.28 trillion in 2020 and e-retail revenues are projected to grow to $6.39 trillion in 2024. – Statista, 2021.
The massive adoption of trending technologies like AI, ML, MR, IoT, edge computing and blockchain signals the need for startups to implement digital transformation strategies. Employing such digital transformation can affect any startup's cost structure by replacing costlier humans with software robots or virtual agents or through supply chain optimization using AI and blockchain.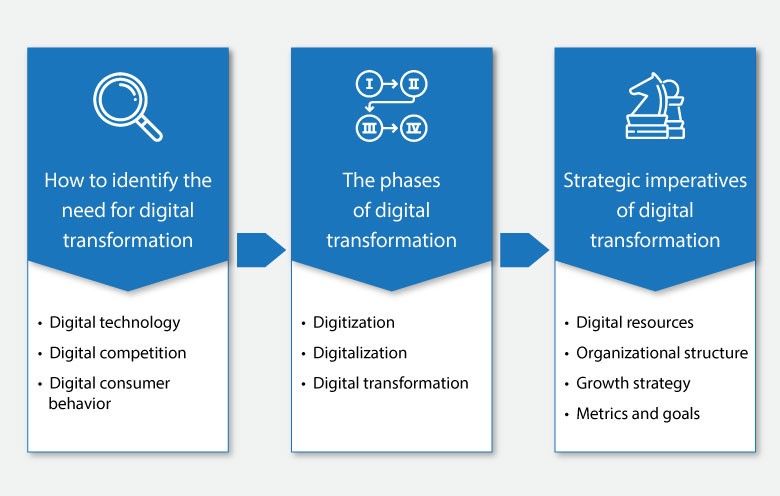 Digital transformation is all about delivering better CX and increased ROI
Webinar agenda
Overview of digital transformation
Adopting the digital edge in redefining CX
Major challenges on the road to digital transformations
Developing digital transformation strategies
Digital competition
With the adoption of new digital technologies, competition is getting fierce in every industry. Young digital firms have taken the lead in several sectors. For example, the rapid growth of online retailers, such as Alibaba and Amazon, is severely denting traditional retailers' growth. The bankruptcies of several former retail behemoths like Toys 'R'Us, Claire's and RadioShack confirm that. These young digital firms just use their digital resources to capture markets without limiting traditional firms' reach. Any startup should hire a digital transformation agency that helps to keep their competitive antenna up and not push to limit competitors' reach.
Digital consumer behavior
The digital revolution has changed consumer behavior exponentially. Digital touchpoints have now become an integral part of the consumer decision journey. The use of new search and social media tools helps startups to make consumers more informed, connected and active. Digital technologies empower consumers by allowing them to customize their products and share their experiences through reviews. That defies the traditional consumer decision journey. If firms fail to adapt to these changes, customers start giving the least preferences as they can easily be replaced by companies that offer such digital experiences.
The phases of digital transformation
Yesterday's logic of digital transformation works in functional silos; meaning, it applies in multiple functional areas like information systems, innovations, marketing, strategic and operations management. That ignores cross-functional opportunities and resultant business model innovations. To realize the full potential of digital transformation, the adoption of digital transformation company-wide is a must. Hence, it is essential to understand the phases of digital transformation.
Digitization
It is just the encoding of analog information into zeros and ones, i.e., a digital format. With digitization, computers are used to store and transmit data. It also covers the integration of IT with existing tasks. Usually, digitization digitalizes internal and external documentation processes with no effect on value creation activities. For example, it automates routines and tasks. The goal is to save costs and deploy resources for other valuable activities. For any startup, digitization helps in cost-savings and resource deployment for other valuable activities. So, startups can focus more on future-proofing strategies, which build a broader picture like their presence after five years.
Digitalization
It employs IT or digital technologies to alter existing business processes. For example, developing a new online communication tool allows customers to connect with businesses easily and empower effective customer interaction. Digitalization changes existing business processes, such as procurement and distribution, communication, business relationship management, etc. The implementation makes startups' business processes efficient by bridging the gap between processes and user experience. So, digitalization is not only limited to cost savings. It works as a differentiation factor as it improves processes and enables enhanced customer experiences. Digitalization, for example, includes the use of robots in manufacturing, the addition of digital components to product or service offerings, and the introduction of digital distribution and communication channels. The goal here is to reengineer business processes, make them efficient and develop a competitive advantage.
Digital transformation
It literally means company-wide adoption of digital change to develop new business models. For any company, the resultant business models prove as a competitive advantage. Digital transformation focuses on business logic that affects the ways of how businesses operate. As digital products and services providers, Apple, Google, Amazon, Samsung, IBM and Cisco are easily identified as digital companies. It's also easy to categorize Tesla, Uber, Twitter, Airbnb as digital companies because digital devices and interactions enable their products and services. But so are BMW, John Deere, Pfizer, Bosch, GE, Rockwell, Whirlpool. Digital transformation aims to introduce new business models like product-as-a-service, digital platforms and pure data-driven business models. The focus is on reconfiguring existing assets to develop new business models and generate new revenue streams.
Concluding thoughts
Digital transformation, as a whole, is not just limited to task automation, cost savings, or business process reengineering. It asks for multidisciplinary perspective to let your startup shine. From identifying the need for digital transformation, phases of digital transformation, to how important it is for any company to develop agile organizational structures, identify growth strategies and measure intermediate metrics – it is extremely important to consider everything when adapting digital transformation company-wide and make your startup shine.