With the evolution of the Internet and enhanced network bandwidth, evolved an era of cloud computing. Albeit, the advent of COVID-19 outbreak has compelled businesses to involve the work from home reality; making the cloud technology shine even brighter than ever before.
In this time of unprecedented uncertainty, though our social lives and physical realities have ceased, for now, the ubiquitous cloud computing services/platforms such as Microsoft Azure, Teams, Amazon AWS and several others, keep our digital lives moving.
In the last three years, the cloud industry grew at a CAGR of 24%. This digit is likely to be surpassed in the current year due to the global impact of COVID-19.
– Deloitte
From creating a flexible digital work environment, supporting health services to enabling dependable online commerce, cloud computing has a crucial role to play. To leverage cloud services, you must understand the different types of cloud computing models.
This post will help you gain a better understanding of various kinds of cloud models and major disparities between them.
What are the different types of cloud computing service delivery models?
Cloud computing holds the tremendous potential of presenting numerous public (shared) services depending on the cloud model you choose – out of the four distinct models. Each model extends a whole new level of versatility and power. The four major cloud consulting service delivery models are SaaS, UCaaS, PaaS and IaaS.
1. Software-as-a-Service (SaaS)
Software-as-a-service (SaaS) presents a comprehensive product that is run and administered by a cloud service provider/vendor. SaaS is a service in the cloud, extending an entire software suite in pay-per-use form. It is made accessible to the end-consumers over a ubiquitous network, i.e. the internet.
The total size of the public cloud SaaS market worldwide (in billion U.S. dollars)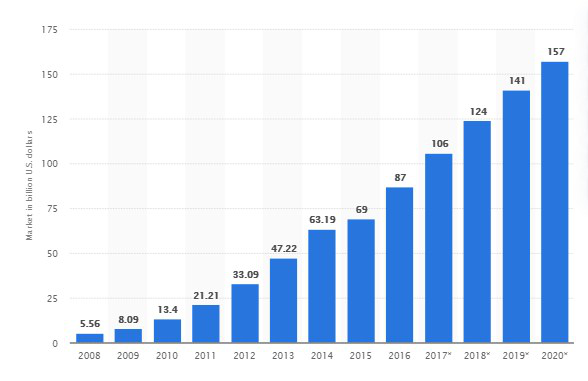 Source: Statista
SaaS is the superset of both, PaaS and IaaS as it offers the entire package from infrastructure, middleware, OS to applications deployed over the web, that can be seamlessly accessed, invariant to time, place and platform. This fully-developed cloud service model encourages businesses to get going amid the COVID-19 pandemic and respond expeditiously to it as well as scale business operations remotely.
Features and benefits
On-demand service
Independent platform
Automated provisioning
Multi-tenant model
Single-sign on
Subscription-based billing
Best for remote collaboration
2. Platform-as-a-Service (PaaS)
Platform-as-a-service (PaaS) is a subset of SaaS and it is built on virtually the same infrastructure as IaaS. Besides that, in this service model, the vendor assists companies with middleware, database management systems, OS, web servers and development tools. All of these encapsulate a remote environment where users can build, compile and run their software products without requiring any in-house hardware/software.
The total size of the public cloud PaaS market worldwide (in million U.S. dollars)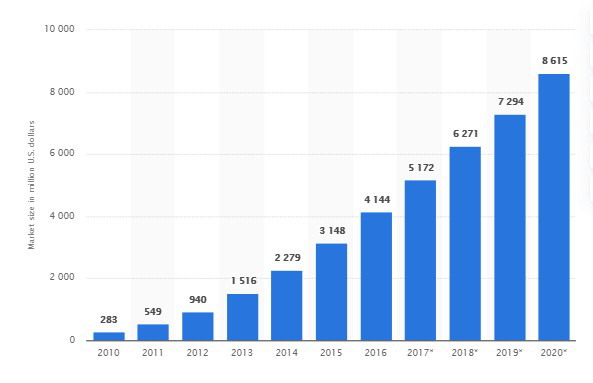 Source: Statista
Thus, PaaS enables users to emphasize their application resources and effectively manage their data as the rest of the things will be handled efficiently by the vendors. Since the platform is web-accessible, remote development unit can have ready access to all the assets ubiquitously. This, in turn, will help them to improve their product development life cycle, resulting in more agile product delivery.
Features and benefits
Rapid product development
Web-based user interface
Multi-tenant architecture
Third-party integration
Future proof
Extensive pre-coded apps
Supports mobile workforce
3. Infrastructure-as-a-Service (IaaS)
Infrastructure-as-a-service (IaaS) is one of the most pliable cloud computing service models which presents the required infrastructure and all the computing resources to users in an entirely remote environment. The vendors delivering PaaS service are responsible to provide advanced services to address your company's infra needs, which involves data storage space, servers, virtualization and networking
The total size of the public cloud IaaS market worldwide (in billion U.S. dollars)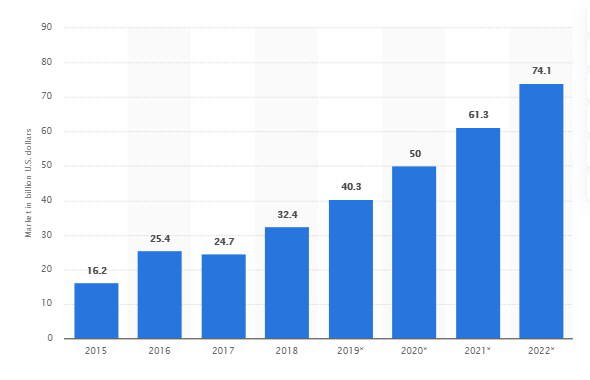 Source: Statista
IaaS is a highly expandable and lucrative service as outsourcing data centers, cloud components and servers annihilate the necessity for establishing an in-house infrastructure. This service model can aid you to upscale and downscale your infra service on-demand. IaaS will be a good fit for SMEs and startups that might not have ample resources to buy essential infra for building their own network.
Features and benefits
Dynamic scaling
Reduced vendor lock-in
Automated operations
Virtual server space
GUI and API-based access
Loading balancing capability
Pay-as-per-use model
Platform virtualization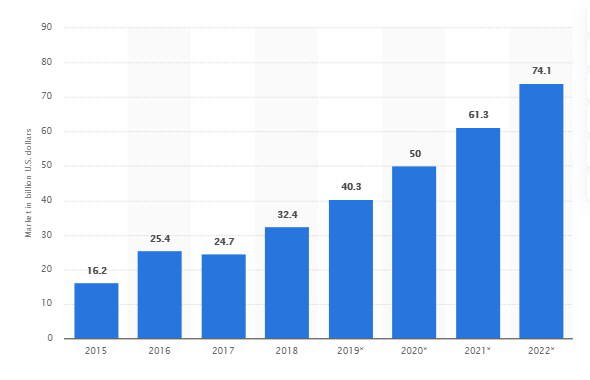 Cloud strategy and assessment workshop
The adoption of cloud-based infrastructure by enterprises is increasing greatly. However, a lot of enterprises are still reluctant to adopt a cloud strategy due to lack of skills or knowledge.
4. Unified Communications-as-a-Service (UCaaS)
Unified communications-as-a-service (UCaaS) is trending up amid the current crisis as this service model presents communications continuity and remote collaboration services to users, worldwide, via the cloud network. Moreover, this service model provides advanced security and reliability, enabling the remote workforce to work seamlessly in a secure, virtualized cloud environment.
The global unified communications market size is envisioned to rise at a CAGR of 16.8% to reach USD 167.1 billion by 2025.
– Grand View Research
As work-from-home is becoming the new norm and the digital workplace becoming the future of work, both SMEs and large enterprises are embracing UCaaS services to keep their teams connected while they work apart. UCaaS platform not only empowers the mobile workforce to connect and collaborate over phone/video calls but also enables them to share files, documents or resources via the cloud infrastructure for streamlined workflows.
Features and benefits
Centralized management
Improved response time
Voice/VoIP technology
Audio/video conferencing
Supports BYOD
Rich data channel
Advanced security
Instant connectivity across devices
The key difference between the three service models of cloud computing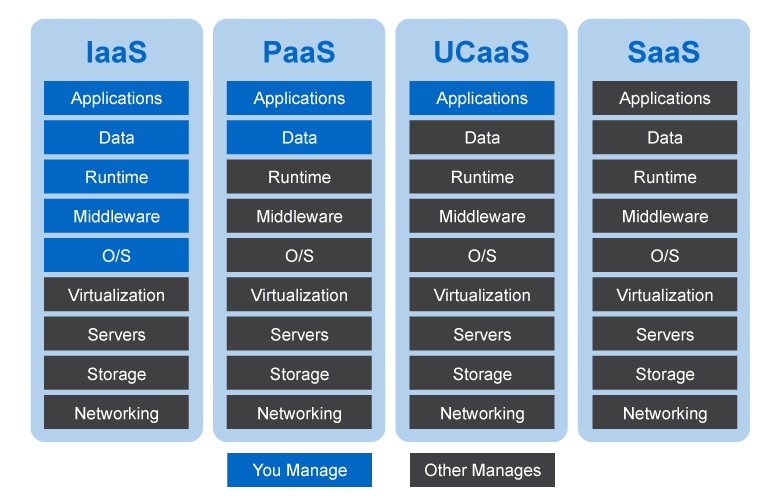 Common instances of SaaS, PaaS, IaaS and UCaaS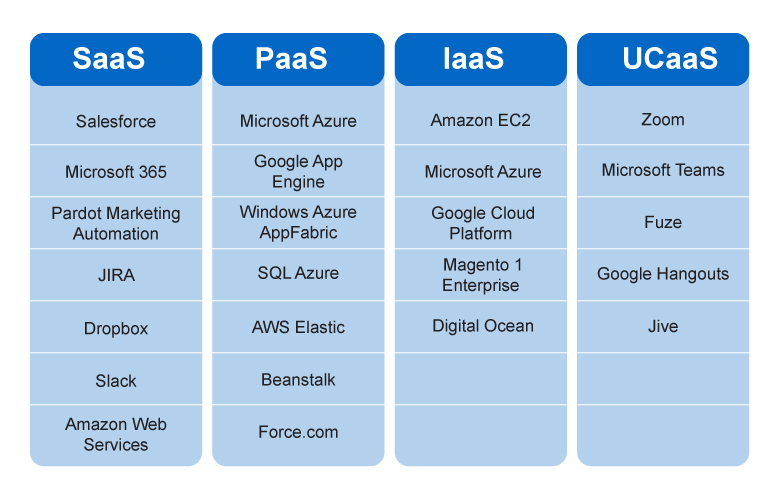 Be a part of the cloud family
In this unprecedented times, as the virtual work world and remote collaboration intensify, cloud computing has emerged as the knight in a shining armor for most enterprises around the globe. However, there are some organizations, which are still grappling to migrate to cloud infrastructure.
If your organization is also finding it difficult to embrace and choose the right cloud computing service model that fits your modern needs, then our domain experts are always there to extend best-in-class cloud consulting services and support.