Data security is a critical aspect in the healthcare industry as healthcare organizations store a huge amount of patient records that contain valuable and sensitive information. This is why it is mandatory for healthcare organizations and hospitals to adhere to HIPAA (The Health Insurance Portability and Accountability Act) and protect sensitive patient data by following predefined privacy and security rules.
Moreover, according to HIPAA security rules, any company that deals with protected health information (PHI) must have a secured infrastructure, network, and processes to ensure HIPAA compliance. However, with the use of interconnected data systems like EHRs, mobiles, and wearable devices, combined with greater Wi-Fi access, healthcare data is vulnerable to cyber-attacks as well as data breaches.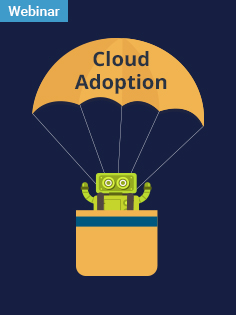 Weather Forecast – It will be "cloudy" for decades
Webinar agenda
Basics of cloud computing
Cross-industry use cases
Security concerns and best practices
Industry adoption examples
Q&A
How can cloud computing improve data security measures in healthcare
If you migrate your data to the cloud, it gives you the chance to gather different streams of information such as spreadsheets, hard copies, servers, and hard drives in one place. Hence, many huge healthcare organizations are moving their data to the cloud for efficient data management and integration practices.
Like other industries, downtime means loss of business to the healthcare sector too. During system downtime, the team cannot respond to customer complaints/requests, follow-up on leads, or deliver products and services. Also, the healthcare business has a lot of emergency appointment booking to make, medication and procedures confirmations are needed by doctors and nurses, which is only possible if the systems aren't down.
Cloud computing technology not only helps to store massive patient information, but it also gives meticulous insights on how employees, as well as third-party users, are using healthcare systems to get answers to questions like who is using what digital file at what time. This helps the admin to efficiently monitor if there is an unknown user activity or strange behavior.
There are many cloud service providers out there in the market like Microsoft Azure, AWS and others that can customize their cloud offerings as healthcare organizations grow over time. The organization can switch their cloud plans like multi-cloud or hybrid cloud, using 5g bandwidth based on the changing business needs.
All in all, on one hand, the healthcare team works to comply with HIPAA, and on the another hand, Cloud adoption in healthcare industry facilitate hospitals to manage stringent user permissions and offer deep visibility into day-to-day operations.
What are some of the best practices to keep up with healthcare data regulations
Perform risk assessment from time to time
It is important to get a risk assessment done after understanding the complete data security model of your organization. This is crucial because it will help to protect systems from leaks and strengthen the weak areas.
Apart from that, the HIPAA security rule says that every hospital or healthcare organization must conduct an annual risk assessment in order to fulfill the criteria for Merit-based Incentive Payment System (MIPS) and Medicare EHR Incentive Program (Meaningful Use).
Encrypt data
Data encryption makes it difficult for unauthorized users to access and read sensitive information, even if a network is hacked or a mobile device is stolen. Also, the healthcare organization should, without fail, encrypt both the types of data – data which is stored and data which is in transit because this will help to ensure that the patients' private data is always secure.
Restrict sensitive data access
Sensitive patient data should be stored in a centralized place and it should be secured with a role-based access control system. This will give limited access to employees in which they would be able to access the information that they need to perform their job function.
Additionally, the healthcare organization should implement artificial intelligence and Internet of Things technologies to track as well as analyze data access, identify abnormal patterns, and detect suspicious activities.

Insights
Softweb's Cloud Foundry Enablement Services
Cloud Foundry is an open source cloud platform as a service (PaaS) that empowers companies to build, deploy, run and scale applications on their existing cloud infrastructure.
Implement data loss prevention (DLP)
By making use of an appropriate DLP (data loss prevention) solution, hospitals can prevent data breaches by ensuring that sensitive patient information is not accessed by unauthorized users, misused, or lost. With the help of DLP software, organizations can control the end-user activities, filter data streams on networks, and monitor data in the cloud.
Adopt AI-driven technologies
To detect and respond to the intensity and speed of today's cyber-attack techniques, organizations need the latest security methods as traditional ones won't be able to resolve the challenge.
Hence, hospitals and other healthcare companies are deploying innovative threat intelligence solutions with AI and machine learning capabilities to prevent their system from hackers. With such AI-enabled applications detecting anomalies and sending real-time notifications about cyber-attacks across the entire network becomes easier than before.
Strategize an incidence response plan
According to the HIPAA security rule, having a disaster recovery plan defined for recovering or managing ePHI (Protected Health Information) access in the event of an emergency is mandatory for healthcare organizations.
For instance, every hospital must take a backup of their local as well as remote data so that in the event of data loss the data can be recovered quickly, without much effort.
Conduct employee training at regular intervals
It is vital for healthcare organizations to teach best practices of data security to their employees, because in the majority of the cases data breaches are caused due to human negligence.
When implementing a data security policy, organizations must include employee training for data security which educates the healthcare staff about their role in this process. During this training, the organization can clearly mention what is expected from the employees and what is their responsibility towards keeping patient data secure.
The final say
It is important for healthcare organizations to stay up-to-the-minute with the latest security threats and data security measures to protect sensitive patient information. Besides hospital data security measures should be compliant with regulations of HIPAA and others. Whether you are a hospital or some healthcare organization we can offer cloud-enabled data protection services to protect your patient data from hackers. Talk to our experts to implement healthcare data security solutions that improve healthcare data privacy and security.