Retailers today find themselves in a competitive marketplace where the customer expectations are increasing day by day. They need to find new ways in order to stay ahead of their competitors and gain loyal customers for their brand. Advancements in technology can help businesses in the retail sector to retain old customers as well as attract new ones. With customer engagement and personalization playing a vital role in this business, few retailers have started using chatbots and its time for the others to start using them too.
Why are chatbots for retail a good idea?
Chatbots for retail are a great option as they help to increase the customer satisfaction levels which in turn improve revenue margins. They are simple to integrate and easy to reach thereby turning out to be a win-win for both customers and retailers.
In spite of such resourcefulness, the use of chatbots in retail is quite limited. Most of the merchants are still in a dilemma whether to use chatbots or not for their business. There is a lack of awareness amongst retailers regarding bots, which usually stops businesses from implementing the technology.
Let's find out why messaging bots are great for the retail industry:
Consistency
Offering consistent customer service is one of the main principles in the retail industry as it helps to build brand value. Unlike humans who are prone to burnout under stress, chatbots offer a consistent response to customers. This can be helpful for businesses to provide a great experience during each conversation.
Cost-effective
Chatbots can contribute to significant cost savings in the retail industry. With chatbots available to assist customers, there would be a significant drop in call volume at the support center. This would help to reduce operating expenses without sacrificing customer experience.
According to Chatbots Magazine, businesses can reduce customer service costs by up to 30% by implementing conversational solutions like virtual agents and chatbots.
Rapid responses
Chatbots save a huge amount of customer's time which would otherwise be spent in navigating through the website for looking up contact information or waiting for customer representatives to answer their query. Customers can instantly reach out to a chatbot and get quick help. Moreover, they don't need to sleep, so they can rapidly respond any time of the day, any day of the year.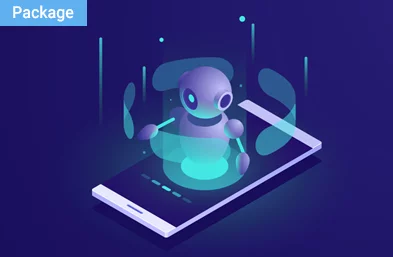 AI-BASED CHATBOT IMPLEMENTATION STRATEGY
Softweb's AI-based bot implementation strategy is specifically designed to help companies understand how to build and deploy intelligent chatbots.
How can chatbots help to attract and engage buyers?
Messaging chatbots are turning out to be a great option for both online and offline retail to attract customers, drive sales and increase revenue. Here are some ways in which retailers can use these conversational bots to attract and engage the audience:
Notify customers about new items in stock
Customers, who have bought products from a retail store in the past, might be interested in shopping there again if they find something new. A chatbot can notify customers about the latest collections and amazing deals based on their individual preferences, order history, and social media activity. This kind of engagement helps to improve the experience and make the customers feel valued.
Chatbots can turn out to be a great way of generating traffic and pushing customers to shop using the cross-selling and up-selling technique. Simply incorporate chatbot into your company's website, mobile app or Facebook page and keep your customers notified.
Help shoppers find items
Chatbots can play the role of shopping assistants and help customers in finding the items they want. Giants in the retail industry like H&M and eBay are using them to sift customers through the huge inventory and provide shoppers what they have been looking for.
Many consumers come with just the requirement but do not have any particular product in mind. In this scenario, chatbots can even provide recommendations based on color, brand, price and more. Even if the customer cannot make a decision this time, a chatbot can save the entire conversation and will be aware of the preference of the customer when he/she connects again. This way, retailers can remove friction from the shopping experience, not just at the online storefront, but within the physical space as well.
According to DigitasLBi: 22% consumers want recommendations from chatbot for products from retail stores
Swift order proceeding
Every year huge numbers of customers abandon their carts due to complex checkout processes. Conversational bots can make the whole experience of order processing seamless for buyers. They can help with check out issues and can even process the order within the messenger. eBay's Shopbot is a great example of how this technology is leveraged by the biggest companies to make the process of buying more interactive and conversational.
Even in brick and mortar stores, chatbots can be used to provide an alternative to traditional counters and speed up the process. During festivals and weekends, the volume of customers visiting the store spikes up, and consumers have to wait in long lines to pay. This leads to unsatisfied customers and increases the possibility of abandonment. With chatbots playing the role of virtual counters, this problem can be smartly addressed.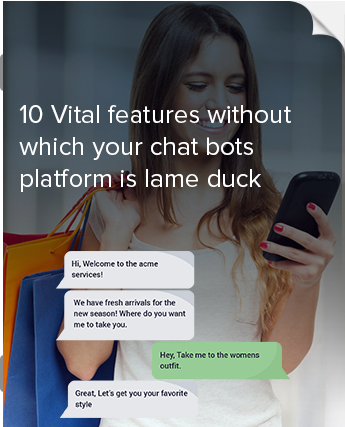 Insights
10 vital features without which your chatbot platform is a lame duck
Chatbots are no longer restricted to just consumer facing operations but are increasingly being deployed for increasing employee productivity inside the enterprise as well.
Efficient customer service
With the retail paradigm shifting from products to people, customer service has become a key differentiator. And it's always easy and economical to keep an existing customer rather than acquiring a new one. Today, customers are looking for more and more in terms of help, compared to what most of the customer support teams could offer.
According to Walker: By the year 2020 customer experience will overtake price and product as the key brand differentiator
Chatbots can offer immediate support to customers, which is the first priority of any customer looking for help. Moreover, buyers get accurate information every time as chatbots eliminate any possibility of human error. With the increasing pressure to deliver superior customer experience, there will be a time when messaging chatbots will become necessary for retail business.
In-store shopping assistance
Chatbots can offer a variety of in-store shopping assistance which includes finding the nearest store in the buyer's vicinity and guide customers about the directions within the store, based on the user's location. Moreover, a bot can also help consumers to check the availability of a particular item on the store, thereby saving time and effort. In this way, brick and mortar retailers have an equal chance against the eCommerce stores in delivering a great buying experience.
Chatbots are the future of retail
Chatbots are a great option in the retail industry to attract consumers, increase engagement, bringing them back again and again. The conversational commerce can help you foster brand value and customer loyalty by providing a human-like touch. Wondering how to get a chatbot for your business? Get help from our specialists!