Even in the age when every other small business is reaping the benefits of social media, the ecommerce sector remains ignorant on how to make optimum use of social media platforms. Rather than using these platforms for interacting like a normal user, the e-commerce sector uses it to constantly promote its products, services, and offers.
Many retailers do not see anything wrong with this approach.
But customers do not want to follow brands that constantly bombard promotional posts, which are no less than advertisements on their social media feeds. Brands are becoming more faceless than ever by implementing such marketing strategies, which do not realize the need to get more personalized when it comes to customer experience.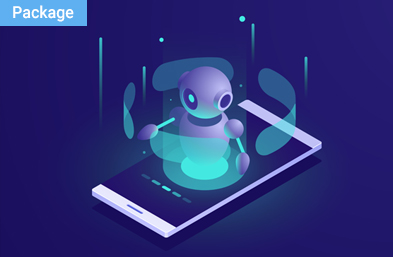 AI-BASED CHATBOT IMPLEMENTATION STRATEGY
Softweb's AI-based bot implementation strategy is specifically designed to help companies understand how to build and deploy intelligent chatbots.
Even when the sales of online stores surpassed the sales achieved in brick-and-mortar stores, there was a thing about brick-and-mortar stores, which wasn't quite carried over to online stores – customer support.
But now, there's a ray of hope – brands can now offer more personalized shopping experience to its customers using chatbots. A customer service chatbot that resides on messaging platforms can become the face of any e-commerce company, and can handle customer interaction, customer support, as well as manage customer relationships.
As stated by Shopify, chatbots can help consumers make a purchase decision on behalf of e-commerce sites, when they are not sure what they need to buy. Chatbots can also upsell and cross-sell by recommending different products on the basis of a customer's previous purchases. e-commerce can rely on this interactive interface to personally handle customer objections and get customer feedback so as to improve their services, which will consequently increase customer satisfaction. Companies can offer better service to its customers by notifying them about latest offers and enabling them to track their shipments once the order is placed. Bots can also know what customers are looking for and can notify customers once "out of stock" products are available again. In addition to all that, e-commerce businesses can use chatbots for promoting their brand by giving their chatbot a personality that goes with their brand image.
Recently, messaging applications have significantly attracted users, so much so that messaging apps are considered the new platforms and chatbots are considered the new apps. The term "conversational commerce" has been coined to show how chatbots can help businesses as an interactive interface.
A lot of companies like Facebook, Slack, Telegram, Skype, and even Apple and Amazon have declared their platform as a medium for chatbot interaction. The reason why messaging applications are gaining attention is because user penetration of messaging apps is projected to exceed by 68% by the end of 2019, according to eMarketer. Smartphone owners around the globe are less willing to download an individual application when they have an alternative to reach a business via messaging apps.
Chatbot development companies can increase customer touch points for retailers, helping them to raise brand awareness and establish a loyal customer base. As stated by Gartner, Natural-Language Question Answering (chatbots) is coming faster than expected. The AI-powered bots are expected to emerge in the e-commerce and retail sector by mid-2017. It is assumed that by 2018, if companies don't feel the need to make chatbots an integral part of their business, their sales will suffer.
Wouldn't it be great if you can simply ping your favorite brand on Facebook Messenger and know about their latest collection? Not just that, you can also get a recommendation on what styles you would like the most and if you can get a discount on your purchase. Finally, chatbots can make that possible.
To know more about how to start an e-commerce business, build an AI chatbot or rule-based chatbot for your e-commerce website, fill out your requirements and our bot experts will get back to you.