Chatbots have become a popular way of interaction and a growing number of enterprises are adopting chatbots for better-simulating conversations. Conversational bots in messaging apps have surprised us with its unlimited future uses and we can expect to make significant progress in 2019. Let's look at 5 major trends that are emerging this year.
1. Increasing adaptation of chatbots
Popular chatbot predictions are coming alive and statistics underline that chatbots are hitting the mainstream. According to the Grand View Research report published in 2017, the chatbot market is expected to reach the value of $1.2 billion on a global scale, in less than ten years. In support, experts are predicting that the market will grow at a compounded annual growth rate of more than 24%.
There's no doubt that chatbots have become the next big thing and have helped businesses connect to customers in a more fast and effective way. In fact, in a survey conducted by Oracle in 2017, about 80% of brands were on their way to plan their takeover of chatbots by 2020, specifically to address customer service efforts. And interestingly, 36% of marketers confirmed that they are already using chatbots to provide customer service. Well, even the fortune 500 companies have already employed chatbots for several uses and thus other SMEs are not too far either.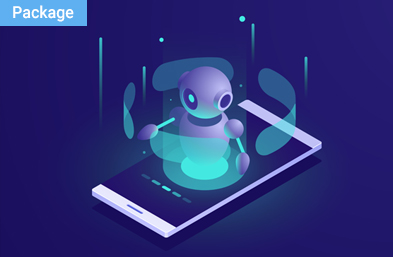 AI-BASED CHATBOT IMPLEMENTATION STRATEGY
Softweb's AI-based bot implementation strategy is specifically designed to help companies understand how to build and deploy intelligent chatbots.
2. Chatbots are performing with a human touch
Users around the world have loved chatbots because of its characteristics that are humanlike, such as its interactive performance and personalized recommendations that leave the customer delighted. Chatbots have already invaded in several business sectors and enterprises have started to see chatbots as a new tool of opportunity for growth. As chatbots work to provide more function in less real-time, with its capability to quickly engage with customers and push them to respond. Moreover, they ease complex conversations by providing a binary answer, such as choosing option A or B. By 2020, it is predicted that 85% of consumer interactions will be handled without a human agent (Chatbots Life, 2019).
Not just that, for several businesses, chatbots are also helpful in managing customer relations, content creation, fetching customer details, finding documents and more. This presents an opportunity for enterprises to automate their various repetitive tasks. Therefore, chatbots are admired for providing a human touch that eases interactions.
3. Chatbots are becoming more AI-driven
Traditional conversational services are slowly losing their grip with the advancements of artificial intelligence (AI). And as chatbots become more AI-driven, their potential gets increased to resolve complex interactions. According to Adobe, 28% of leading companies use AI for marketing, while 31% plan to use AI in the next 12 months. And interestingly a study conducted by Opus Research states that by 2021, 4.5 billion dollars will be invested in chatbots.
AI-driven chatbots development is more profound and capable of providing excellent personalized services to customers. One of the finest examples of a chatbot for enterprise mentioned by Chatbot Magazine (2018) is Erica – which is Bank of America's AI-enabled chatbot that is designed to manage customer queries. It uses predictive analysis to anticipate customer's needs and guides them through complex banking procedures.

Insights
Everything you need to know about chatbots powered by artificial intelligence
With the digital revolution, chatbots are moving ahead rapidly. Effective chatbots have demonstrated a deeper understanding of users and have allowed quick initiation of chatbots that result in quality user experience.
Apart from the banking industry, other sectors are equally desiring to equip their processes with a well-thought chatbot. Even, the insurance sector is looking forward to implementing chatbot to simplify their business operations. In the latest Accenture study (2019), it resulted that over 51% of consumers want insurer brands to provide relevant, real-time offers using a chatbot. Thus, insurance companies are deploying chatbots that can provide geo-based technology as well as educate customers on submission, inspections, claim adjustments and updates and more.
4. Gaining better customer insights
Chatbots have become an effective way to easily store customer data as per request and this further helps in gaining better customer insights. Business Insider experts predict that by 2020, 80% of enterprises will use chatbots.
Enterprises can aim towards automating their data gathering process with the help of chatbot and further get a proper analysis to invent new solutions to their queries. With the help of AI-driven chatbots, you can focus on improvements and optimize for minimum errors while increasing your success rate. A survey conducted by Spiceworks in 2019 showed that 40% of large companies with more than 500 people can plan to implement one or more intelligent assistant or AI-based chat robot over corporate mobile devices. Undoubtedly, as more and more customers get started with the use of chatbots it will lead to better customer insights.
5. Voice experiences are becoming mainstream
It's widely known that chatbots are not just text-based, but they are also voice-based as the new digital assistant on several devices. You may have witnessed several voice experiences this year such as using Google assistant in your mobile, and Amazon Echo or Alexa as smart devices that use your voice commands to process requests. According to Geek Wire reports, Amazon has sold more than 20 million Echo devices and there are over 20 thousand skills on the Alexa store. On the other hand, Google is focused on making voice-activated assistants available on all Android-powered devices, such as smartphones, wearables, and even smart TVs. Therefore, it seems this trend will develop and will probably continue in 2019.
Apart from these industry leaders, other voice-powered builders have also emerged and are helping smaller businesses to build their own voice-based chatbots. Gartner mentions that 25% of customer service operations will use virtual customer assistants by 2020. All we know is voice assistants are driving the force for now and it has a huge momentum right now. Therefore, it is the right time for enterprises to consider implementing a voice-based strategy and start leveraging a competitive edge.
Final thoughts
Chatbots are sure to evolve and develop specifically with new advancements in design and architecture in the years to come. Enterprises have everything to gain and nothing to lose when they adopt a chatbot, as it offers several advantages. If you have any queries or want to build a chatbot for your business, get in touch with us.