As we step into 2023 and embrace a new decade, chatbot acceptance is continuing to accelerate for a wide range of purposes. Chatbots now has become an integral part of modern organizations. Interestingly, customers around the world are adopting chatbots for interactions. This solution also makes a new pathway for businesses to introduce new opportunities. Let us look at the top five chatbot trends in 2023 that enterprises can watch.
What are the top five chatbot trends in 2023?
1. Voice-assistants are going mainstream
Voice-enabled chatbots have proved to be very helpful for trivial situations. They became mainstream with the use of smartphones and smart speakers, as they are rapidly gaining hype. According to Juniper Research, the number of voice assistants used by consumers globally will rise to 8 billion by 2023.
Moreover, the emerging trends of voice commerce and voice search are slowly gaining popularity. Therefore, voice-powered chatbots will surely gain momentum this year. Chatbots in 2023 will accommodate many mobile devices, so businesses must implement a voice-enabled chatbot for their business.
2. AI-powered chatbots are becoming more intelligent
Data has become crucial with new advancements in digitization. In 2023, one of the pressing tasks for enterprises will be to leverage increasing customer insights to drive chatbot behavior. And that's exactly where artificial intelligence (AI) will play a crucial role in endeavoring new ways for data analysis to derive valuable insights from the collected data.
Furthermore, AI algorithms in chatbots can detect patterns and learn strategies to achieve customer-centric goals. AI-powered chatbots will have access to vast knowledge and will gain the ability to understand customers' requirements based on their interactions with the brands. Incorporating an AI-enabled chatbot into your business processes is the right decision for any organization.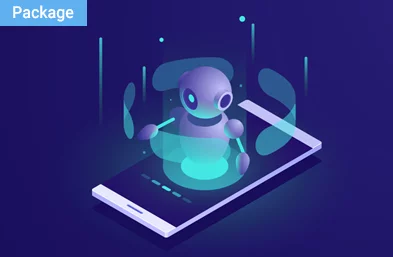 AI-BASED CHATBOT IMPLEMENTATION STRATEGY
Softweb's AI-based bot implementation strategy is specifically designed to help companies understand how to build and deploy intelligent chatbots.
3. Chatbots are facilitating business processes
Chatbots have made conversations and interactions with customers very convenient for businesses. The concept of conversational commerce is becoming an ideal choice for customers, as it encourages them to shop at their convenience. Business owners see great value in using chatbots since it can also help them improve their brand reputation and provides better customer service.
The market size of Conversational AI is expected to reach USD$1.3 billion by 2025, growing at a CAGR of 24% – Cognizant
In addition, chatbots are driving multiple business operations, including marketing engagement, brand awareness, customer support, sales and lead generation. Chatbots also emerge as an ideal option for businesses as they become smarter using personalized experiences. For instance, a chatbot can include a prospect name or a follow-up email with recommended content based on previous transactions. What more does an enterprise require to make business effective?
4. Chatbots will automate payments
Modern enterprises can deploy a chatbot with data security and information protection with the payment infrastructure for businesses to automate simple payments via live chat or Facebook Messenger apps. This instant payment process provides chatbots with sufficient data to encourage conversation-driven cross-selling and upselling. Similarly, chatbots can provide updates on a user's transaction data, expense records, payment confirmation, etc., leading to a high level of customer retention.
Insights
Everything you need to know about chatbots powered by artificial intelligence
With the digital revolution, chatbots are moving ahead rapidly. Effective chatbots have demonstrated a deeper understanding of users and have allowed quick initiation of chatbots that result in quality user experience.
5. Chatbots are equipping enterprises internally
Apart from interacting with customers and solving their queries, AI-powered chatbots in 2023 have a lot to offer to an enterprise. Chatbots can deliver high value by streamlining the internal workflows of an organization, regardless of their size. There are many different chatbot variants available nowadays to meet numerous business needs.
Human resource bot
Simplifies and personalizes the HR processes like recruitment, onboarding and employee training. It also responds to employee queries instantly.
Sales and marketing bot
Books meetings and calls automatically to handle prospects' queries and provide contextual responses.
Workplace bot
Enables employees to handle daily tasks more effectively and improves employee productivity.
Content search bot
The content search bot offers users personalized recommendations, sales support, product information, instant file searches and more.
Most businesses aim to achieve one common objective of improving operational efficiency, so adopting an AI-based content search chatbot for internal use makes complete sense. If you are among the enterprises that have not yet employed chatbots for internal use, it is time to build AI chatbots in 2023.
6. Chatbots are automating call centers
Chatbots will become more human-like and play a key role in automating call center services with the help of AI advancements. And it is expected that automated call centers will become a reality this year. Here is where AI-integrated natural language processing (NLP) will make chatbots more intelligent to assist customers just as human beings.
Research has stated that about 70% of users are unhappy with the customer experience (CX). And thus, the rise of chatbots will help you to resolve customer service issues even before they arise. Also, bots for enterprises will help your organization lower customer abandonment rates and improve service, sales, and revenue while controlling costs.
75-90% of queries are projected to be handled by bots by 2024
– CNBC
Undoubtedly, chatbots are already performing mainstream operations like lead generations, customer feedback and FAQs to enhance customer experience. Chatbots minimize human intervention during peak hours to engage customers and deliver a better customer experience. It is advised for enterprises to employ AI-powered chatbots to improve their business efficiency and productivity.
Take away
Chatbots have great potential to offer businesses and simplify any complex operation. In the future, automation will strengthen its foundations and help enterprises overcome all their modern-day challenges.
Some key factors that you must keep in mind before strategizing chatbot deployment
Involve experienced chatbot developers in the design process
Inject intelligence with cognitive APIs, AI, ML and NLP capabilities
Create a conversational chatbot
Add personality to your bots
Enable the use of engaging media within the conversation
Infuse quality data into chatbots for a better understanding
Keep up in the market by staying up with the chatbot industry trends for 2023 listed above. Trends outlined in this blog post can make a remarkable change in your business when adopted correctly. Connect with us to learn how you can leverage AI-powered chatbots to stay ahead of the curve.