Users nowadays are using a minimal amount of mobile apps and are exploring more convenient ways to interact and transact with each other. With the dawn of Artificial Intelligence (AI), Machine Learning (ML) and Natural Language Processing (NLP), enterprise mobility is becoming more conversational.
Chatbots are evolving gradually as they are a powerful tool for engaging with employees and customers in the B2B and B2C space. Chatbot integration services for enterprises enable them to adopt chatbots as a conversational solution.
Oracle chatbot integration with the Oracle eBusiness Suite is now easily possible, thanks to the Oracle Mobile Cloud Enterprise.

Understanding Oracle eBusiness Suite
Oracle eBusiness Suite is an advanced suite of integrated applications that best support global business operations, allowing organizations to make confident decisions, eliminate unnecessary costs and improve performance.
Here are the applications of Oracle eBusiness Suite with relevant use cases on how chatbot integration with ERP systems will help your organization to be more efficient.
1. Customer Relationship Management
Oracle's Customer Relationship Management applications ensure the selling channels are collaborating with corporate goals on a global basis.
Use Case: Handling customer complaints and requests
Bot: Hi, How can I help you?
Customer: Hi Customer Care Bot, I have received a damaged product for my order. I want to get it replaced.
Bot: Oh! Sorry about it. Please provide me your order number, I will help to get it replaced.
Customer: My order number is 8754384
Bot: I have registered your request. Here's your complaint number 25344445. You will receive a new product within 3-4 days.
Customer: Thanks, CC bot!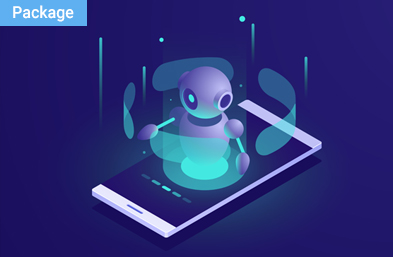 AI-BASED CHATBOT IMPLEMENTATION STRATEGY
Softweb's AI-based bot implementation strategy is specifically designed to help companies understand how to build and deploy intelligent chatbots.
2. Service Management
Oracle's Service Applications are the true information-driven customer service that permits your operators to meet your customers' expectation by providing them with consistent and accurate information.
Use Case: Real-time updates
Customer: Hi Bot! Please track my order number KLM84639.
Bot: Your order has been delivered on 15th April 2018 at 2:05 pm to Kathy James.
Customer: Thank you bot!
3. Financial Management
Oracle's Financials line of applications help companies manage core business processes such as risk and compliance, credit-to-cash, treasury management, financial control and reporting, travel and expense reports among several other things. Chatbot enterprise integration will mean that employees will have easy access to information without having the need to log into different systems.
Use Case: Inventory management in real-time
Employee: Hi Inventory Bot, do we have stock for product code WMU4005?
Bot: Hi! Yes we have 8 units in stock at shelf R12.
Employee: Thanks, Inventory bot.
4. Human Capital Management
The Human Capital Management applications from Oracle, when integrated with a chatbot will allow your HR department to maximize its productivity and automate a lot of manual processes.
Use Case: Bot-driven on-boarding of new employees
Bot: Hi Amy! Welcome aboard. Here is the [Induction training manual] for your reference.
Employee: Hey, thanks.
Bot: You're welcome. If you have any questions, you can get back to me. I am here to help you with most of the queries.
Employee: Okay, sure.
5. Project Portfolio Management
Oracle's Project Portfolio Management applications support the complete lifecycle of project and portfolios with a single, accurate view of related activities, which, when integrated with a chatbot, allows project managers to get access to project details with a few short queries on the messaging application of their choice.
Use Case: Get reports instantly
Employee: Hi bot! I need a list of all the attendees for the upcoming event "The latest trend talk"
Bot: Sure, do you want me to apply a filter to the list?
Employee: Umm Yes, please sort the list based on their asset size largest to smallest.
Bot: Okay, [here] is the list.

Insights
10 vital features without which your chatbot platform is a lame duck
Chatbots are no longer restricted to just consumer facing operations but are increasingly being deployed for increasing employee productivity inside the enterprise as well.
6. Advanced Procurement
Advanced Procurement is the Oracle's suite of applications that helps companies cut supply management related costs. Chatbots can be integrated with this suite of applications in order to give decision makers quick access to information on purchasing, sourcing, supplier lifecycle management, procurement contracts and so on.
Use Case: Handling monthly payments
Manager: Hi Bot! I would like to check if we have received the April payment from General Holdings?
Bot: Sure! We have multiple projects with this company. Please specify the project for more information.
Manager: I am looking for the Maintenance Project
Bot: We have received online payment of $5678.98 on 10th April 2018 at 2:04 pm, from Mr. Kay Smith under the Maintenance Project.
Manager: Thank you, bot!
7. Supply Chain Management and Value Chain Execution
The Supply Chain Management group of apps from Oracle is a suite of integrated applications that automate the entire supply chain processes including the design, planning and procurement, manufacturing and fulfillment, leveraging information-driven value chains as a solution.
Oracle's Value Chain Execution application supports the supply chain execution to provide your customers with an array of logistics capabilities, providing you with flexibility in purchasing, designing, implementing, and managing the supply chain solution.
Use Case: Efficient purchase process
Manager: Hi Bot! Please check if we have plastic suppliers in our raw material dealers?
Bot: Hi, Paul! We have 7 plastic suppliers in total.
Manager: Great! Please tell me the nearest in location with contact details.
Bot: ABC Plastic Suppliers from Chicago. [Here] is the contact details of this dealer.
Manager: Thanks a lot, bot!

Take away
Oracle eBusiness Suite has the potential to significantly suit the needs of today's enterprises. By adopting OES you will be empowering your global workforce as well as transform customer engagement with your brand. Moreover, now chatbots are powered by artificial intelligence (AI), which means they have the ability to learn and build relationships.
Enterprises will need to think about their own automation with intelligent bot development and map how to increase engagement, efficiencies and lower costs. To discuss how chatbot integration services can help you, please get in touch with our experts.