Imagine if COVID-19 happened five or ten years ago. Would we have been able to work remotely, in a way like we are capable of today? Would we have been able to get crucial health updates, watch movies, play video games, back-up our data or interact with friends – as we can today? Would we have been able to see the ingenuity from small businesses like small local bakeries taking online orders, gyms, dance and yoga studios offering online classes, experts jumping ahead to provide online lectures – as we see today? Probably not. But it is possible today due to cloud infrastructure. Cloud service providers are helpful in providing connectivity for people and businesses to continue operating at some level.
As the coronavirus pandemic shuts offices and batters the economy, experts say everyone must ask themselves:
Are we ready to challenge ourselves to deviate from conventional business practices?
Are we prepared to accept that workplace flexibility is going to be a critical topic in the future?
Are we set to weigh the benefits of the remote work model?
Traditionally, most companies have followed the idea of working in proximity to each other. However, the coronavirus pandemic has demonstrated the potential of cloud-based, scalable products to ensure business continuity from anywhere across the world.
With that in mind, the question no longer remains "Is cloud technology going to be in mainstream?" It seems like cloud consulting services might even be the new normal. The real question now is, "based on what businesses should take a final call on cloud deployment."
It is one of the most critical decisions for your business. It needs to be based on concrete benefits, not opinions. The purpose of this blog is to highlight such benefits of cloud computing for your office and remote workers.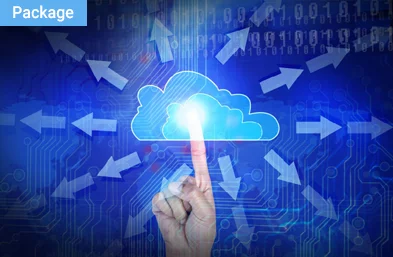 Cloud strategy and assessment workshop
The adoption of cloud-based infrastructure by enterprises is increasing greatly. However, a lot of enterprises are still reluctant to adopt a cloud strategy due to lack of skills or knowledge.
Through this blog, you'll realize how cloud computing can:
1. Enhance productivity
2. Reduce capital and operational expenses
3. Maintain 24X7 business continuity
4. Improve agility
5. Solidify security
Let's get started.
1. Productivity
Cloud deployment makes your office and your employees more productive.
How can someone be more productive while working remotely? How to keep tracking employees' performance? How to make sure people stay focused?
These are genuine concerns, but something employees will deal with on a personal level. When employees feel trusted, they are ready to go the extra mile to make something work. It means employees value the flexibility and convenience that comes from remote jobs and they are willing to put in extra time whenever required.
Not having someone to watch over is not always a bad thing. Many employees underperform when working under a constant watch. Working through cloud-based applications allows them to work from anywhere, anytime, without pressure. In fact, AT&T, the American conglomerate, estimated that the company gets an additional five hours of work in a week from employees who work remotely.
Similarly, research published in the journals of Association for Psychological Science says distractions are not always bad for productivity. It is also proven that focusing too hard on a problem can trigger mental blocks and make them difficult to solve. Haven't you observed that some of our best ideas come when we are away from work?
2. Cost reduction
The overarching goal of any business is to make a profit and cut operational costs wherever possible. The greatest benefit of moving to the cloud is unsurprisingly a financial one.
Businesses, regardless of their type or size, by moving to the cloud can save substantially. You can save on capital costs through a reduction in spending on equipment, on-premises server infrastructure and software. If needed, you can also rent additional processing power without investing in buying new servers. If you use the resources of your cloud service provider properly, you will see a significant reduction in both capital and operational expenses.
Most cloud service providers' contracts include the costs of system upgrades, new hardware and software features. Besides, by moving to cloud-based applications, you also save a big portion of energy consumption for running your data center. Since the cloud platform is utility based, you only pay to the service provider for what you use when you need it. Thus, with a pay-as-you-go, subscription-based cost structures, cloud services require a lower initial investment and typically much lower overall costs than 'on-premises' models.
Contact Softweb Solutions for a personalized cloud computing services proposal. We specialize in drafting, implementing and maintaining winning cloud computing business solutions.
3. Automatic software/hardware upgrades
Assume that a new IT solution is implemented in your company. It goes smoothly till you can finance the high cost of purchasing and maintaining hardware and software. Or your workforce can make timely upgrades. That naturally creates a negative effect. Such problems can be solved by adopting cloud services.
Through timely upgrades, you do not only save on your capital expenses but also are able to build a loyal relationship with clients. You can keep up with technological advancements, increase profit and make yourself capable of providing standardized and cost-effective applications to your customers.
Many times, software updates take several hours, thus dragging down employee productivity. Cloud-based applications perform all the security updates along with the server maintenance so that employees can focus on other crucial tasks and help in continuing the business. Business continuity is not only a business enabler, but it is also a productivity enabler. The cloud can help to keep businesses going even when disaster strikes like COVID-19 occurs. Is your company ready to continue business without facing downtime in a crisis like today?
4. Agility
In today's highly competitive business environment, staying competitive offers no choice. Use whatever you can to respond to customer's fast-changing needs timely and accurately. If you want to do that at ease, adopting cloud infrastructure is the most effective way. Only cloud infrastructure makes you capable of responding to customer's concerns in the shortest possible time. Thus, most companies use cloud computing services as a tool for competitive advantage.
The other way cloud computing enhances agility is through collaboration. Imagine you have a digital marketing, web development, sales, customer and technical support to content development teams. What do they need? They need tools for writing documents, preparing presentations, collecting and analyzing data. And above all, they need collaborative tools and applications to stay connected.
Some of the major benefits of collaboration are:
Real-time updates leading to enhanced productivity
Excellent brainstorming and seamless communication
Streamlining and synchronizing the work to be completed
Office apps like Microsoft Office 365 always offer better connectivity. According to Cisco's whitepaper, cloud-services for remote working collaboration help to improve the performance of a company by 400%. It also enables faster execution process. And when there is a streamlined approach to reach the target, it increases employee satisfaction and leads to better business output.
5. Security
From SMEs to large enterprises, security has always been a major concern. As the use of technology is increasing, businesses are getting more worried about cybercriminals misusing the cloud technology for their benefits. Cloud computing helps in preventing any data theft and hardware failure. When you adopt cloud computing services, you are also adopting a team of professionals who are experts in understanding the complex scenario of the environment.
That ultimately can impact the productivity of your employee. On occasions like security breaches and online attacks, your employee cannot access the required data. A highly skilled cybersecurity team of cloud service provider works 24X7 to limit online attacks and threats. In case, even after that, there is an occurrence of a security breach, they make sure the system can bounce back quickly. Thus, in the cloud computing model, this security as a service helps your company to improve productivity.
So, what does all this mean?
It means cloud computing services can produce much better results and save you thousands in cost. Whether you are running an established business or thinking of starting a new one, you must consider building a business continuity process that is crisis-proof and ready to continue under any circumstances. Cloud technology not just rolls around the data center. It is about streamlining business processes to make organizations and people more strategic, adaptable to change and more service-oriented.