Data storage has always been a big deal. The proliferation of data centers and storage-as-a-service models from various companies has breathed new life into many businesses who have sought such solutions to their data woes.
While storage was one thing, using that data for deeper and meaningful analysis was another. Microsoft Azure, formerly known as Windows Azure, has been doing a great job of easing the on-premises data-pressures faced by most companies, offering data storage to all. You don't have to take my word for it, rather, just take a look at the statistics!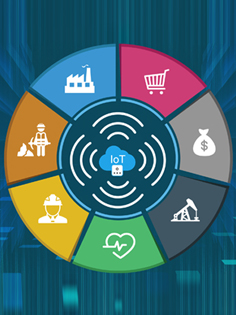 Unlocking the value of IoT for diversified industries
Webinar agenda
IoT Overview
Benefits and business cases of IoT
IoT solutions for diverse industries
Detailed insights from analytics
Roadmap for implementation
Examples and strategies
Feedback/questions
According to Forbes, "In its earnings report for the December quarter, Microsoft reached an annualized commercial cloud run rate of more than $14 billion, driven in part by its Azure cloud computing division, although Microsoft includes cloud applications such as Office 365 in that number." The exact figure has not been released, but this speaks volumes of what Microsoft has achieved.
In addition to this, "In a call with analysts after the earnings release, CEO Satya Nadella repeated his earlier vow that the company will reach $20 billion in annualized cloud revenue by the company's fiscal 2018, which ends June 30, 2018." We still have to wait till that time, which, if true, will mean a $6 billion increase within two years – an exponential rise.
Enter: Azure IoT Suite
In 2015, Microsoft announced the release of the Azure IoT Suite, aimed at offering further services to their clients so that they could actually be able to use that data for analysis. It is a collection of a broad range of enterprise-grade services that enables businesses to collect data from devices, analyze data streams in-motion, store and query large data sets, visualize both real-time and historical data, integrate with back-office systems and device management. This gave rise to newer models such as IaaS, PaaS, SaaS etc.
Also: Check out our blog on Azure IoT Suite in construction and real-estate.
Some of the main services in Azure IoT Suite are mentioned below;
IoT Hub and Event Hubs

Stream Analytics & Machine Learning

Document Storage and DocumentDB

Web Apps and Power BI
Insights
Azure IoT Suite in a nutshell – Everything you need to know
This whitepaper talks about IoT and the cloud and explains everything that you need to know about the game changing capabilities of the Microsoft Azure IoT Suite.
How manufacturing, logistics and supply chain can leverage Azure IoT Suite
The manufacturing industry is constantly dealing with challenges that affect process efficiencies, product quality, logistics, supply chain as well as worker safety. Azure IoT Suite can greatly help the manufacturing, logistics, packaging, warehousing, and supply chain industries.
Now we present a few use cases which will show you the appropriate use of Microsoft Azure IoT Suite for manufacturers. Our Azure IoT consulting services can help you to implement these use cases so that you can see the glaring benefits for yourself.
Production Monitoring
Prescriptive factory analysis

Diagnose production anomalies
Asset Monitoring
Monitor assets in real-time

Predictive maintenance
Fleet Monitoring
Monitor vehicle usage

Gain real-time insights from the connected fleet

Improve ETA predictions and reduce vehicle downtime
Connected Worker
Prescriptive worker analytics

Real-time visibility of workers health and safety

Human Capital Management and Project Management Integration
Data Science
Sales forecasting

Inventory management

Predictive maintenance

Customer churn prediction

Customer retention and loyalty

Customer segmentation and profiling
The data storage and analytical capabilities allows you to create your own KPIs by customizing data as needed. You can plug into the supply chain which can ensure end-to-end visibility of important resources. Factories can monitor real-time factory performance with the help of sensors, which pick up any patterns that indicate a fault in order to avoid unplanned downtimes and determine root causes of production faults for seamless productivity. They can even manage global operations for facilities in different geographies and reduce the overall capital costs.
Using the data in a visual manner allows manufacturers to plan corrective measures in the most effective way and use the information on past problems to predict future events. All these benefits of Microsoft Azure IoT Suite can be realized with the right implementation partner. Get in touch with our Azure IoT experts to leverage the power of IoT in your business.