The latest trend in business technology is to move your business to the cloud which holds immeasurable values for the growth of your business. The cloud interconnects remote servers over the web and frees up local servers. Different cloud servers perform different functions like running the applications, processing, managing and storing data, etc.
When you migrate to the cloud you have to move all your critical services from on-premises and located hardware to a cloud provider like Microsoft Azure. It allows you to manage your entire IT infrastructure remotely. On top of that, it ensures security, convenience and low maintenance cost as compared to the costs that incur when you maintain on-premises hardware.
These are the main reasons why most businesses move their data from a local server to a public cloud architecture. The on-premises to Azure migration process is unique for every organization just like their business.
The process is not simple and the level of its complexity depends upon how many resources a project supports. You can migrate all the platforms to the cloud whether it is a web or mobile application, IoT, edge servers, support system for CRM, software, database, remote desktops, administration tools, etc.
When businesses migrate their data to a Public cloud host, it provides them with high-speed fiber-optic connections to the internet throughout several data centers globally. This helps organizations to operate at a greater speed and scale. Public cloud hosts provide better support, speed and reliability for business because they hold numerous sources for programming, web development and mobile application on their platforms.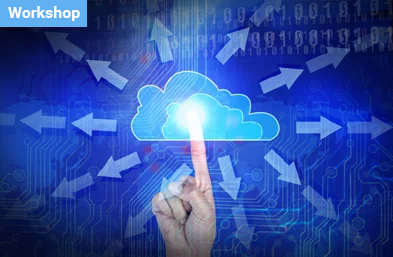 Cloud strategy and assessment workshop
The adoption of cloud-based infrastructure by enterprises is increasing greatly. However, a lot of enterprises are still reluctant to adopt a cloud strategy due to lack of skills or knowledge.
Let's take a look at the top reasons why you should move your business to the cloud:
1. Cost reduction
A data center setup is expensive and requires heavy equipment and trained technicians for installation and management. On the other hand, when you migrate your business to the cloud, you just have to pay for the services that you avail. This is because Azure charges you only for the features, storage, users, duration and other services that you use. It offers you different service packages to choose from, depending upon your requirements.
2. Scalability
Migrating to the cloud provides you better scalability as you can easily scale up or down depending upon your business plans and other IT requirements, etc. Your existing IT solution might be good for some time, but it may get outdated and not support your company to adapt to the increasing demands of their customers. With cloud migration, companies can reorganize their infrastructure and work as per their latest requirements easily as they will not have to worry about equipment and assets. This way a business can control resources as per their business requirements which is not easy with other solutions due to their contracts, terms and standard plans.
It is needless to say that when you don't have to setup and maintain large data centers, you save huge costs and avoid the hassles of maintaining them. The best part is you can expand your business without worrying about the infrastructure. And the growth of your application does not impact the performance of your business and customer experience.
3. Flexibility
Flexibility is one of the key benefits of cloud computing. When you migrate your business to the cloud, it gives your employees the flexibility to work from anywhere remotely. This helps you to minimize the number of workstations as your employees can easily work from home, saving you costs. Moreover, you can also monitor your business operations efficiently by getting real-time updates using a fast internet connection.
4. Security
You ensure the security of your organizational data by migrating it to Azure. Microsoft protects and guarantees security for all the data that is placed in the Azure cloud. Most of the time, it is safer to store data in the cloud as compared to storing it on any physical server or a data center. An unforeseen situation like system theft or data breach can compromise the security of your data and lead to huge losses. But when you store your data on the cloud, it becomes easy to remove any confidential data remotely or transfer it to a safer account. Microsoft assures complete security as it protects your data from any breach by taking strict security measures on its cloud platform.
5. IaaS and PaaS capabilities
With Microsoft Azure as your cloud host, you get a fascinating blend of IaaS and PaaS services. These services enable companies to deploy simple virtual machines or full application stacks throughout a cloud environment. Where IaaS models help developers to access, examine and administer the infrastructure of the remote data center, the PaaS model provides a framework for developing, testing and deploying custom-made applications rapidly.
Conclusion
Cloud migration has several benefits for your business and customers. As stated above, it improves the performance of your business, minimizes costs, enhances scalability, reduces security concerns, gives access to functions that are crucial for your business and a lot more. But cloud migration is definite to give you the best result only when the migration of your business and data is done efficiently.
You face cloud migration challenges in the absence of skilled resources and expertise. Since your existing teams may lack the knowledge required to migrate to the cloud, it is always advisable to take help from an Azure cloud migration service provider for a successful migration. Are you planning to migrate to the cloud? Have you assessed your network situation for the shift? If you're ready to make the move, let us help you to understand, evaluate and execute the migration of your business to the Azure cloud. Talk to our experts for more information.