Organizations in a variety of industrial verticals are utilizing augmented reality (AR) technology to streamline their operations. A robust AR-based remote assistance solution can help your company reduce downtime, onboarding time and equipment outages while also improving staff efficiency and production. AR is being embraced more than ever before to bridge the gap between theory and practice. Because of the enormous benefits, it provides to your future financial savings, choosing an AR remote assistance solution necessitates a few considerations before investing.
According to Statista the commercial use cases for augmented and virtual reality (AR/VR) are expected to receive the largest investment in 2024 are training and industrial maintenance with 4.1 billion U.S. dollars forecast to be invested in both fields.
What is AR remote assistance
Augmented reality-based remote assistance is designed to spot the faults in any equipment, from plant machinery to server by simply accessing a user's smartphone camera at a remote location at any time, straight from your desk. Isn't that a true AR advancement for today's modern enterprises? We present you with factors that cannot be disregarded before you begin your research on the all-new AR remote assistance solution in this blog post.
Things to consider before choosing AR remote solutions
1. Collaboration with employees or workforce
With the help of Cloud technology, several services and solutions have no geographical constraints. Field service technicians, specialists and managers play a variety of roles in any company to ensure the proper functioning they require for specific access and control over their AR application.
This necessitates looking out for an AR solution that can connect them without any friction. It should enable them to engage as a team without any barriers. Importantly, the solution must help your team with efficient collaboration, communication and productivity.
2. Real-time data and trouble-solving capabilities
Many sensors, automation enablers and IoT-based systems were implemented as the industrial revolution began. These devices and sensors are already generating a lot of data that may be used for troubleshooting and diagnosis. An Augmented Reality based solution must be able to interact with these pre-existing systems to support your field personnel in activities in a difficult location where severe heat, humidity and pressure are present.
3. Real-time analytics and visual support
AR-powered analytics can display real-time data on machine performance and help increase the operating efficiency of any equipment via wearables, mobiles, or desktops. Imagine a scenario where your field worker is highly at risk, handling a piece of sophisticated equipment without any knowledge.
In this instance, real-time data presented on the equipment will lessen the risks while also alerting the on-site technician of the device's complexity. Your on-site technicians will find it easier to practice the required precautions and avoid the unnecessary risk involved.
As a result, the remote assistance solution you select should be simple to use for both technicians and specialists and it should assist you in resolving complexities more quickly. To do so, your AR remote assistance solution should be able to provide visual support in the form of live HD video streaming, allowing field employees to see what specialists see and guide them through the repair process.
Pricing calculation errors related to multiple pricing models, managing discounts, etc.
Unreliable and unrealistic traditional processes lead to weeks of back-and-forth.
Lack of collaboration between the client and the production or engineering department.
Other challenges include a longer quote-to-order cycle, eroding profit margins and error-prone orders.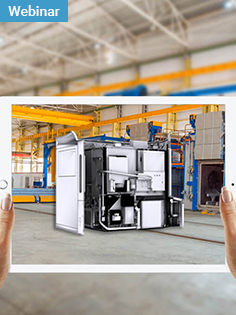 Streamline sales process with Augmented Reality (AR) product visualization
Webinar agenda
Why manufacturers should realize the importance of Augmented CPQ
Common challenges faced by manufacturers to close deals faster
Ways to streamline sales process using Augmented CPQ
4. Object detection and AR instructions
3D object identification is a vital function to look for while using the AR remote assistance solution. You may provide your remote worker all of the necessary digital AR instructions whenever and wherever they point the camera at an object or scan an object after uploading relevant data into the app using 3D object detection.
5. Multiple Device compatibility
In today's world, technicians and support staff have access to a wide range of devices, including desktops, laptops, tablets, phones and wearables. Hence, make sure your AR-based solution is compatible with a variety of hardware while still providing a smooth user experience. Moving between devices should have a minimal or non-existent learning curve.
Challenges faced by users without Augmented Reality remote assistance
Work order management – Bad workflow leading to poor productivity and efficiency levels
Scheduling and dispatch – Time-consuming manual processes cause a scheduling conflict
Route planning – Lack of tools to track and monitor live location, traffic and best routes
Real-time communication – Delay in information sharing between field-force and back-office leading increased customer response time
Efficiency and productivity – Lack of data support to find underlying issues and poorly set metrics
Overhead cost – Manual processes, short-lived measures of cost-saving
Invoice and payment management – Multiple payment cycles leading to errors, lack of integrations
Inspection – Paper-based forms, criteria, checklist and response limitations
Opportunity assessment – Inability to take advantage of cross-selling and up-selling opportunities
Uncertainty – Insufficient data support for forecasting, scenario, root-cause and business performance analysis
How Softweb Solutions Augmented Reality experts helps to resolve the problem
This blog post has discussed crucial and straightforward scenarios of its uses demonstrating the capabilities it can provide to you field workers. You may indeed wish to begin using the augmented reality remote assistance solution right away to reap the benefits and get a competitive advantage.
This year 2022 and beyond, AR trends are sure to gain traction. The growing manufacturing sector, as well as other core industries, will gradually begin to reap the benefits of a powerful remote help solution.
At Softweb Solutions, we help expanding businesses satisfy the ever-increasing demand for augmented reality apps by assisting them in developing interactive AR apps. Here's what we have to offer: a wide range of augmented development services, a team of highly qualified AR app developers and a strong portfolio to back up expertise.