AI is not as scary as people have been thinking or seeing in the movies. And to prove my point, here's a detailed statistic by McKinsey for AI adoption that happened in 2018.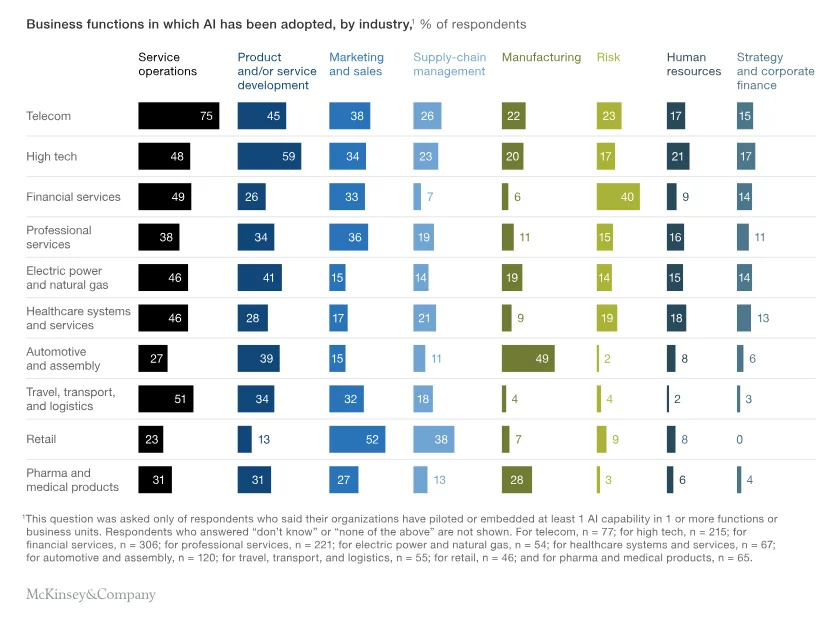 The results of this global survey suggest that companies are already reaping meaningful rewards of AI implementation.
In addition to this, businesses are constantly coming up with new ways to use AI to engage with customers, make processes easier, drive sales, and other implementations.
But that was in 2018. Let's see how it can further boost the success of businesses in 2019.
Here are four artificial intelligence trends to watch in 2019:
Speech Recognition
Alright! So speech recognition isn't something new that you are looking for. It has been around us in the form of virtual personal assistants like Alexa by Amazon, Google Assistant, Siri by Apple, and several others. But the areas of implementation of this technology are what you should be looking for.
Speech recognition enhancement in the coming years will improve search analytics by identifying the textual representation of the speech and vice-a-versa. There might come a time where the need for passwords would be entirely eliminated. Voice ID will be the new way we'll operate our phones and other devices.
66.6 million Americans are projected to be using speech or voice recognition technology by 2019. – Analytics Insight
Also, a few weeks ago, the world's first AI news anchor was introduced in China.
There is another scenario that speech recognition will be enhancing. There are several electronics companies like Sony, LG, and Hisense that have introduced televisions that can be operated by verbal commands. Next year, we foresee even more companies and products adopting speech recognition technology.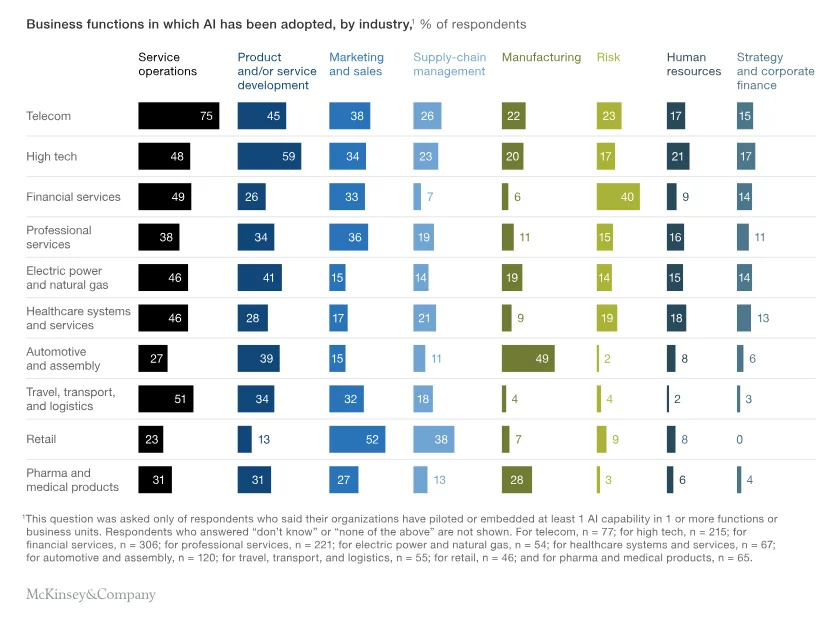 AI strategy and planning workshop
Artificial intelligence is transformational, and adopting this technology will enable companies to reshape their strategic vision so that they no longer rely on what they think is true, rather, leverage factual-based decision-making capabilities.
Image Recognition
We saw that AI has made it possible for systems to understand speech, but did you know that we can also teach them to understand and analyze visuals? Image recognition refers to the ability of systems to process and analyze data from visual sources.
The Global Image Recognition Market is expected to reach $43.57 billion by 2022 growing at a CAGR of 18.2% from 2016 to 2022. – Stratistics MRC
While several cellphone companies have already introduced the face lock system where the phone can be operated only by unlocking it via face detection, there are several other implementations of image recognition that are going to be enhanced in 2019, especially in the field of healthcare. Images produced by MRI machines, CT scanners, and X-rays offer visibility into the inner workings of the human body. However, many diagnostic processes still rely on physical samples which might lead to several risks such as exposure to infections. But with AI-powered radiology tools, it will be easy to get accurate and detailed analysis of tissue samples.
I see following use cases of image recognition to look out for in the next year.
Sentiment analysis
Visual search engine
Object and face detection
People and object counting
Edge detection
Photo verification
AI will create more jobs
No, AI is not taking over your jobs, or the world. Well, at least not right now!
While some of you are fairly concerned that AI will put people out of work, let me tell you, it will also create new opportunities, especially for those in knowledge work like pharmacists, architects, and physicians.
AI and related technologies will have significant impacts on a wide range of jobs in 2019 and is more likely to augment existing roles and teams than to replace them. Some of the fastest growing job opportunities that AI has empowered across all industries include data analysts, software developers, and social media specialists like suggesting relevant hashtags to social media professionals for every post.
Machines and algorithms in the workplace are expected to create 133 million new roles, but cause 75 million jobs to be displaced by 2022. – World Economic Forum
IT leaders, indeed, aren't building AI solutions to replace people, but to help companies address their critical challenges, especially when they don't have enough manpower to do so.
A survey conducted by the RELX Group supports this vision of AI as an enabler rather than a job-eliminating monster in IT departments or elsewhere in the company. According to the poll's findings, the most popular use of AI and machine learning is to increase efficiencies or worker productivity, followed by making informed business decisions, and streamlining processes.
AI will bolster security solutions
With data regulations such as the General Data Protection Regulation (GDPR) in place, companies have changed the way they handle and store their data. Also, with the emergence of such regulations, we will see AI and ML being used more for cyber-security.
The cyber security market is expected to grow from USD 152.71 billion in 2018 to USD 248.26 billion by 2023, at a Compound Annual Growth Rate (CAGR) of 10.2% during 2018–2023. – MarketsandMarkets
AI allows you to automate threat detection and combat against those threats. It adds analytical heft to existing technologies by allowing users to detect characteristics like fingerprints, retina scans, etc., to make the systems safer and more secure than ever. Given the spread of AI in general at the corporate level, AI will continue to grow in the security segment in 2019.
Getting AI ready
AI has the power to transform your business. By adopting AI in 2019, you'll create an opportunity to change your organization into more productive one.
If you're not sure on how to get started with AI, here's a guide to help you understand the steps to implement AI into your business process.
Let us know what other technologies you are looking forward to in 2019. If you'd like to explore opportunities in these technologies, you can talk to our experts.