The adoption of the Internet of Things (IoT) has revolutionized the way the healthcare industry works now. Integration of IoT features with medical devices and smart healthcare solutions have enhanced the quality and effectiveness of diagnoses, treatment and patient care. This technology also brings great value for patients suffering from some chronic diseases or the elderly ones who need continuous observation and assisted care.
IoT creates integrated and mature healthcare systems
In the past few years, healthcare applications have transformed significantly and IoT has been the main element in this transformation of the industry. People have become more aware and conscious about their health. This has increased the demand for remote assistance too. On the other hand, improvement of service and reduction of healthcare expenditure have always been parallel goals for all stakeholders and consumers. In all these areas, an IoT-enabled and more integrated healthcare system is an essential requirement.
IoT creates robust healthcare applications
Patients prefer applications and devices that they find easy to use. IoT devices strengthen the association between patients and physicians. The use of IoT devices and applications can increase patient engagement and awareness. Healthcare providers can leverage IoT in combination with devices, applications, artificial intelligence, data, robotics and others for further development of services and facilities.
IoT gives abundant opportunities to healthcare
Healthcare is a huge sector. It encompasses a vast ecosystem within itself. Regular devices get the capability of collecting precious data with the help of internet connectivity. This data helps us to get valuable insights regarding a patient's health symptoms.
Further, it helps medical practitioners to:
Study trends of a patient's health
Provide remote care
Give better control to patients on their treatment
IoT provides facilities like remote monitoring, activity trackers, glucose monitors, medication dispensers, smart beds, personal healthcare and biosensors to healthcare equipment and a lot more. Hence the number of IoT applications and the prospects of having more of such applications in healthcare are infinite.
Number of Internet of Things active connections in healthcare in the European Union (EU) in 2016, 2019, 2022 and 2025 (in millions)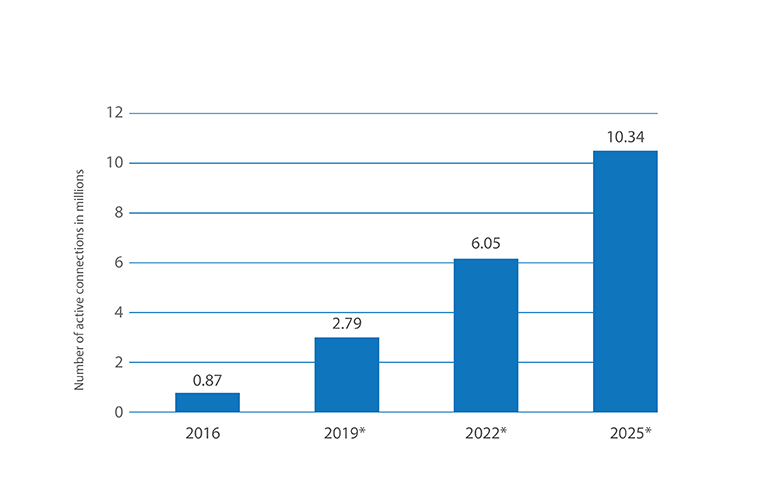 Source: https://www.statista.com
Healthcare needs IoT for various reasons; let's know a few of them:
It gives actionable insights based on data
Quantified health technology is going to be exceptionally beneficial. IoT integration will facilitate data collection and analysis. This will make health measurable and help in its improvement. As data affects performance, we need IoT for object measurement and tracking of health for better results.
It helps to improve patient's health
IoT has made it possible to continuously monitor and keep track of a patient's health with the help of connected wearable devices. This helps in providing better care and ensures that no important detail is ignored. When a patient's personal health data is updated in the cloud, every minute detail is considered in making important decisions for patients.

It promotes preventive care
'Prevention is better than cure' is a very well-known saying. Prevention is beneficial in numerous ways. It helps in staying healthy, spend less on healthcare facilities and increases human life span. IoT provides extensive access to real-time and reliable data on an individual's health and improves healthcare by preventing diseases and helping people live healthier lives.
It enhances patient satisfaction & engagement
IoT helps patients to have more interaction with their doctors and minimizes the requirement of direct patient-doctor interaction as IoT devices monitor the health and provide important data. IoT can also inform the patient's family about the treatment and discharge status in case of hospitalization or surgery. Since it will minimize human involvement, it will also reduce the possibility of human errors.
Conclusion
The Internet of Things can address numerous challenges in healthcare by optimizing the way everything is managed. An IoT-based healthcare system will take care of every petty issue and create a big difference in the healthcare industry. Moreover, IoT can help in increasing the rates of preventing and curing diseases. This technology will change the traditional ways of treatment and make them more effective.
IoT will help to accomplish goals of superior health, lesser costs and improved experience for everyone involved in healthcare services. It will improve every facet of care and change the way healthcare processes are managed at present. To know more, feel free to talk to our IoT experts.