Artificial intelligence (AI) is no longer science fiction in 2018, instead, it is crucial for driving strategies across different organizational units. The potential of artificial intelligence is clearly understood by early adopters as their business is able to see the impact of AI through increased manpower productivity, and ROI.
By 2021, 40% of new enterprise applications implemented by service providers will include AI technologies. – Gartner
Businesses now have become more data-centric and AI is the perfect technology to perform data analytics. The gathered massive information from sources such as social media, is helping enterprises to utilize information to find appropriate business value. This is why artificial intelligence, especially NLP/NLU and machine learning, is integrated with various other technologies such as chatbots and cognitive services to help organizations become more efficient, information-driven, and consistent.
The worldwide content analytics, discovery and cognitive systems software market, which represents some of the AI market, will grow to US $9.2 billion in 2019. – IDC
How other technologies are underpinned by AI advancements
Adding intelligence quotient to your chatbot
AI-driven chatbots offer a personalized customer experience, as it gives the power to think and respond like humans. Machine learning and natural language processing are the subsets of AI that makes your chatbot smarter in delivering content that is contextually aware.
Also, a chatbot powered by artificial intelligence is scalable, trainable, reliable, understands the intent of the human better, and as already mentioned, offers a more personalized human-like communication.
An intelligent chatbot integrated with AI(ML, and NLP) can:
Understand language, as well as commands.
Constantly learn from customer interactions to become better at predicting their needs.
Chat in a similar way a human would do.
Store information properly and categorize it based on each interaction.
Analyze information to identify which information is valuable and which isn't.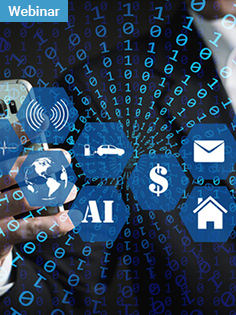 Discover what, why and how of Vision AI at the Edge
Webinar agenda
What is Vision AI at the Edge
Why vision AI at the edge is a game-changer
Applications of Vision AI at the Edge
Industrial use cases for accelerating AI at the Edge
Q & A
Let's dig deeper to know how these technologies contribute towards the development of an intelligent chatbot.
Chatbot + Machine Learning (ML) = Automating the process of learning
Machine learning is an algorithm which is useful to make a chatbot to read data, learn about it and then decide what to do with it. To put it plainly, if you are integrating ML in a chatbot, you are building a chatbot that has the capability to think and determine from previous experiences.
Chatbot + Natural Language Processing (NLP) = Understanding human language
Natural language processing is the way for a computer program to interact with people in a language and format that people understand. Using NLP your chatbot can understand what customers are saying, respond to customers in a logical manner and have the ability to perform sentiment analysis (understanding customer's tone and intent). Basically, NLP helps chatbot to interpret human language from various lingo, understand the intent of the customer, and respond to customers, just like humans do.
A bot without natural language processing is not human-like and it would offer customers with a lot of button and menu selections, with a very limited option of text inputs.
For example:
If you are building a chatbot for your eCommerce store using machine learning (ML), it will only give your chatbot the ability to think and determine a response based on previous experience. Once your chatbot is powered by artificial intelligence, it will be able to recommend products to your customers based on their previous shopping patterns, and also let your chatbot learn from the history of customers. So, in this way, you are training your chatbot to learn from algorithms. Also, with the help of NLP, your chatbot will be able to understand the customer's language and respond in text format.
Create smart applications with cognitive services
Cognitive services are a collection of AI-enabled APIs. These APIs when integrated with your application will offer smart features like sentiment detection, speech and vision recognition, emotion, knowledge, search and language understanding into their application. To bring AI to every developer and every organization, big brands like IBM, Microsoft, Google and more have introduced this enterprise AI solution. Cognitive Services APIs enable enterprises to quickly add intelligence to their apps, website and, bots and harness the power of AI in solving various business problems.
The final say
AI can undoubtedly become the powerful force for disruption as it has delivered substantial value to early adopters. So, adopt AI-enabled chatbots and develop apps using AI-enabled cognitive APIs to drastically improve operational performance, increase customer satisfaction, and save a lot of time as well as money. If you want to know how artificial intelligence can benefit your business model, talk to our experts.