Customer Background
Our client is a leading US telecom service provider with more than 30 years' experience. They serve around 10 million satisfied customers with top-tier mobile, internet and landline connectivity solutions. They are known for excellence, reliability, competitive pricing and exceptional customer support. Their impressive track record and commitment to customer satisfaction have solidified their position as a trusted industry leader.
Industry

Telecom

Technologies / Platforms / Frameworks

Azure Cloud, Artificial intelligence (AI), Machine learning (ML), Azure SQL Database
Challenges
The company's billing system had a complex and monolithic codebase that was difficult to maintain and extend. As the company expanded its service offerings and faced increasing competition, the limitations of their billing system became evident. They also faced challenges like:
Inflexibility and lack of scalability: Legacy billing systems were inflexible and difficult to change, which made it difficult to adapt to new business requirements or market changes. Since the systems were not scalable, they could not handle increased volumes of transactions and new products and services.
High maintenance costs: Legacy billing systems were expensive to maintain as they required specialized skills and knowledge to run. This drained resources and made it difficult to change or improve the system.
Security vulnerabilities: Their billing systems were more vulnerable to security risks. This is because they used outdated security protocols and were not properly patched against known vulnerabilities. This put their business at risk of data breaches or other security incidents.
Poor customer experience: Legacy billing systems provided poor customer experience. This is because they were difficult to use, not user-friendly and did not meet the needs of modern customers. This led to customer dissatisfaction and churn.
Solutions
Softweb Solutions conducted a comprehensive needs assessment, engaging stakeholders to understand challenges, scalability requirements and compliance concerns. This approach allowed our experts to gather insights, identify key pain points and propose a tailored solution to address the specific challenges faced by the telecom company.
To address the challenges faced by the telecom company with their billing system, our team of experts decided to modernize their systems to help them achieve their business objectives:
Scalability enhancement: We helped them adopt cloud-based solutions to ensure the billing system could handle the increasing volume of transactions effectively.
Feature-rich modernization: We migrated data from SQL Server to Azure SQL Database. Moreover, our experts implemented a modern billing platform that offers a wide range of essential features, such as personalized billing plans, dynamic pricing and real-time usage tracking.
Compliance and security: To address compliance and security concerns, we implemented robust data security measures, adhered to industry regulations and followed best practices for data privacy.
Employee training and change management: As part of the solution, our team of experts provided comprehensive training to employees on using the upgraded billing system effectively.
Continuous monitoring and optimization: After the successful implementation of the modern billing system, we helped the client establish a monitoring and optimization process for regular assessments and feedback gathering.
Benefits
The modernization of the billing system of the telecommunications company helped them with a wide array of business benefits that positively impacted various aspects of the company's operations, customer experience and overall competitive position in the market:
Enhanced customer satisfaction: Our feature-rich billing system with real-time usage tracking, dynamic pricing, and personalized plans enhances customer control and satisfaction. Equipped with user-friendly tools and real-time data, their customer service team can efficiently resolve billing inquiries, improving the overall customer experience and loyalty.
Improved billing efficiency: The modern billing system offered by Softweb Solutions streamlines billing processes and reduces manual interventions. Automated billing and dispute resolution capabilities decrease billing errors and processing delays, leading to more accurate and timely invoices, enhancing billing efficiency.
Scalability and flexibility: The cloud-based billing system's scalability allows the telecom company to accommodate its growing customer base and demand fluctuations seamlessly. The company can scale resources as needed, preventing performance bottlenecks and ensuring a consistent user experience.
Accelerated SLA deployment: Robust API integration capabilities facilitate quick and efficient integration with other systems and third-party applications. This allows them to roll out new services faster, respond promptly to market trends, and maintain a competitive edge in the rapidly evolving telecommunications industry.
Enhanced data security and compliance: The new billing system, designed with robust security features, ensures customer data protection and compliance with industry regulations. This builds trust among customers and reduces potential legal and financial risks.
Data-driven decision making: Integrated monitoring and analytics tools provide valuable insights into customer behavior, billing patterns and system performance. This data-driven approach allows the company to make informed decisions, optimize service offerings and identify new revenue opportunities.
Cost savings: A more efficient and automated billing process reduces operational costs associated with manual billing and dispute resolution. Additionally, our cloud-based billing system eliminates the need for expensive on-premises hardware and maintenance, leading to cost savings in the long run.
First contact resolution rate: A modernized billing system ensures accurate and up-to-date customer data, reducing the need for multiple interactions to resolve billing inquiries, thereby increasing the first contact resolution rate (FCR).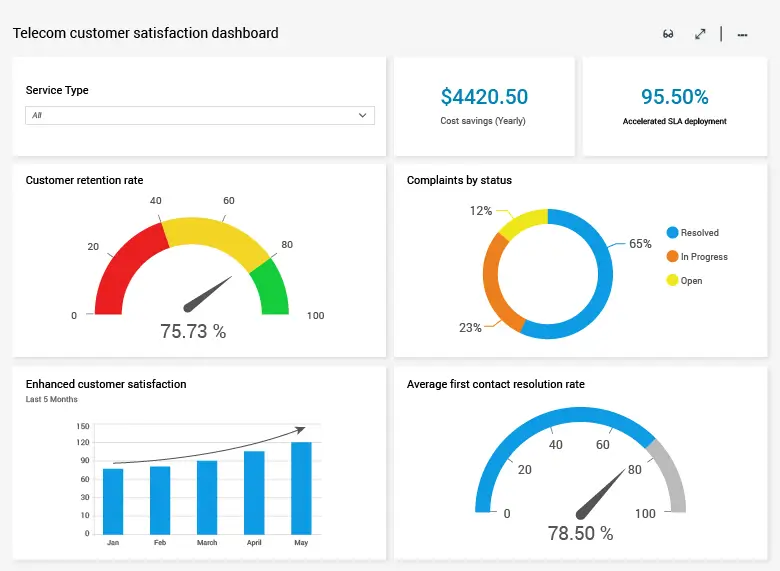 Need more information?
Tell us what you are looking for and we will get back to you right away!