In the 1950s, lifeless, room-sized computers were only used for number-crunching. In the 1970s, a pioneering generation saw the computer as much more than a number-crunching machine. They dreamt of a future in which computers could enhance imagination (Alan Kay), broaden our thinking beyond paper and punch cards (Ted Nelson) and augment our intellect (Doug Engelbart).
What's going to be different in the 2020s? Maybe nothing. Imagination is still the only key to the future.
If you are interested in knowing the technology pioneers of 2021 and what to watch out for in 2022, this blog is for you.
The technology pioneers of 2021
We all agree that innovation is the cornerstone of society's future, well-being and drives economic growth. That's why it is critical to stay informed about the companies involved in the design, development and deployment of emerging technologies and inventions that have the potential to have a significant impact on business and society.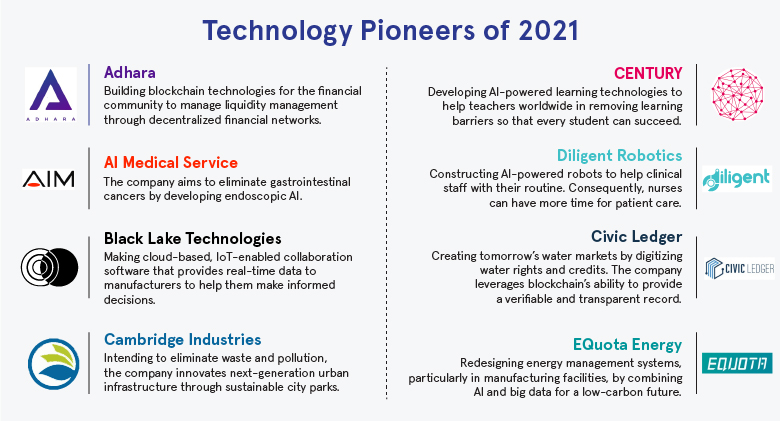 The above image represents just a few companies that have been using emerging technologies in 2021 with novel perspectives to solve critical world problems. Gartner's Hype Cycle for Emerging Technologies is the lens you need to focus on technologies that can transform businesses and society.
Let's take technology from 2020's Hype Cycle for emerging technologies.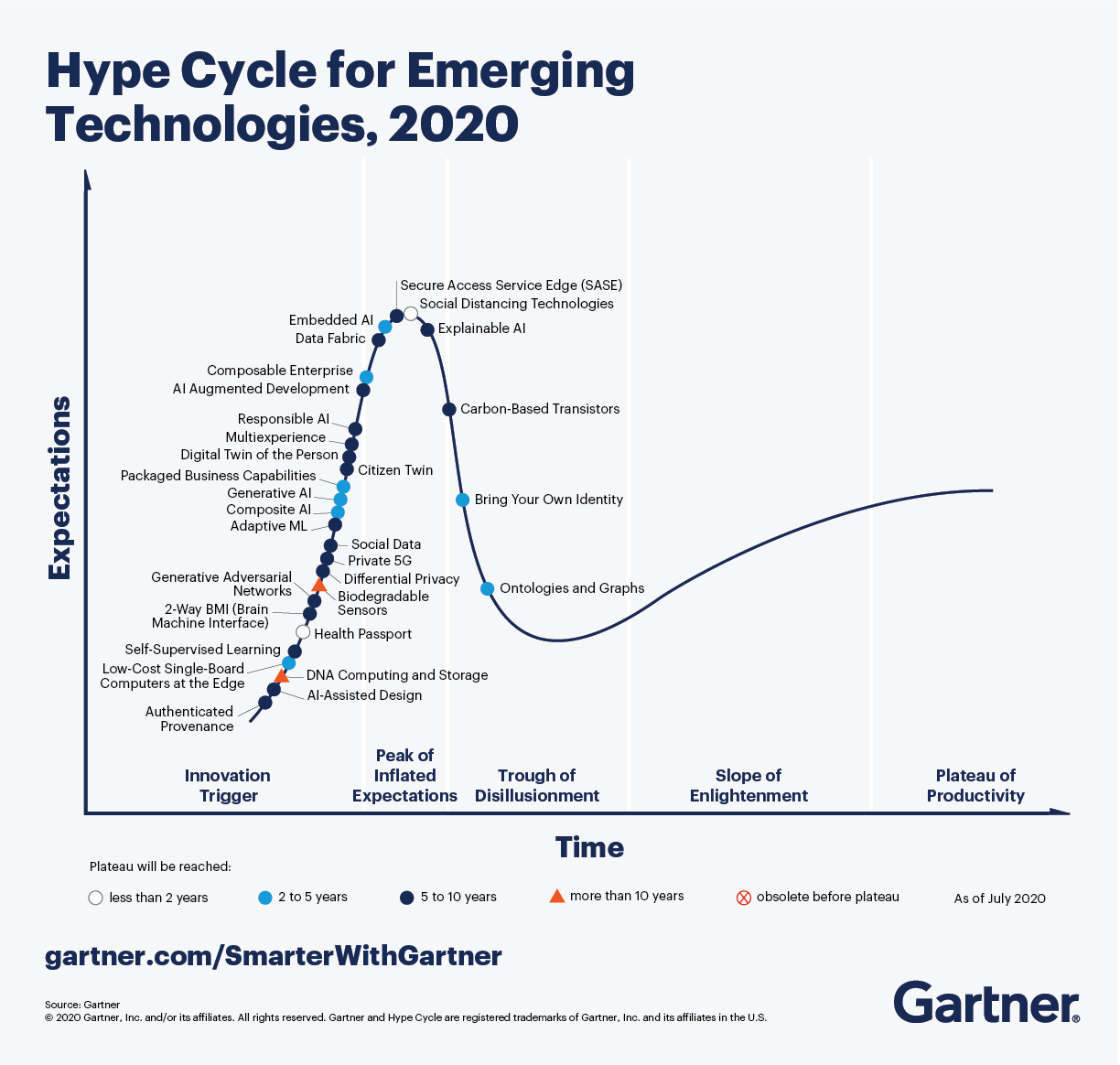 Let's pick up carbon-based transistors.
According to some estimates, by 2030, about 25% of the world's energy could be consumed by electronic devices if nothing is done to make them more energy-efficient. CMOS chips built from silicon are the biggest culprit that makes electronic devices non-renewable as well. A team of Stanford engineers built a basic computer using carbon-based transistors. They can increase computer speed by more than a thousand fold while reducing power consumption. It also makes electronic devices recyclable. Imagine the impact of it when implemented in every electronic device.
Generative AI is another such emerging technology. Consider a system that can give us the characteristics of a person through images, texts and videos. It can range from what the person is passionate about, what they are insecure about or excited about as well as their likes and dislikes. Overall, it appears that the system reveals the stories of a person's daily life. What if it also applies to machines or medicines? Generative adversarial networks (GANs) is one of the underlying techniques for doing such things. It sounds not possible today, but we know that what we see or experience today was once impossible.
Where is the technology world heading in 2022?
Imagine an event happening in Las Vegas that you want to attend. But either you do not have time to go or do not want a headache of traveling. Is it still possible to participate in an event? Yes, through Metaverse, your avatar can enjoy it fully. You may think what's the point in reaching there digitally? Through your Metaverse avatar, you can touch, eat, taste during the event. The best thing is we can eat everything without taking extra calories. We can be wherever we want to, with our AI-enabled human face, body, voice, personality. Apart from Metaverse, Digital Humans is another emerging technology to look out for in 2022.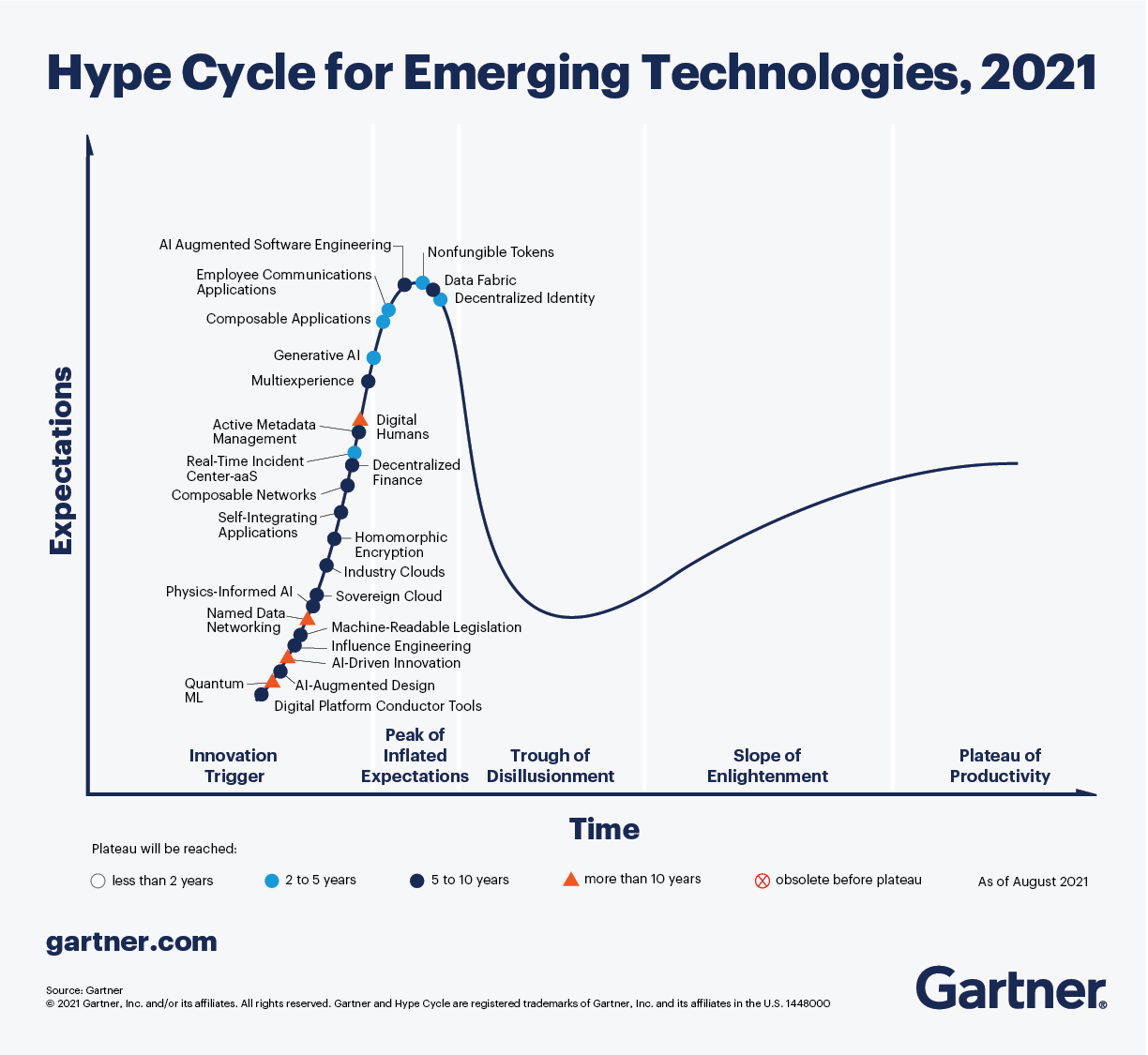 Like Apple's Siri or Amazon's Alexa, imagine a virtual assistant but with a human-like face. Let's suppose, you enter a retail store and find Nola – your AI-powered in-store concierge. You can ask Nola about the product you're looking for. She will guide your way. She will also present other better options. Won't it be a streamlined and more engaging in-store customer journey? That's where the future is heading through digital humans. By the way, Nola acts as a real virtual in-store concierge in the Westfield Newmarket store in Auckland. Some more digital humans are as per the following:
Digital humans in action
Josie from ASB
Josie is a digital human used in the Australian bank, ASB. She helps people in starting businesses by providing information face-to-face and through natural conversation.
Sophie from BMW
Sophie has been integrated into the new BMW 3 Series. With their own in-car voice assistant, drivers can have a more personalized experience.
Aimee from Southern Cross
Aimee's job at Southern Cross is to empower Kiwis to make the best health insurance decisions. The virtual health assistant is available at all times to help people in living their healthiest lives.
Daniel from UBS
The digital Daniel meets with clients, listen to their requirement or problems and suggest the best possible solutions.
Amelia from IPSoft
Amelia brings the human side of face-to-face conversation to life with expression, emotion, empathy and understanding. So, she drives deeper customer connections and increases business value.
Indeed, time is money. And nobody can beat a company that constantly strives to deliver the best customer experiences. Digital humans are taking the lead in it.
One more breathtaking momentum is taking place in AI through explainable AI (XAI). Till now, we have been making deep learning models, training and optimizing them. For example, can you imagine a system that tells us our risks for heart diseases? Through XAI techniques, we can now build such systems. It's not that difficult. Take the heart disease dataset, train it and optimize it. Implement feature-based methods like LIME, SHAP, Feature Importance on different features, such as age, sex, cp (chest pain type), trestbps (the resting blood pressure), chol (cholesterol levels), etc. Then, apply example-based techniques like Anchors, Counterfactuals, Kernel Shapley, Integrated Gradients. All these approaches speak about how various features generate the model's outcomes, what the black box model thinks and explain the model's behavior. In other words, it explains why an individual has certain possibilities for heart diseases. The applications of XAI can go as wide as you can think.
So, what's going to be different in the 2020s than the 1950s, 1970s, 2000s? Maybe nothing. Imagination is still the only key to the future. Composite AI, ModelOps, Quantum ML, Physics-Informed AI, AI-Augmented Software Engineering, Decentralized Identity and so much more mind-boggling emerging technologies are waiting for us in 2022.
Are you excited about 2022? We are, with such emerging technologies.