In the past few years, augmented reality and mixed reality have gained momentum by solving key problems for multiple businesses. These technologies are evidently transforming numerous industries and the ways they have been operating in the past. One such industry that has seen the maximum impact in terms of efficiency is manufacturing. Augmented reality is bringing a major improvement in some of the most crucial manufacturing processes and this is the reason why companies like Boeing, Lockheed Martin, Range Rover, Ford, General Motors, and Mitsubishi Electric are integrating it into their existing production lines.
From improving production to reducing maintenance time to preventing errors and training workforce, AR and MR are playing a positive role in the entire manufacturing lifecycle. These upskilling technologies are the next big thing in this industry. Moreover, early adopters are definitely going to have an advantage over those who will be catching up later.
The Global Market for augmented and mixed reality hardware, software, and services will reach US$65.8 billion by 2023 – Research and Markets
Here are some use cases demonstrating the ways in which augmented and mixed reality can be used in the manufacturing industry:
Hands-free machine identification
The augmented reality app combined with smart glasses can replace dedicated barcode scanners on the production floor and provide significant cost savings. This technology enables workers to carry out hands-free scanning and provide machine information instantly on a visual overlay.
The employee using the scanning AR app can simply scan the machine's barcode using smart glasses and identify the machine. Code scanning with wearable devices can increase the scanning speed and save time for workers to find the machine they are looking for.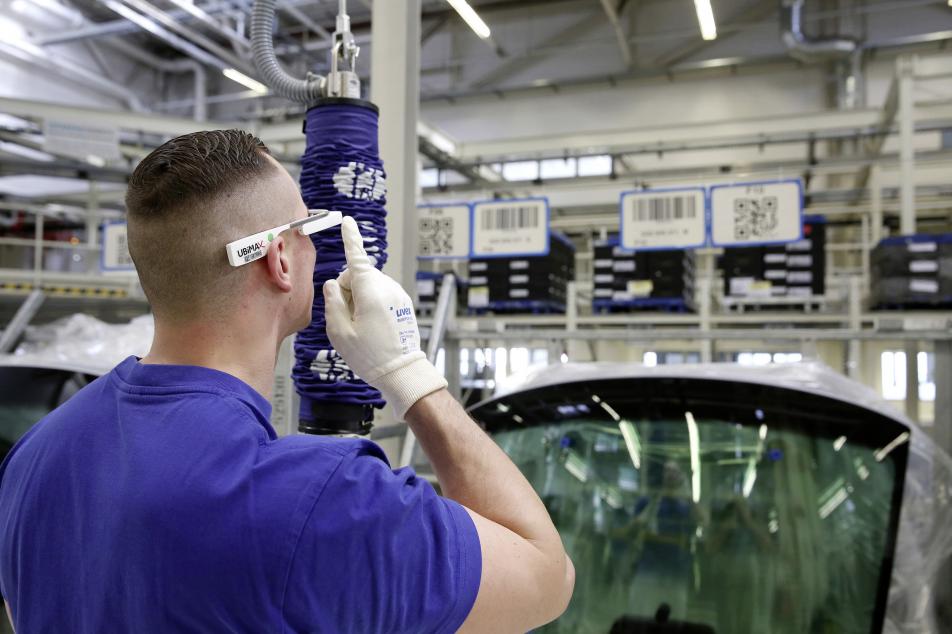 Source: https://ar-experts.nl
The idea of harnessing the disruptive potential of augmented devices to capture and use information contained in QR code has been available for quite some time now, but manufacturing companies are yet to utilize its full potential.
Improving the changeover process
In order to improve changeover times, tracking real-time metrics becomes important. Supervisors, with the help of their AR devices, can track changeover data instantly, and identify whether the current production run is efficient or not. This helps to pinpoint the issues in real-time through a virtual image projecting onto the machine and showing the exact deviation from the standard changeover time.
Based on this data, supervisors and floor managers can devote their time and effort on processes that take a lot of time from changing one production run to another. Augmented reality provides supervisors with observational and analytical superpowers by giving them the ability to instantly find out anomalies and bring machines to their best efficiency point.
Pricing calculation errors related to multiple pricing models, managing discounts, etc.
Unreliable and unrealistic traditional processes lead to weeks of back-and-forth.
Lack of collaboration between the client and the production or engineering department.
Other challenges include a longer quote-to-order cycle, eroding profit margins and error-prone orders.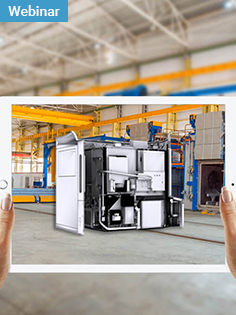 Streamline sales process with Augmented Reality (AR) product visualization
Webinar agenda
Why manufacturers should realize the importance of Augmented CPQ
Common challenges faced by manufacturers to close deals faster
Ways to streamline sales process using Augmented CPQ
Augmented instruction manuals
Machines can be complicated in a manufacturing plant and employees need instructions to operate them. Written manuals and documentation are often provided in such a way that can be really boring and end up in complicating even the simplest of procedures.
Augmented reality provides on-spot access to hands-free training material for employees in a visually engaging manner. It overlays content in the form of videos, audios, and 3D objects directly over the machine or a specific part of the machinery. Moreover, these instructions are context sensitive, so when a user starts a particular task but cannot continue further due to lack of knowledge, these virtual instructions come to the rescue. By receiving assistance at the point and place where it is needed, workers tend to make fewer errors thereby reducing variations, improving efficiency and promoting a lean manufacturing process across the unit.
Smart access to SOPs
With augmented reality, workers can get direct access to critical standard operating procedures in a heads up display. Usually, workers tend to refer to their written documents or smartphone and tablet to access this information, but AR offers a complete hands-free solution. Staff members don't need to get back and forth to check the procedures every time and to tick off it from the checklist. The information is right in front of their eyes in their standard manufacturing environment.
AR versions of SOPs are definitely a great upgrade, which can empower the staff, improve the efficiency and reduce the overall manufacturing time. Moreover, they can also be used by audit team members when auditing the manufacturing plant procedures and evaluating SOPs in case of any product failure investigations.
Real-time health monitoring of machines
Integrating AR technology into an IoT-optimized factory can provide insights at a deeper level. Real-time data collected from sensors, which are often called the eyes, and ears of a smart factory can be fed to augmented reality apps. Then depending on the context, actionable information is displayed to the supervisor over their environment simply through a smart glass.
For instance, if there is heavy machinery with sensors to monitor pressure, temperature, and velocity, the supervisor, while walking down the manufacturing floor, can look at the machine and get the real-time equipment status. Being able to monitor the condition of a machine simply by glancing at it through an AR device makes machine condition monitoring a cakewalk.
Augmented reality is reshaping the face of manufacturing
Every aforementioned use case proves that the manufacturing industry is going to be a great beneficiary of augmented reality computing. The technology aims to provide solutions to some of the most critical issues in this industry while improving key processes, increasing productivity and enhancing efficiency. The potential benefits are enormous and these use cases are just a glimpse of what AR can do to enhance the manufacturing operations.
If you think augmented reality can take your manufacturing unit onto another level of business operations, get in touch with our team. We can offer you a customized AR solution that fits your business needs and enrich every step of the manufacturing process at your factory.