Around the corner: SharePoint 2016
While SharePoint 2016's second beta version is already available for us to play with, Microsoft will release its official update in spring 2016. SharePoint professionals can download Beta 2 through the Microsoft Download Center to check what SharePoint 2016 is going to be like. As Microsoft has stated in its recent event, the next version is focused on the cloud. It is, of course, not going to kill off the on-premises deployment, but it will rather make it much better as it goes 'hybrid'. With so many improvements and new functionalities onboard, not a lot has changed since 2010. In other words, the platform hasn't been re-written from scratch. Hence, we will not see much difference in the structure of a SharePoint site, including Lists, Libraries, and Content Types.
SharePoint 2019 Pre-Migration Check
There are several reasons why you should migrate to SharePoint 2019. It has hybrid cloud search, all the sites are in one place, it allows rapid site development, there are many PowerShell scripts and so on.
There's a lot of stuff to love in terms of new features:
Hybrid search
Surfacing of on-premise content in delve
Mobile UI
Durable links
Zero downtime patching
Extended boundaries and limits
Now with Microsoft SharePoint 2016 coming out soon, a new version is very likely to see a large spike in the number of migrations because most companies look forward to taking advantage of the new functionalities on offer. Even though migrating to SharePoint 2016 could sound enticing, there are certain things enterprises must know. Before talking about migration, let's have a quick look at the main highlights of SharePoint 2016.
A closer look at SharePoint 2016
Microsoft is focusing on three major areas for SharePoint Server 2016:
I. Familiar and intuitive user experiences
II. Cloud-inspired infrastructure with hybrid at the core
III. Robust security and compliance
SharePoint's latest version is still a mystery to us until Microsoft reveals more at Ignite. You can learn more about some of the key enhancements and new capabilities of Microsoft SharePoint 2016.
If you think that deciding on when and how to move to SharePoint 2016 is a tough call, then don't worry – you still have a little bit of time. One wrong step could hamper your productivity and leave users unable to work. However, moving forward with careful considerations will make the migration process a lot smoother. Let's discuss how to prepare better to take the next flight.
When it comes to upgrading, people often forget considering some general migration best practices. Before you make that final decision, make sure you look at this advice:
1. Perform a SharePoint content audit
It is not a wise idea to carry forward your unimportant or outdated content when migrating to the latest version. This sounds very obvious, but a lot of companies mostly neglect it to reduce the scope of migration. Be clear with what you want to keep and what you do not. A key to frictionless content migration is to migrate less.
2. Stick to Pareto's 80-20 rule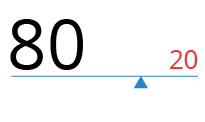 A good thing about the 80-20 rule is that you neither have to be a big fan of maths nor have to understand numbers to be a believer. Here's how it applies to SharePoint migration strategy: 80% of your staff will use no more than 20% of the content on your intranet. Hence, you should identify that core 20% of content and keep it first in the migration list.
3. Create a migration strategy
source: www.owletonline.com
Ideally, there are three ways to migrate content:
a. Manual
b. Automated
c. A mixture of both
But the tricky part is to decide upon one. In reality, there would only be one answer to this:
Manual migration is one of the simplest ways, yet it is a tedious and time-consuming process as it involves the process of copying content manually.
While automated migration process won't require any manual effort, it requires technical understanding and specific knowledge. However, it can only be determined on a case by case basis and thus it is not applicable for every project.
Needless to say, the best bet is to choose partially automated migration method– the best of both worlds. There can be different types of structures where one or another type of strategy will, more often than not, fit for migration.
4. Don't compromise with security
The method you choose for migration must respect the security of the old system. A manual approach is more vulnerable compared to an automated migration process; therefore, enterprises need to be extra cautious to make sure previous security policies are kept up. Since the cloud is an entirely different domain, you need to carefully check the suitability of content.
5. SharePoint specifics
When looking forward to migrating to SharePoint 2016, it is essential to be aware of some specific things as mentioned below:
a) Hardware requirements (for those who are creating a fresh SharePoint 2016 instance and farm)
b) Current version (we recommended SharePoint 2013 as a stepping point)
c) If you're running SharePoint 2010, then migrate to SharePoint 2013 first.
d) Check legal and audit implications (in case you are going to take advantage of the new cloud features)
6. Post migration strategy
The real work begins post migration. A migration process is not complete until you complete specific tasks – checking links, cleaning up page layouts, checking user rights, and ensuring security.
The last word
SharePoint migration has always been a simple upgrade path, yet the level of complexity is proportional to the size of the SharePoint farm. With the above considerations, you can definitely have a seamless migration experience. Though you still have enough time to get your hands on a beta version, your final decision should be based on the needs of your business rather than the industry buzz.