Marketers do a lot of miscellaneous work every day, like creating and editing tasks, tracking prospects, managing customer relationships and providing customer support. Due to all these routine tasks, they face difficulties in focusing on their priority job of lead scoring, lead nurturing and campaign reporting. By integrating marketing automation with Salesforce, marketers can easily manage the tasks mentioned above and they get time to concentrate on their core focus areas.
Especially due to the current COVID-19 crisis where it has become difficult to generate potential leads, businesses must make use of such tools to make their work easier and more effective.
This integration also helps to create structured programs that run on their own with minimal human involvement and you get a greater number of qualified leads. It also reduces the response time to customer queries and gives better insights on the performance of a campaign. This makes it easier for marketers to cater to the needs of customers effectively and close sales even in difficult times.
Although this integration has ample of benefits, it requires efficient integration to realize them. Thus, taking help from a Salesforce integration consultant is advisable to augment and leverage all the benefits of integration of marketing automation with Salesforce.
Let's look at a few ways in which the Salesforce integration with marketing automation helps marketers:
Improved business intelligence
The integration of Salesforce with marketing automation gives you more insights into your marketing effectiveness by measuring the performance of your campaigns more efficiently so that you can enhance your business processes, leading to better results. Though Salesforce can measure the performance of sales, it alone cannot measure the effect of marketing performance on sales performance and vice versa.
This is where Salesforce integration services for marketing automation platforms comes into the picture. The integration helps you to analyze combined data of sales and marketing to figure out which strategies are effective and which must be improved in order to enhance your business.
Salesforce integration with marketing automation will give you the clarity to detect the achievements and errors in actions and work approach. There would be no scrappy data or deceptive performance reports.
Consolidate your data from discrete sources
When you integrate your CRM and marketing automation platforms, you don't have to keep switching between diverse data sets on the same list of contacts, financial records and prospects. This saves you time in data management and prevents new data from getting out-of-place. Such platforms can share data and help you to maintain consistency across all your teams and systems, while keeping your data organized, easy to track and quicker to update.
The use of unified data from marketing automation also helps sales personnel to customize their communications with leads and prospects. They can translate the data from analyzing marketing lead patterns into marketing reports in your CRM. This data could be fetched from web browsers, email campaigns and content downloads of your leads.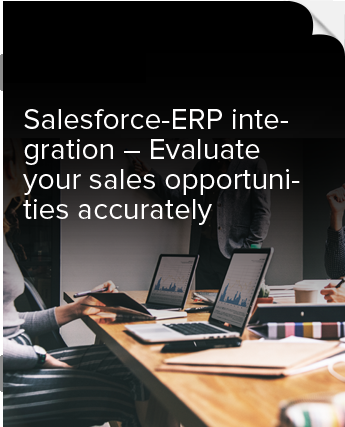 Insights
Salesforce-ERP integration - Evaluate your sales opportunities accurately
Vendors that respond faster gain more business opportunities. This is why companies must empower their sales reps with instant customer and prospect information access by integrating their ERP system with the Salesforce platform.
Improved efficiency in handling customers
Generating sales is tricky and when your customers don't get clarity, it often results in reduced business. Particularly, in the current situation when you are working from home and have limited resources to work, you must handle customers more efficiently. You can easily avoid losing a customer if you personalize your customers' journey by combining CRM with marketing automation. This minimizes confusion and increases clarity as it helps you to deliver detailed and accurate information to your customers.
Another factor that would help you to retain a customer is a quick customer service response. Which means your customer care executives and salespeople must respond to a customer's message promptly. Luckily, when you integrate marketing automation platforms, it enables your executives to respond faster and increases the quality and quantity of positive brand connections.
Better lead generation
Marketing automation and Salesforce integration improve lead quality as it easily defines which leads are more valuable. You can use the data collected from marketing automation tools and evaluate leads to ensure only potential ones are forwarded to your sales teams.
More information on customers
Every company emphasizes on gathering information about consumers and their purchasing patterns. This helps your sales team to determine ways to approach and convert prospects into customers. When you gather more data and process it effectively, you can have more targeted and strategic communications with your leads.
With marketing automation software, you can gather data of potential customers that include:
Volume of downloads
Time spent on a page
How do visitors reach your website
Which pages visitors often visit
At what time site is most visited
The integration of this information with Salesforce enables you to help your sales team to better understand how they can relate to customers. Marketing automation systems provide a better understanding of precisely what customers want. These systems create a bridge between CRM and email marketing.
Salesforce holds the data of your leads and customers. It gives you important reports that allow you to make important decisions. Salesforce and its built-in integrations help you to streamline various activities of your sales and marketing departments. For instance, your marketing teams can use Salesforce Pardot and Marketing Cloud for handling marketing activities easily.
Integrating Salesforce with marketing automation tools provides multiple benefits like increase in productivity, effortless access to data, enhanced communication, automated workflows etc.
There are various marketing automation tools worth integrating with Salesforce CRM like Pardot, HubSpot, Marketo, SendGrid etc.
For example: Let's see how Salesforce and Pardot align sales and marketing
The Salesforce and Pardot platforms help B2B marketers organize campaigns and automate marketing processes. These tools bring about a continuous transition of leads from the marketing team to the sales department.
Both the systems are integrated which makes it easy to track lead, prospect and customer data throughout the entire customer lifecycle by sales and marketing departments.
This combination enhances the capabilities of your sales and marketing departments and helps you to:
Allocate qualified new leads in Salesforce
Track prospect actions
Segment your Pardot marketing records
Create ROI reports for your campaigns
Salesforce integration with marketing automation empowers your sales and marketing teams to drive better results. This integration increases business efficiency and maximizes ROI on your marketing campaigns. It not only enables you to deliver personalized campaigns to interest more customers, but also improves the ways you market your products and interact with your customer. This results in increased sales, company growth and an increased ability to have valuable interactions with leads and customers. With this integration you can avoid errors in CRM systems that may affect sales leads adversely. To know more about how to integrate Salesforce with marketing automation for better business performance, get in touch with our experts.