It's time for organizations to step into the new era of customer relationship management (CRM) by unlocking deep customer insights that are powered by artificial intelligence (AI) and machine learning. Fortunately, that's exactly what Salesforce Einstein does. This is also one of the reason, many organizations are in search of Salesforce Einstein implementation services to meet the several changing needs of their organization from time-to-time. Einstein has already been exponential for its capability to capture, analyze, create value and importantly, gain actionable insights from every available touchpoint in real-time. Now, let's take a dive into Salesforce Einstein and learn more about its awesome features.
Here's what Salesforce Einstein touches:
Experience the power of AI-powered apps with Salesforce Einstein which introduces advanced capabilities – from machine learning, deep learning, predictive analytics, natural language processing to smart data discovery and offers several uses across Sales Cloud, Service Cloud and Marketing Cloud.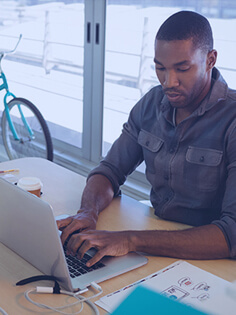 Get a Free Salesforce Audit
With a free Salesforce audit, we will help you to build a resilient business roadmap and navigate through it to tackle the challenges and meet your business goals. We can help you with the following services:
Review your current usage of Salesforce
Suggest suitable tools and the latest platform features
Gain visibility across your organization and intensify ROI
Determine and fix potential vulnerabilities in your security settings
Sales Cloud Einstein
Inside the Sales Cloud, Einstein helps by prioritizing the leads and opportunities that are most likely to convert. Interestingly, it also aligns with the sales trends by revealing what is in the trends pipeline and generating a sales forecast. Also, it reduces the time spent on selling by automating data capture. Here are some of the major Einstein features that your sales team can leverage:
Predictive Lead Scoring – helps your sales representatives to focus on the most promising leads. Often sales teams take a guess or use their gut feelings to decide which leads are likely to convert. Predictive Lead Scoring gives data-driven insights that help them make better decisions.
Opportunity Insights – includes predictions about which deals are likely to be won, reminders to follow up and notifications of when key moments in a deal are about to take place.
Automated Activity Capture – automatically logs all sales calls, email exchanges and chat interactions so that your sales team does not have to worry about keeping customer interaction records up-to-date.
Service Cloud Einstein
AI has huge implications for customer service and enterprises can easily automate service tasks with Service Cloud Einstein. Using Einstein, enterprises of any size can easily deploy a connected customer service experience that is predictive, automated and intelligent. Here are the Einstein components that will help you to incorporate the power of AI:
Case Routing – provides a fully automated case routing that is based on user history and trends. Think of it this way: the cases related to a product's known defects are automatically routed to the sales agents along with instructions on how to manage the issue. This functionality can help the agent with better productivity and efficiency, providing faster and more efficient customer services.
Reply Recommendations – uses NLP to instantly recommend the best responses to agents, so they can save time as well as improve the quality of replies to customer inquiries. Additionally, Article Recommendation can suggest the best information to help them close the case quickly.
Next Best Action – uses predictive analysis to advise the best course of action during agent-customer interactions. This helps in gaining customer satisfaction and uncover cross-sell opportunities.

Marketing Analytics and Cloud Einstein
In Marketing Cloud, Einstein helps by giving better insights into customers using data on past behavior. This further helps marketers to design their campaigns, deliver the right contextual message and allocate the required time to engage with customers. Here are some Einstein features for marketers:
Predictive Scoring – provides you with accurate analytics to ensure true engagement with your customers. Moreover, Predictive Scoring can go a step ahead and suggest which products to put on your email campaigns. You will also get a view of audiences that you can target. Overall, it is an effective tool for marketers to create an engaging campaign.
Predictive Audiences – is a great feature where marketers can take action on Predictive Scores and build audience segments based on several predicted behaviors. By doing this, marketers can get insights to create a suitable audience segment to best drive customers to the next level of engagement.
Automated Send-time Optimization – is an effective tool to empower marketers to maximize email marketing ROI by delivering the most interactive messages when subscribers are at the peak of engaging.
Take away
Salesforce Einstein integrates AI algorithms into businesses and drives innovation. It also provides transparency to view the plans and actions of customers and sales prospects – so that you gain insights on how to improve, unite and accelerate all channels that meet with your customers. Get in touch with our experts and start with a conversation over the value of Salesforce Einstein.