Low code or no-code platforms have revolutionized the ability to accelerate, empower and transform businesses. Microsoft Power Platform is one such platform that enables enterprises to quickly get the real business value and benefits. It helps to maintain and manage associated risks that arrive while empowering the business through change in processes, data flows and employee experiences. This blog post aims to discuss how Microsoft Power Platform integration can help growing organizations get the most out of their investments.
Know where your organization stands
Are you looking for industry-specific processes to address your business needs?
Are your business priorities conflicting, complex and you find it hard to lead the innovation?
What about your various data sources, multiple connectors and security constraints? Do they add to the complexity of your business problem?
Or, do you simply desire to replace the older apps that are nearing the end of their useful lives?
If you resonate with any of the scenarios mentioned above, then you truly need to embrace and implement Power Platform.
The role of Power Platform in delivering the real business value using data and insights
Organizations have embraced the value of leveraging data to drive business outcomes more than ever before. They have potentially utilized cloud storage to easily access large amounts of data and have improved their ability to harness data and signals from a variety of sources including web traffic, social media as well as business systems like CRM and ERP. But, once the infrastructure set up is ready, how can it work effectively for them?
That's when data helps employees with insights at the right time, regardless of any technical skills to easily make informed decisions and drive business outcomes.
That is precisely what the Power Platform accomplishes. Analyze, act and automate are three essential steps that enterprises can take on data to help them drive the business forward. Power BI, Power Apps and Automate, all work together to process and analyze the data and meet the data needs from the CEO to the front-line staff.
Microsoft Power Platform implements its data capabilities through three cloud-based services: Power BI, Power Apps and Automate.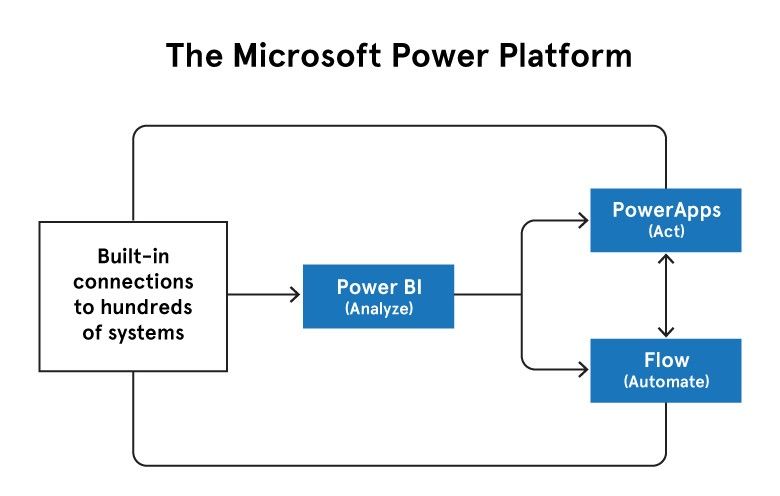 Power Apps – to instantly build custom business apps and link data as well as work across mobile and web.
Power BI – for unifying data from various sources and delivering actionable insights using interactive personalized dashboards and reports.
Power Automate – for embedding robust workflow automation seamlessly into the business apps.
A study by Forrester Consulting showcases how Power Platform helps to improve enterprises' ROI
Forrester Consulting conducted a Total Economic Impact study (March 2020) and ROI analysis. They interviewed six organizations that implemented Power Apps and Power Automate as part of their business strategy. The finding observed that by lowering application development time and allowing non-developers to construct custom apps and workflows, they were able to save development costs and improve business processes. Additionally, they experienced reduced time to market, enhanced customer service and increased revenue.
Within the quantifiable benefits, it was determined that using Power Apps and Microsoft Automate, the average cost to develop an application is 74% lower. This allows for a significant savings in professional services fees, application purchases from suppliers and reduced effort in code maintenance, avoiding the costs of application development and management.
Furthermore, examples of external apps that were replaced by internal Power Apps and Microsoft Automate applications were introduced. These applications were replaced during the study, saving a huge amount. The findings concluded that Power Apps alone boosted automation and process efficiency by saving 1.6 hours for nearly 1,650 users.
Better applications enabled business transformation and improved business outcomes. Moreover, employees could make better and faster decisions with better access to information. These benefits were observed among the non-quantifiable firms. Additionally, Power Apps empowers users, which further increases employee satisfaction. That's not all, organizations have begun to realize the additional value with other Power Platform solutions such as Dynamics CRM and Teams. As a result of the transformation and enhancement of business results, customers are happier, the time to market is quicker and revenue forecasting is more accurate.
Some of the renowned business benefits of Microsoft Power Platform:
A significant reduction in application development costs
Process automation, efficiency improvements, transformation and enhanced business outcomes
Improved data availability for better and faster decision-making
Integrated data and workflows across solutions
Security enhancements, including mobile apps
Build applications in a matter of weeks
GDPR compliance is fully automated
High ROI
Summing up
The Power Platform makes it simple for businesses to create, automate and analyze data without expending time or effort. The Power Platform adds to the capabilities, controls and functionalities of Power BI, Power Apps and Power Automate to readily integrate with customers' existing systems. Moreover, it can be connected to Microsoft 365, Dynamics 365, Azure and a variety of other apps to aid in the development of business solutions. If you want to leverage improved data and insights for better business outcomes, check out our Microsoft Power Platform services.