Video streaming seems to be the mantra for 2015. February and March have been busy months in the app world. The live video streaming app, Meerkat, initially launched at producthunt.com, created a huge frenzy among Twitter users. Two weeks later, the iOS app took over the (South by South West) SXSW 2015 held in Austin, Texas, where users streamed the event which was viewed by thousands of people with the help of numerous livestreams.
It seemed fairly obvious at the time that Meerkat would be acquired by Twitter, given their first rule, "Everything that happens on Meerkat happens on Twitter." However, the tech giant had other plans when they announced the acquisition of Periscope, another live video streaming app. On the same day, Twitter cut off Meerkat's access to its social graph creating another tweeting-frenzy. This means that the game has been upped for Meerkat, which will need to build its own user base. Another such app made its debut at the SXSW 2015, which was nominated for one of South by Southwest Innovation Awards. Stre.am is a live video streaming app for iOS and Android devices, the first of such apps on Android.
Two months is enough of a time in the app world, as is the case with Meerkat, Periscope, and Stre.am, each fighting for the largest piece (preferably the whole) of the live video streaming pie. Meerkat beat everyone to it in terms of time, but Periscope became the biggest benefactor here having caught Twitter's glittering eyes, with a $100 million swoop. Yes, we are in an age where valuations have a new meaning. Tangible assets are at one place but it is data generation that is soaring like never before. The funds are heading to apps that are capable of generating massive bytes of data, which could be multiplied by many times, if not more.
War of the streams
As we can see from the table below, feature wise, all three apps are quite similar to each other. The 'save as audience' feature is missing in Meerkat on purpose as stated by its founder, Ben Rubin. "There is a lot of stuff to do in real-time participatory media when the audience is part of the experience. If the livestream videos are saved afterwards, it just confuses the user."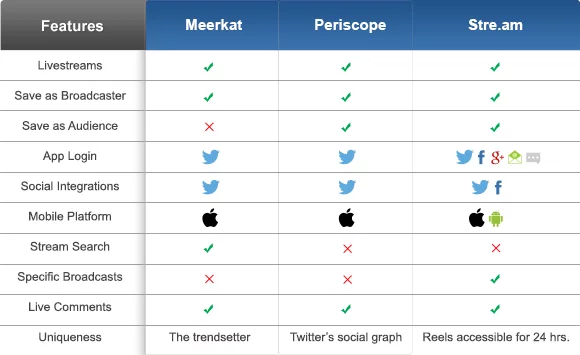 Such little details are what set these apps apart. The only big difference is the mobile platform they are built for. Meerkat and Periscope cater to iOS devices whereas Stre.am works on iOS and Android, though rumors suggest Android versions of Meerkat and Periscope will be released sometime in the near future. Meerkat gained traction as a trendsetter, while Periscope boasts Twitter's social graph, and Stre.am is getting popular due to its availability on Android.
Time will tell whether these apps will manage to coexist or usurp the other. Already, there are reports of Twitter urging celebrities to use Periscope instead of Meerkat and the war seems to be heating up. With all this activity in the live video streaming space, one thing is clear, that videos work in every form. Livestreaming offers an immersive experience to the user and provides an insight into something that could be oceans away.
Update: Meerkat has launched the beta version of its app for Android. Developers and early adopters can join the program here.